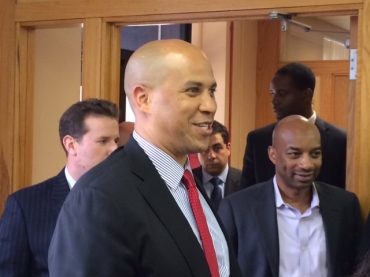 NEWARK – The reelection campaign of U.S. Sen. Cory Booker (D-NJ) launched a dual attack with the New Jersey Democratic State Committee (NJDSC) against Booker's Republican rival Jeff Bell on Tuesday following comments made by Bell at a South Jersey rally on Monday.
Bell's remarks were made down the block from a reported $2,600-a-plate fundraiser in Cherry Hill supporting state Sen. Donald Norcross (D-5) in his bid for the First Congressional District seat. The event was attended by numerous Democratic luminaries, including U.S. Senate Majority Leader Harry Reid (D-NV) and South Jersey Democratic power broker George Norcross III, Donald's brother.
"The Democratic Party has become the party of big money," Bell told PolitickerNJ. "Silicon Valley, Hollywood and Wall Street – the Democrats totally dominate [the first two], and they're increasingly dominating Wall Street. Booker is a great Wall Street fundraiser.
"I have some momentum, but it's far from certain," Bell added, referring to a recent New York Times-CBS poll that showed Bell within seven points of incumbent Booker, who is seeking a full six-year term in November. "My guess is that there is a kind of inflection point against President Obama. I think New Jersey, as blue as it's been in recent election cycles, has come to a tipping point against him, and that's hurt Senator Booker."
"While Sen. Booker has been focused on protecting Social Security and Medicare, ensuring that Sandy relief funding reaches affected homeowners and fighting for a living wage for our families, Jeff Bell has aligned himself with Tea Party extremists who have repeatedly tried to privatize Social Security, voted against hurricane relief and stand in the way of an increase in the minimum wage," responded Booker campaign manager and Essex County Freeholder Brendan Gill in a written statement on Tuesday, referring to the presence of Tea Party members at the Monday protest rally.
"Mr. Bell is as out of touch with his campaign prospects as he is with what's best for New Jersey. The fact is, the extremist Tea Party faction that he represents wants to take our country backwards – obstructing common-sense legislation and trying to out-hate President Obama," said NJDSC Chairman John Currie in a written statement on Tuesday. "Not only does President Obama's agenda remain popular, New Jersey endorsed it twice, reelecting the President in 2012 with a wider margin than it elected him with in 2008.
"Meanwhile, Senator Cory Booker has proven to be a well-respected and effective member of the Senate, working in a bipartisan manner to draft legislation that helps hard working Americans succeed," Currie continued. "None of this bodes well for Mr. Bell, and I have no doubt that the voters of New Jersey will overwhelmingly reelect Senator Booker to a full term."