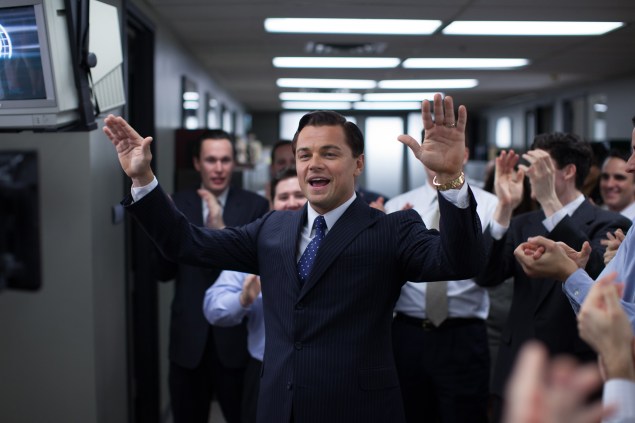 For many years, brokerage firm executive Robert Kay suited up, Wolf of Wall Street-style in brightly colored, white collared shirts, an OTT statement watch and a vivid tie. Going even further back in time, Mr. Kay's favorite icon was Gordon Gekko, portrayed by Michael Douglas in Oliver Stone's Wall Street. The Gekko look became the style blueprint for high-powered hedgefunders, bankers and brokers before the financial Big Bang of 2008. A gaze down Wall Street at lunchtime back in the naughties revealed a vision of snappy tailoring and shiny fabrics dotted amongst the grey and navy suits. Now the scene is all single-breasted, two-buttoned gray and navy.
"If you see the sequel to the film, Wall Street: Money Never Sleeps, that's a pretty good indicator of what's going on," Mr. Kay told the Observer, his once-daring look of perhaps a purple and lilac striped shirt with matching tie, worn beneath a pale gray three-piece in pure silk, laid to rest. Mr. Kay traded in his colorful pinstripes and jaunty cuts for a more subdued, but refined way of dressing. 
"Dressing down is now the way to move up in finance," he added. Newcomers into the money industries with even the slightest hint of flamboyant taste are being encouraged to tone down their attire. Veterans such as Mr. Kay are still adapting. They are recognizing that a muted, top-quality fabric, dark gray suit serves far better than shiny waistcoats and fat statement watches peeping out from sparkling cuff-linked cuffs.   
"When one of our clients is meeting with a potential client of their own, they don't want the focus of the conversation to be about their suit," said Kelly Ramchandani, known as Mr. Kelly of La Rukico Tailors in Midtown. Despite the rigors of high fashion and a plethora of menswear designers including Thom Browne, Brunello Cucinelli and Paul Smith aiming at the finance crowd, they traditionally head to Manhattan's Midtown Garment District for their suits. Here, the salesmen speak their language and there is no need for a Wall Street shopper to even explain what he is looking for. "Our clients understand that we follow their industry and know exactly what they want. Right now, our finance clients don't want potential clients of their own to even notice their clothing at all. The goal is understated, high-quality fabric in a universal, slim-fitting cut."
The slim line, healthy shape matches up to the sense of frugal, careful living financiers are now seeking to convey to potential clients. Snappy dressers convey a worse impression than that of just being flashy; nobody wants to be mistaken as a party guy on a level with Leonardo DiCaprio's Jordan Belfort character in Wolf of Wall Street.
"I was lucky my wife told me to tone it down. Maybe she saw something I didn't!" said Mr. Kay. "She works in the field as well and suggested that maybe I shouldn't always wear my pinstripes."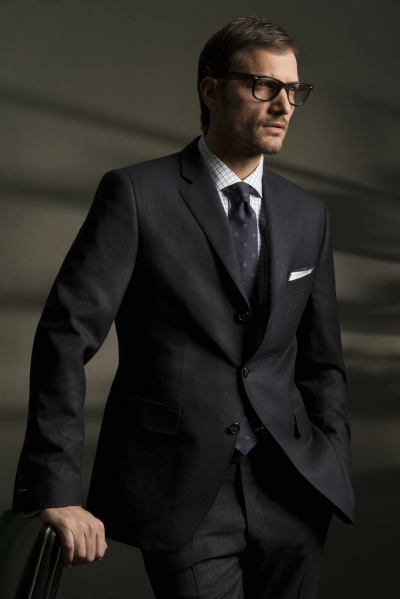 La Rukico and another store, Mohan's, are Midtown tailors who have crafted made-to-measure business wear for some of the city's most prominent individuals for the past 40 years.
When the stock market plummeted in 2008, along with the mood on Wall Street, the storeowners noticed a change. Then came Occupy Wall Street in 2011, when dressing flamboyantly for a businessman downtown was akin to strolling past a PETA group wearing a fur coat.   
Sales manager of Mohan's, KJ Singh, noticed the trend of Wall Streeters dressing down has picked up pace in the past year.
"One regular client came in and completely changed his look from colorful tailoring fabrics with exaggerated cuts and longer-lined jackets. We asked him if something had happened. His response was: 'You just can't dress like that now. Those days are over.' "
"We rarely get requests for double-breasted suits any more. Nor do we sell shirts with contrasting white collars and cuffs. It's partly fashion trends changing but also a change in the overall mood. Customers now go for plain wools in dark gray or navy, pinstripes are shade-on-shade, not contrasting. Major firms are telling employees that a more traditional look creates the best impression and to avoid anything other than the 'uniform.'
"It's not like you go cold-turkey," said Mr. Kay. "I slowly turned down the volume." He admits to speeding up the dial after stories of lawsuits emerged. "Once I started hearing about five or six of these guys getting arrested in a day, I wanted to blend in, not stand out." 
Not everyone on Wall Street had to adjust their modus operandi. Mike Anderson, a hedge funder of 15 years standing, always preferred an unobtrusive look. 
"If you're not doing anything wrong it doesn't matter how you dress. When someone dresses flashier, it indicates they're faking it," said Mr. Anderson. "If I see someone wearing something that's too blatant, the first thing that pops into my mind is if they're legitimate. Are they dressing that way to make up for something they're lacking? I don't trust someone who feels like they have to be over-the-top by trying to make a fashion statement." 
When self-confessed "flashy dresser" Brian Nielson re-entered the world of finance after an eight-year hiatus, he was ready to rock the suits he acquired working in an upscale men's boutique. Styled up to the nines with a school-striped tie, matching kerchief, gold cufflinks and plaid suit, he got called back for a second interview at a finance firm. Once there, though, they dropped a less than subtle hint about his appearance.
Tone it down. Way down.
"I was basically told I had the job, but in the next breath the guy who is now my boss, said, 'You've got great taste, but what you're wearing now isn't going to work if you're going to be here.' I was embarrassed. I felt like a woman being told she had too much cleavage showing. I hadn't realized how the protocol for dressing had changed since I'd been out of the business." Mr. Nielson took the job, and has happily subdued his attire.
As for the women of Wall Street? They have not noticed the changes in recent years so much. Rachel Smither, an executive at a major firm for the past five years, has always played it safe. 
"This isn't a work environment where women ever dressed as extravagantly as the men. Occasionally I'll wear a scarf or a pair of heels to brighten up what I'm wearing, but I prefer to keep a low profile. You may see a hemline that's a little too high on the occasional newbie, but the spotlight is really on getting the job done."
Mr. Nielsen now treads lightly, but following the lead of his co-workers, he will occasionally incorporate a flash of color. 
"I just do it on a Friday. That's one custom that hasn't changed; everyone tends to chill out a bit at the end of the week. I'm not ready to bring out my giant-polka-dot tie yet, I don't know if that's something I'll ever be able to do. I'm still feeling it out."
When asked if he'll ever return to his original glory days of bold and bright, Mr. Kay has a thoughtful response.
"Who knows what will happen 10 to 15 years from now? I've gained greater sensitivity in how I appear to others from all this, which wasn't so important to me in the past."