After Tuesday night's racy Bachelor in Paradise episode, TV Download talked with contestant Jesse Kovacs about what really went down between him, Christy and Lucy in Tulum. Along the way, we also chatted about AshLee's psychotic behavior, Marquel's crazy outfits, and, most importantly, whether or not Chris Harrison is actually human.
Did you go into the show hoping anyone in particular would be there?
I had no idea who was going to be there. I didn't have any idea about who I wanted to meet, because I've kind of been out of the Bachelor world for a while.
The producers did call me and ask, would I prefer to see someone there? Who do I like? And I just said, "I honestly don't have any idea." I'm just going to show up open-minded, and if a relationship or a connection or a feeling is there then I'll run with it, but I'm not going into it with preconceived notions about who I want to see.
Were you aware that you had a reputation for being a playboy?
No, not at all. Again, I didn't know any of these people, so to have a reputation with people you don't know — it's kind of weird… I was in a serious relationship for four years, so I don't know how I got this playboy persona labeled on me.
It seemed like there were different expectations amongst the contestants — some were ready to jump straight into pre-engagement (ahem, Lacy and Marcus), and some were looking to play around a little more.
It just was very strange to me, and I just went into it open-minded, thinking like, I'm here, and if I happen to meet someone that I'm into, great, but I'm not gonna fake it. I'm not going to couple myself up with someone just because that's the premise of the show.
When you weren't on dates, what was the downtime like?
For me, literally I rolled out of bed every morning, I went and swam in the ocean, and then if there was no date or nothing going on, it got kind of monotonous. There's a lot of laying around [and] sitting down at the beach. After the first three days when you get sunburnt, you just have to go back up into your little hut and you just kind of chill out. There's no TV, there's no radio, there's no reading material, so literally you're just talking and napping and not really doing much… So then I mean, the next step is, you know, pouring yourself a beer and starting that whole scene again.
It doesn't look like there's a lot of sunscreen re-application going on.
Yeah. I think Christy got the worst of it — I don't know if you saw her tan line.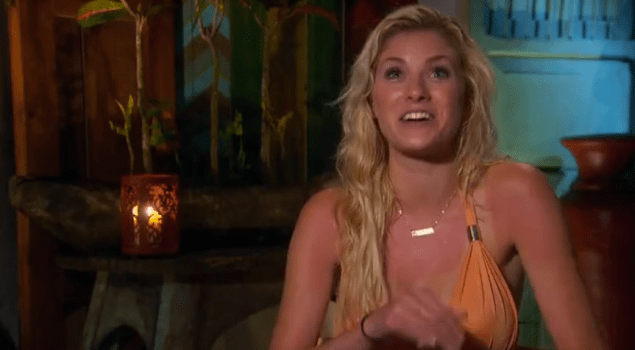 We read that all the men were forced to wear those stupid pukka shell necklaces because there were microphones hidden inside. Is that true?
Yeah, that's it. We were all making fun of it, they're obviously not going to air it — us making fun of our stupid little pukka shells. But they had the microphones in [them], and sometimes if people are wearing shorts with no shirt, you can see the strap around our waistline.
Yes! We remember thinking, either Graham is wearing tightie whities, or there's something we're not understanding.
[Laughs]. Yeah, those are the microphones. We had to wear those necklaces for that. That is true.
Speaking of clothing, you've sported some pretty interesting get-ups. Did you have a fashion inspiration?
I would never wear any of that stuff if I wasn't in paradise. I'm kind of a goofball like that, and I wanted to be over the top — you know, your grandfather's tropical island shirt… People were blowing me up last night on social media, saying, "Hideous shirt!", "What is he wearing?", "I can't believe this", "What a douchebag!", but I thought it was fun.
There wasn't anything you wore that was weirder than what Marquel was wearing on any given day.
He was actually the only one that was complimenting me. He was like, "Oh man, those are sweet shirts! Nice shoes!" It was kind of funny that he was the one who was complimenting me. He did have some ridiculous outfits.
Who were you close with? Were there cliques in paradise?
I became pretty close with Graham. I don't know if that's because we're super old and we kind of cling together, but I hung out with Graham quite a bit.
It seems like Graham was super well-liked in the cast. Was there anyone that nobody was getting along with?
For me, literally I was gone so much that I didn't really have a chance to hang out and get to know a lot of people. I went on three different dates in such a short period of time, so I was gone quite a bit. When I was back, I was basically just hanging out with the guys… [Marcus] was kind off doing his own thing, so I didn't really hang out with him. He's kind of a weird dude. But everyone else was super cool, and yeah, you know Cody, Robert, Zack, Graham and myself, we all kind of hung out and had a good time.
How often did Chris Harrison make an appearance in paradise?
Chris? He's there all the time! He comes out of the bushes. He sneaks out and finds us.
Does he really?
We didn't see him on a day-to-day basis, but during the rose ceremonies he was always around. I couldn't believe it — I don't know if he was wearing makeup or what, [but] the dude never sweat. Like all of us are literally drenched in sweat, and he's wearing a three-piece suit and the guy doesn't have an ounce of sweat on him. I don't know how he does it.
Do you think he's half robot, half man?
I don't think he's a real human being.
He seems like a jokester — he likes to have fun and tease people — and then he has his hosting persona at the same time.
Yeah. He'll literally be making like a foul joke right up until when the producers tell him the camera's rolling.
What did everyone think of Cody and Michelle's VERY sudden intense relationship?
I can't remember if they aired it or not, but [Cody] dropped the L bomb on Michelle [on their date]. She came back the next morning, and she talked to me and kind of broke down in tears, and was like, "This is happening so fast. I don't know if I'm really into him." She was really concerned because she didn't necessarily want that. She wanted something to happen and she wanted to find a relationship, but not forceful, like this. She kind of felt forced into it… I think as time went on and they cooled off a little bit and he took the time to step back, they actually really started to find their stride in the relationship, but at first we were kind of creeped out by how fast it all happened.
What's Cody like to hang out with?
At first, of course, you have the first impression of meeting him – you're like, "Oh, this big-ass meathead," and you know, tons of energy – it's probably all the testosterone pumping through his blood, or whatever. But he's actually a sweetheart. He's a cool guy who would never say anything bad about anybody.
Jesse, we have to ask: did you have the first known threesome in Bachelor history?
No that's not – it's not exactly how it went down, as I remember it, but there are probably some things I don't quite remember.
But what happened was, there may have been some activity between myself and Lucy on the way back from our date. But then once we got back to the resort, we all kind of just separated, and I ended up sort of hooking up with Christy, and fell asleep in their hut. Christy and Lucy were sharing this hut, and I woke up at like 5:30 in the morning, and I literally opened my eyes, and Lucy's face was like a couple inches away from mine. I kind of shook it off and stood up and grabbed my clothes and got out of there. The whole threesome thing, that didn't happen.
Is there anything we should be looking forward to in the coming episodes?
I don't know how they're going to edit it, but there's definitely a confrontation with me and multiple people at the end.
On Monday's episode, we learned that AshLee was VERY concerned about how she appeared on camera. Is everyone really conscious of the cameras being around? How real is it, really?
At first it is kind of strange. You want to hold back if you're doing something ridiculous or stupid or saying the wrong thing. But after a while you just have to forget about it, or else you might drive yourself crazy.
At the time, the only real person I noticed [being phony] was AshLee. She was getting upset at the producers because she was like, "How come Graham and I haven't had another date? That's what America wants to see." I was like, that statement is so ridiculous, that she is thinking about what America – America doesn't give a shit about you! She definitely was very concerned about how she was portrayed, and how her editing would be.
What would you say if you were asked to be on another season of Bachelor in Paradise?
Right after the shows, this is the same question that I always get, and I always say no, there's no way. I don't have the energy to go through this, because it's tough – I hate watching myself on television or even hearing myself talk. But after the third one, why would I stop now? If they asked me, I guess I'd do it again.