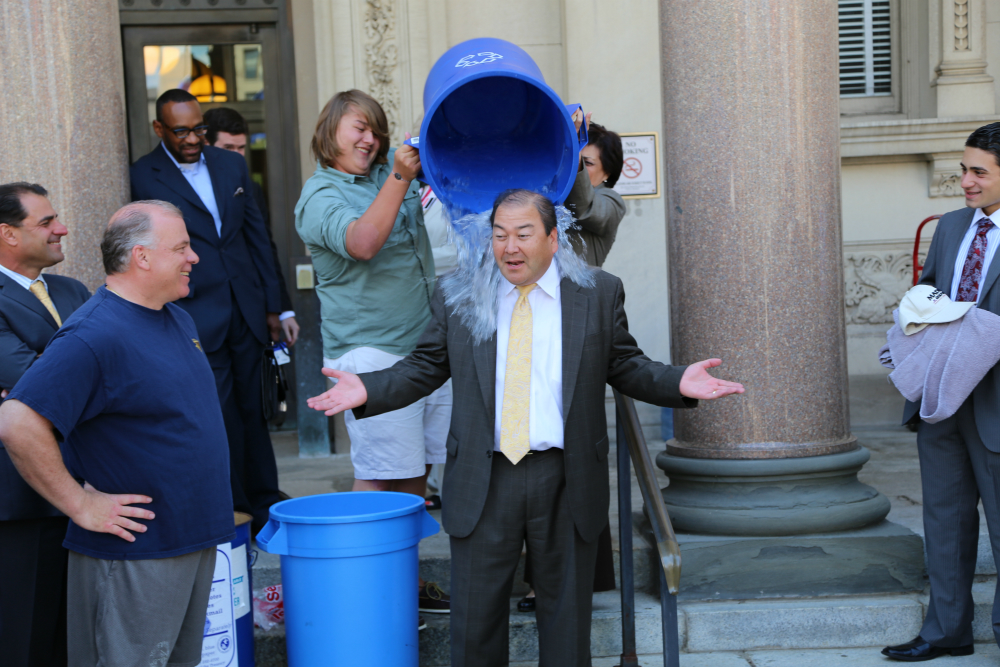 TRENTON – It's not uncommon to see groups of protesters, banded together in some common political cause and wielding picket signs, camped out on the front steps of the Statehouse in Trenton.
But what about a group of state senators, recently released from a end-of-summer senate session and wielding blue buckets of ice water, ready to douse themselves in the name of ALS research?
That was the scene today as state Sen. Kevin O'Toole (R-40), joined by Senate President Steve Sweeney (D-3), Sen. Donald Norcross (D-5), and Sen. Steven Oroho (R-24), made good on his promise for a high-noon ice bucket challenge for the ALS Association.
O'Toole didn't even bother changing out of his work suit.
Neither did Oroho, who, before receiving a tsunami of ice-water over the head, passed the challenge to "my brother Jim, my brother John, my sister Coleen, and my brother Tommy, who already did it already, but is going to have to do it again."
Sweeney was the only one in casual wear, donning grey gym shorts and a blue t-shirt.
It's the latest round of New Jersey lawmakers to take the challenge, which has spread quickly through social media over the last several week. Christie jumped on the bandwagon last week, passing the challenge onto Senator Corey Booker (D-NJ), Facebook co-founder Mark Zuckerberg, and The Tonight Show's host Jimmy Fallon.
So did Senate Republican leader Tom Kean (R-21), who, with the help of his kids, accepted the challenge earlier today.
"My son gave me the idea," O'Toole said, as his son, Kevin, Jr. stood by. "So I call Sweeney, I said to hell with it, we're doing it. Within 24 hours we raised $10,000. Then it became $15,000, then $25,000."
O'Tootle said the stunt has now raised a total of $30,000 towards the cause, which aims to raise awareness for amyotrophic lateral sclerosis, also known as Lou Gehrig's Disease.
Norcross, who undertook the challenge in the name of a friend who suffered from ALS, released the following statement today:
"I am dedicating my ice bucket challenge and a $500 donation to the ALS Association to my good friend Tom MacAdams who we lost earlier this year. Tom was a loving husband and father who dedicated his life to helping others, especially in Brooklawn where he served on council for many years. He was cut down too young by ALS, which impacts thousands of our residents and their families every year. I am proud to stand with my colleagues to raise awareness of this disease and to support the ALS Association."
Watch the full video here.