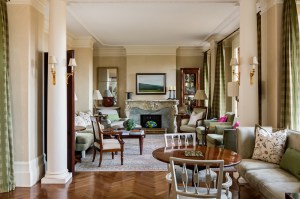 If one were to examine sales records of recent months for the Prasada co-op building at 50 Central Park West, one might easily get the idea that it was a sort of bastion of noblesse oblige. The corporate heir and philanthropist Jon Stryker checked out of his penthouse there back in April to the tune of $48 million. And more recently, Joseph and Carol Reich, who have been active, generous and sometimes controversial patrons of a charter school, sold their eighth and ninth-floor duplex for $16 million, according to city records. (Mr. Reich is a retired investment banker; Lisa Lippman and Penny Toepfer at Brown Harris Stevens had the listing.)
More traditional and less massive than the Stryker penthouse, which was scooped up by an anonymous realty trust, the Reichs' old place nonetheless benefits from interior design by the widely-lauded Noel Jeffrey. (Mr. Jeffrey feels sufficiently pleased with his work on the apartment to use it as an exemplar on his website.) It blends period details from the time of the building's early 20th century construction—ornate mantles and high ceilings bumpered with thick, crisp sections of molding—with newer niceties like a chef's kitchen, a mahogany banister girding the staircase that joins what were formerly two distinct units, cast bronze hardware and a copper skylight that crowns the aforementioned stairs.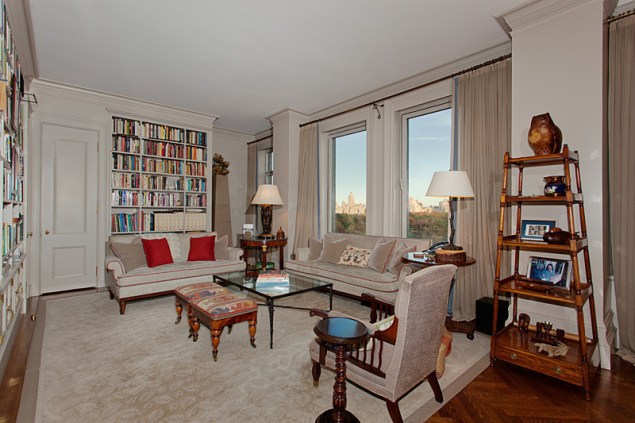 But the unit's most comely features are perhaps those which approximate traditional luxury with modern materials.To wit: new, rich herringbone floors, fresh glass in mahogany bay windows and immaculate white shaker cabinets. It is a good thing for recent buyers at the Prasada that co-ops—some of them, anyway—have lately been demonstrating more permissive attitude toward the use of corporate apparatuses for the purposes of home buys. Like the new owners of Mr. Stryker's place, the Reichs' buyers are traveling incognito, as the 50 CPW JCSC44 Trust.
Perhaps when it's their turn to fulfill the building's philanthropic legacy, they'll come out of hiding.