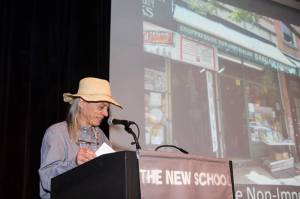 A West Village book shop steals the spotlight, even if only for a second, in Gillian Robespierre's film Obvious Child, local blog Off the Grid reports.
When the exterior shot of the main character's workplace, played by SNL's Jenny Slate, flashes across the screen, it's the green awning with white letters that spell out "Unoppressive Non-Imperialist Bargain Books" in all caps that makes audiences chuckle.
"Audiences laugh so hard when the sign pops up. Either they know the store or they just chuckle because the name is so great," Ms. Robespierre told Off the Grid. "I've never been in a screening when the awning to the shop doesn't get a laugh."
This isn't UNBB's first form of recognition either. The shop earned a 2014 Village Award from the Greenwich Village Society for Historic Preservation in June. Owners Jim and Indiana Drougas were presented with a plaque that reads, "Unoppressive Non-Imperialist Bargain Books is presented a Village Award for providing a unique, eclectic, and unabashedly independent bookstore that is accessible and affordable to all."
Mr. Drougas tells the blog that he's used to getting film requests now and has received three so far this year. UNBB's on-screen appeal even translates to TV with an appearance in an episode of the Comedy Central series "Inside Amy Schumer."
The shop's unique name is attributed to New York-based author and Yippie Paul Krassner, who asked Mr. Drougas to describe his former Brooklyn location, subsequently leading him to the name Unknown Obscure Little Bookshop. When Mr. Drougas opened up shop in the Village, he used the same, unconventional naming method for UNBB.
"The name is always striking enough that people get curious," Mr. Drougas said. "If they can even remember it."