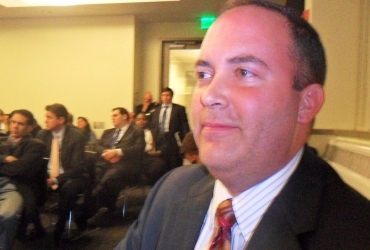 Running for Passaic County clerk in a final reversal of gains the GOP made on Gov. Chris Christie's 2009 coattails, Hawthorne Democratic Committee Chairman Jeff Gardner tonight welcomes Senate President Steve Sweeney (D-3) to a Brownstone fundraiser as yet another Democrat curious about statewide designs lands in the oddly shaped northern county.
Similarly sniffing out his own gubernatorial prospects, Assemblyman John Wisniewski (D-19) surfaced at a May fundraiser for Gardner.
Jersey City Mayor Steve Fulop?
He's got his own fundraising date with Gardner scheduled in October.
Gardner's allies probably wouldn't mind a visit from multimillionaire Philip Murphy, another fledgling gubernatorial prospect.
It's a can't miss chance to get photographed with a winner.
With U.S. Sen. Cory Booker and U.S. Rep. Bill Pascrell (D-9) at the top of the ticket, the politically hyperkinetic Gardner appears well on his way to bulldozing incumbent GOP Clerk Kristin Corrado.
"They're obviously pulling out the guns," said Assemblyman Scott Rumana (R-40). "We're going to have our work cut out for us. Steve Sweeney is certainly a big name."
Sweeney felt the breeze of an ally felled by Gardner, in fact, when the clerk candidate – a longtime marriage equality activist – responded to former state Senator John Girgenti's (D-35) vote against marriage equality by eradicating Girgenti from his local party chairmanship and replacing him as the town's lead Democrat.
2011 redistricting removed Girgenti from office.
Having abstained on marriage equality in 2009, Sweeney subsequently "evolved" on the issue and made same-sex marriage priority number one in the legislature.
"Senate President Steve Sweeney would be the first to admit he messed up," said a forgiving Gardner. "He made it right and became a champion for marriage equality."
Sweeney's interest in Passaic goes beyond following his own moral arc back to the scene of a fellow formerly marriage equality flummoxed senator's political demise, however.
If Sweeney's chief rival for governor Fulop can unite Bergen, Hudson and Passaic and then saw pieces of support out of Newark, he will have a functioning battle apparatus in a 2017 Democratic Primary.
Sweeney wants to disrupt that with an aggressive push into those three counties, which is part of why he intends to anchor Gardner's event tonight.
He will have some work to do.
Fulop actually performed the wedding ceremony between Gardner and his mate Ari Lash.