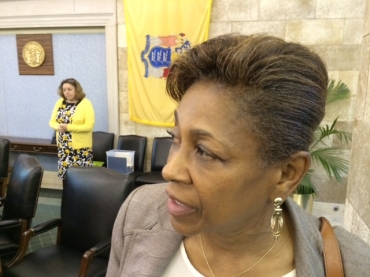 Everyone in the New Jersey political establishment is watching the 2016 presidential election, and gaming the dominos that lead to the door mat on the front steps of Drumthwacket.
That game may lead through Jersey City in the event that Mayor Steve Fulop musters the necessary support to succeed Chris Christie as governor.
If that happens, who would be best positioned to succeed Fulop?
Our list of seven possible contenders…
State Senator Sandy Cunningham (D-31). Widow of the late mayor, veteran Senator Cunningham has a muscled up base in wards A and F. 2013 pre-election polling showed her in good shape in matchups with Fulop and/or then incumbent Mayor Jerry Healy.
Hudson County Freeholder Bill O'Dea. He hasn't yet said he won't run for county executive next year against incumbent Tom DeGise. But DeGise's strong support countywide among mayors (most notably state senators Brian P. Stack and Nick Sacco) make it harder for O'Dea to get traction. His better shot may be a play for city hall on a post Fulop streetscape.
Assemblyman Raj Mukerji (D-33). The ultimate political insider manages to always find a way to land on his feet. The Indian American U.S. Marine veteran has cultivated strong political ties to Fulop, Stack and others in the old world JC political network, including Healy hold-outs.
Council President Rolando Lovaro. Elected for a second term as Councilman-At-Large last year, Fulop team member Navarro is the first Asian American in the history of Jersey City to serve on the Municipal Council.
Former Governor Jim McGreevey. People close to him say it won't happen. Although born in Jersey City, the Fulop kitchen cabinet member doesn't live there. But the former mayor of Woodbridge may be unable to resist running for office again if the opportunity ever arose.
Former Mayor Jerry Healy. Defeated by Fulop in 2013, he remains active and visible. He goes to everything. When he ran last year he made the case that he wouldn't run for higher office. With Fulop leaving, he could make the case that he was right and deserves another chance.
Hudson Freeholder Junior Maldonado. Close to Fulop, would be the city's first Hispanic mayor.
Speaking on condition of anonymity, an insider predicted another 1989 – in other words a free-for-all.
"You have to take into consideration the powerful influence of people outside Jersey City, and Nick Sacco has said no to Sandy – who would otherwise be the clear frontrunner – and no to O'Dea," said the source.
"This will not be a coronation," the source added. "What it will be probably look like are six different tickets, which in the case of 1989, ultimately resulted in victory by Gerry McCann."
If the governor's race stays on course for 2017, another interesting wrinkle is that the mayor's contest falls in the same year, which means the May-scheduled nonpartisan local tilt could serve as a pre-cursor to the June gubernatorial primary.
In other words, it could be bloody as statewide candidates from far and wide invade the city to gain an advantage through a local alliance…