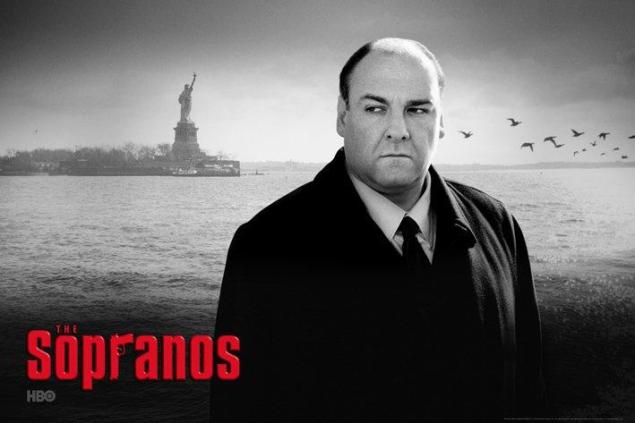 Yesterday morning, the explainer site Vox.com published a 5,000 word story about Sopranos creator David Chase that answered the question posed by the headline: "Did Tony Die at the End of the Sopranos?" Twitter feed @savedyouaclick, which tweets spoilers responses to headlines and tweets that are known as clickbait because they are phrased as a question (thereby enticing readers to click on the link), tweeted the answer to the question posed by Vox's headline:
The Verge, which is also owned by Vox Media, wrote a response yesterday afternoon, dramatically calling out Jake Beckman, who runs @savedyouaclick for his tweet.
"But because the headline was phrased in the form of a question — the question of the entire series — Jake Beckman, who runs the Twitter account @savedyouaclick, decided that it wasn't worth it. He "saved you a click" and tweeted the reveal. This is bullshit. It is bullshit because he didn't save anyone a click at all — he stole an experience," Verge writer Nilay Patel wrote.
By late afternoon, Media Twitter was awash with jokes about the tweet, The Verge's response, The Sopranos and @savedyouaclick. Hey, it was a Wednesday afternoon at the end of August.
"The point I was trying to make, which was lost, is that it was a great article paired with a classic clickbait headline," Mr. Beckman told the Observer.
Ultimately, the actual debate goes deeper than whether Mr. Beckman did or did not spoil the answer to whether a fictional character did or did not get killed on an HBO show that ended seven years ago. Vox editor in chief Ezra Klein had tweeted a spoiler himself (with a broken link) before Mr. Beckman. And by the time that The Verge story went up, seemingly every outlet (including this one) had written an aggregated post about the fate of Tony Soprano.
"I'm not driving traffic anywhere, that's the whole point," said Mr. Beckman, whose tweets don't include links. "It's not like I'm taking a 5,000 word article and co-opting it to make a few bucks."
But the issue isn't about aggregation, which has become so accepted that it is rarely questioned. The debate is about calling out clickbait-y tweets, which are an influential tool for getting readers and have become common enough that many readers are desensitized to them. Understandably, for many writers and editors just trying to get people to click on their stories, the conceit behind Mr. Beckman's Twitter feed feels downright offensive.
"Fighting against the idea of stories that begin with questions is to insist that we live in a world without any suspense, in which even contemplating the existence of two possibilities before lightly tapping a small button to reveal the answer is somehow an affront to good taste that must be stamped out," Mr. Patel wrote. Although this isn't the first time that @savedyouaclick has been criticized, it was a particularly high-profile example. In August, after @savedyouaclick, which started in May, racked up press and followers, BuzzFeed tech editor Charlie Warzel wrote a takedown of the idea behind the Twitter feed and the Twitter feed itself.
Judging from the response on Twitter yesterday, Mssrs. Warzel and Patel are not alone in their objections.
But the conversation, conducted mostly on Twitter, missed the larger point, according to Mr. Beckman.
"I'm one person with a Twitter account," Mr. Beckman said. "It's indicative of a much bigger problem. If I can disrupt your content distribution strategy from my iPhone, then maybe something is wrong with your content distribution strategy."
And, in the end, the back-and-forth worked out for Mr. Beckman: he got more attention for his Twitter feed and in the range of 10,000 new followers.
Mr. Chase later claimed his remarks had been misconstrued. Vox explained that, too. And Mr. Beckman tweeted about it.