Welcome to Freshly Minted, where we examine an overlooked deal or funding announcement in tech from the past week and tell you what you need to know and why it matters.
The deal: Apple acquired book analysis startup Booklamp for an alleged $10 to $15 million, likely to begin work building a book subscription platform, or something much bigger.
Apple is always stark and shady when it comes to their acquisitions. They've bought a number of under-the-radar startups, and when asked why, they offer up the same response:
"Apple buys smaller technology companies from time to time, and we generally do not discuss our purpose or plans."
The latest item on Apple's long list of recent acquisitions is Booklamp, a small company that runs textual analysis on popular books. It's not a well known startup, and the $10 million price tag is high for a service that basically no one had ever heard of.
This latest move might seem strange, but it fits right into a recent pattern for Apple  — a pattern that suggests that Apple is building a subscription platform, and not just for books.
Knowing what you like
Booklamp is the public face of something called the Book Genome Project, which runs books through a text analysis and can tell you exactly what kind of pacing, themes and characters are present in a book.
"Similar to how Pandora.com matches music lovers to new music, Booklamp helps you find books through a computer-based analysis of written DNA," Booklamp says on their website, which is now closed down.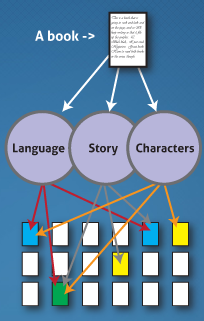 So why is it useful to have a breakdown of the "DNA" of a book? Because if you run a subscription service, this technology allows you to recommend books, the same way Pandora mastered recommendation-driven playlists with the Music Genome Project.
One of the great advantages a subscription service has is abundance. But when you open up a database of hundreds of thousands of books, you need a way to get people addicted and moving from one book onto the other.
For most subscription services, this comes in the form of personally curated lists of things you might like based on what you've already seen — anyone who's ever been told by Netflix that they're a lover of Cerebral Korean Revenge Thrillers With Strong Female Protagonists knows what we're talking about here.

Oyster, the star player in book subscriptions as of this moment, knows that in order to give good recommendations, you need exactly the kind of data analysis Booklamp specialized in.
"We're pretty focused on building out a data science team, Oyster CEO Eric Stromberg told Betabeat in May, "We're looking at what our completion rates are between genres and what people are recommending, which drives what we promote."
Recommendations also bring hidden gems into popular circulation. This appeals to the Big Five publishers, who sign on with services like Oyster and Scribd in order to monetize backlist books that are 12 to 18 months old — books that would never be shelved in brick & mortar stores.
It follows naturally that if Apple wanted to move into Oyster's space, this would make an algorithm like Booklamp's a key part of the equation.
One subscription to rule them all
Books aren't the only place where Apple is making obvious moves toward subscription services. One of the biggest tech headlines of the year was Apple's $3 billion acquisition of Beats, the designer headphones company.
For a moment, it was a mystery why Apple would make such a large investment in a company that produces consumer hardware, but it slowly became clear that the play was really for Beats' Spotify-like streaming service.
"Beats Music has only a fraction of Spotify's subscribers, but under Apple's management, it could quickly grow its share of the market. Likely because of its deep integration with Apple's devices, iTunes Radio now accounts for about 8% of the streaming music market, up from nothing last year."
It doesn't stop with Beats — Apple has been on an acquiring streak lately. In just the past few days, Apple bought and shuttered Swell, the "Pandora for talk radio." Swell is another recommendation-driven streaming service that plays into the same strategy.
But why so many different subscription services? After all, those are recommendation engines across podcasts, music and books.
This suggests that Apple not only wants to move into subscription services, but a single all-in-one service: movies, music, television, books, radio and more. Not just a Spotify-killer, but a Netflix-killer, Oyster-killer, the list goes on.
Apple's model for content so far has been selling songs, books and films piece by piece, but between piracy and subscription models, revenue from iTunes is becoming a smaller and smaller part of Apple's ecommerce business. Nowadays, when people pay for content, they more often want to pay for it in bulk.
But that's not to say Apple is in trouble in the mean time. Apple is still one of the wealthiest companies in the world, with the highest market capitalization in human history and more cash on hand then they literally know what to do with.
And with all of that extra green lining their pockets, they could probably attempt to bundle their subscription service with their devices. Then it wouldn't be just Amazon, Spotify and Netflix in Apple's crosshairs with this service, but Android as well.