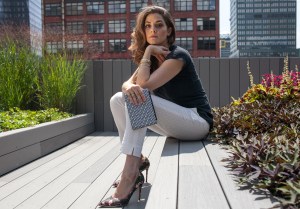 Last June, at a dinner following a talk between Matthew Barney and Tina Brown at Kunstmuseum Basel, during that city's annual art fair, Alexandra Chemla found herself seated with several fellow graduates of her alma mater Brown University.
"My rugby team at Harvard used to go down to the Brown campus to meet girls," said Marc Glimcher, the president of Pace Gallery, one of the few members of the table who did not matriculate at Providence (the Observer was another). "I could sell my whole booth and it wouldn't be as good as winning a rugby game."
As small talk ensued, conversation centered on ArtBinder, Ms. Chemla's startup that she founded as a 24-year-old gallery assistant at Gavin Brown's Enterprise, after years of slaving over massive physical binders full of printouts of art.
"I love it," Mr. Glimcher said, adding that he was an early convert to the ArtBinder revolution, which allows for said binders to be uploaded to a subscription-based service that caters to some of the art world's wealthiest businesses. Once ubiquitous, the clunky physical inventories are now basically relics.
"You know what happened today that was so cool?" Ms. Chemla said. "Someone used 'ArtBinder' as a verb. As in, 'Could you ArtBinder that?'"
"You're just like Google," said another tablemate.
After the dinner—held in the museum's courtyard that's lit with fuchsia Dan Flavin installations in each corner, where Jenny Holzer chatted up seatmate Steven A. Cohen, and Klaus Biesenbach scooped up Mr. Barney's daughter with ex-partner Bjork—Ms. Chemla rounded up her tablemates and dispatched everyone via pricey taxis to Les Trois Rois, the hotel with a riverfront bar that becomes the de facto Art Basel clubhouse, the place where visiting billionaires from far-flung locales can have a drink for 60 Swiss Francs and unwind. Awaiting us were three ArtBinder staffers that Ms. Chemla had flown halfway around the world to preach the app's gospel, iPad-in-hand. She then proceeded to work the room where major gallery owners (Larry Gagosian, Mr. Brown, David Zwirner) would inevitably bump into major collectors (Mr. Cohen, the Mugrabis). Ms. Chemla glided from one conversation to the next, before circling back to us, and bringing up a little party she was throwing in a few days.
"Do you want to come to Germany for dinner?" she asked.
We did want to come to Germany for the annual ArtBinder dinner. That Friday, a slew of well-dressed Basel revelers hopped on a bus out of the city fortified with multiple bottles of very strong schnapps, crossed the Swiss-German border and made their way into the Black Forest. The destination was the Romantik Hotel Spielweg, a Michelin-starred restaurant where Ms. Chemla would host a dinner alongside fellow supporters such as Russian art doyenne Maria Baibakova and Abdullah Al-Turki, the Saudi businessman and art collector. A Champagne reception held in a lush, Edenic valley nestled between tall hills preceded a dinner in the cabin.
"I want to thank everyone for coming, and for all your support," Ms. Chemla said during her toast. "But mostly, I'd like to thank my dad. I would not have been able to do this without his support."
Alexandre Chemla—Ms. Chemla's father, a megacollector who founded ALTOUR, a prominent travel firm—nodded as applause filled the room. Then Ms. Chemla burned herself on a flaming shot of schnapps.
A few weeks later, after the highest caste of collectors returned home from its extended metropolis-hopping around Europe—Venice, Zurich, Basel, Athens—Ms. Chemla was sitting in the lobby of Hotel Americano, displaying the booze-inflicted wound on her hand.
"I'm still recovering—I have another appointment with the dermatologist tomorrow," she told the Observer. "It was so embarrassing to tell her I burned it on a flaming fire shot, like a 17-year-old. Well, I never said I'm not a klutz."
You wouldn't know that from looking at her business, which has just finished raising $3.17 million in investments, is moving into a bigger office space, and is introducing a new extension to their app—ArtBinder Viewer—that allows the general public to access an ArtBinder subscriber's inventory (the Viewer is free to download, but galleries must pay a $3,750 yearly fee to join the ArtBinder network). This puts them squarely in competition with the big three online art companies: Artspace, Artsy and Paddle8. Ms. Chemla now counts among her investors former Facebook VP of product Matt Cohler; former Esty COO Adam Freed; the Black Forest dinner co-hosts Ms. Baibakova and Mr. Al-Turki; and at least one certified investor extraordinaire: Leon Black, the private equity leviathan perhaps best known in the art world for dropping a cool $120 million to buy Munch's The Scream. He's a family friend of the Chemlas.
"Leon Black is a really lovely guy, I've known him for a long time, actually, just from growing up in New York," Ms. Chemla said. "He could be an economics professor or an art history professor."
Ms. Chemla's fascination with the art scene began during her years growing up in the city. Her parents and their extensive collecting habits provided entree into the gallery scene while she breezed through Nightingale and then Fieldston. When she went off to college she designed a major that combined modern culture and media studies and—this being Brown—semiotics. Internships at The Whitney and The Peggy Guggenheim Collection in Venice landed her a job at Gavin Brown's Enterprise in New York, where she spent hours painstakingly compiling the tomes of inventory that gallery assistants lug around to openings and art fairs to show to potential buyers.
In the spring of 2010, someone sent the then-latest Apple gadget, the iPad, to Gavin Brown's Enterprise. Facing the tedium of compiling physical compendiums to show would-be buyers, or the haphazard and time-consuming reality of sending images via iPhoto and Dropbox, Ms. Chemla thought this new device could be of help.
"I thought it would be something on the side," she added. "I come from a family of entrepreneurs, and they were very supportive of this. Because I was so young, I was like, if this works, fantastic, and if it doesn't, I'm going to learn a ton. But I pretty quickly realized I had a knack for this technology stuff."
So, with her boss's permission, she started shopping the app around. Some balked at the price, others scoffed at the notion that the iPad could replace the tried-and-true binder method.
"Over the first year, or year and a half, one of the responses would be, 'Oh, we really like the tactile feeling of paper.' But I was able to tell them, 'Look, paper is great, but look at what you can do with this.' People didn't want to adopt the iPad."
Of course, the iPad, like the steam locomotive, is here to stay, and David Zwirner Gallery, Pace Gallery, Gladstone Gallery and Lisson Gallery all signed up without needing much convincing. Nearly 300 different galleries are now ArtBinder subscribers.
Some smaller galleries have cited to us the hefty subscription cost among reasons not to sign up, while certain mega galleries seem content with handling things in-house. Gagosian Gallery, for example, launched its own iPad app in September 2011, right before the introduction of ArtBinder.
But Ms. Chemla has, for the most part, not had trouble convincing anyone to buy into her services. This is partly because she is adept at unleashing a healthy amount of old-school charisma, charm and hustle, while still exuding the cool, effortless cosmopolitan aura that comes from growing up with a French father in New York City. Her father still lives on 72nd and Park, where she grew up, and Ms. Chemla lives in the West Village, in the same building as her sister, jewelry designer Alison Chemla, and her old prep school friend, the actress Annabelle Dexter-Jones. "We call it the dorms," she said.
This upbringing and her father's business savvy has put her in rooms with people like Mr. Black. Her mother Lori sits on the board of The Chinati Foundation, the center devoted to Donald Judd's vision for Marfa, Texas. She recently threw the foundation a fundraiser at the Chemla home in Amagansett.
As for Ms. Chemla's own plans for future fundraising, she said this is too far off to consider. For now she's focusing on expanding her staff and hitting as many openings, parties, galas and art fairs as possible.
"The one thing I can say is that I'll be working a lot," she said.
In July, Ms. Chemla threw potential investors "a bohemian summer soiree" on the roof of the McKittrick Hotel, in Chelsea, to celebrate the launch of the Viewer. We entered an elevator and found ourselves pushed up against Daddy Chemla, whom we had not seen since we were in Germany, swigging schnapps by a fireplace and belting out La Marseillaise—Mr. Chemla's choice.
"You don't look very bohemian," he told us, before smiling. Mr. Chemla was wearing a full suit.
When the elevator reached the top of the faux-rickety hotel (The McKittrick plays host to Sleep No More) milling around the sun-dappled bunches of leafy trees and bright flowers—a green forest rather than a black forest—were women with last names like Rockefeller and Bloomingdale, a cast member of Girls, a smattering of art reporters waiting in line to get custom-made crowns of flowers, artists in line for goblets of rosé, and dealers intrigued by this nostalgia-heavy party for an app of the future.
"Oh, I am so glad you could make it!" Ms. Chemla said to Barbara Gladstone, her big black sunglasses never leaving her nose.
"Well, isn't this lovely," Ms. Gladstone responded, then turned to see Bill Cunningham attempting to capture Ms. Chemla and her long, loose-fitting Carolina Herrera dress. The veteran shutterbug in the blue jacket got his shot, and so the pictures appeared in his "Evening Hours" column in the Sunday print edition of The New York Times—images of Ms. Chemla and her people in bygone duds, all donning long hippie dresses and flower power headbands. There was not an iPad in sight.