"Did you like Amy's dress?"
"I have to admit, she was channelling Grace Kelly."
"Too bad the mother of the groom wore white, too…"
"Oh, stop, that was clearly beige."
It's better than reality TV.
No wonder couples are banning Twitter, Instagram and Facebook from their nuptials.
Social media is a blast for an unrepentant wedding junkie like me — but nobody wants me sizing up their wedding from the comfort of my iPhone. I don't blame them, either. Unwelcome peanut galleries are just one of the many reasons My Facebook and Instagram feeds turn into a technicolor orgy of amateur wedding photography every single weekend.
Brides make their way down the digital aisle of my iPhone, frozen in every conceivable angle. Grooms take shots with their buddies. Bridesmaids mug adorably in cerulean ball gowns. It's like they're all duelling for my attention — and the favor of a double-tap of Instagram approval.
Of course, this has turned me into an amateur wedding expert. Mad with power, my friends and I text back and forth all weekend, rating the cakes, rings, gowns, venues and hair-and-makeup of all of our old school frenemies.
---

HELPFUL SOCIAL MEDIA STRATEGIES FOR WEDDINGS

1. Stay out of the professional photographer's way. How angry would you be if your cake-cutting photos featured a clueless aunt hovering in the foreground, snapping a picture with her iPad? (Addendum: don't ever take pictures with an iPad. That's just a general rule of life.)

2. Don't use your phone during the ceremony. Even if you're not in a house of worship, whipping out the ol' Android while husband and wife share their first kiss is utterly boneheaded. A professional photographer is capturing these moments 300 times better than you ever could.

3. Don't use your phone during dinner — you wouldn't text through any other dinner, would you? (The answer should be no.)

4. Don't post an unflattering photo of the bride or groom. It's not funny. It just makes you seem passive aggressive and jealous.

5. This one's for members of the bridal party: don't upload photos of the bride to Instagram or Facebook before the ceremony begins. And if you do so accidentally, take a cue from the guest we interviewed and don't tell the bride until after her big day is over. In the meantime, just delete it. She'll thank you later.

6. If you really want the bride and groom to appreciate the pictures you've taken, try to capture fun, personal moments that a professional photog probably wouldn't catch. The couple doesn't need 15 blurry pictures of them walking down the aisle from every conceivable angle. Even a selfie of your eye makeup is preferable to that.

7. Don't overshare, whether the photos are of your own wedding or someone else's. This rule is probably the toughest to abide by — especially if your hair and makeup are especially on-point that day — but nobody likes a social media braggart. "Take a cue from celebrities and post your favorite photo of the entire day, the one photo that encapsulates everything," Ms. English said. "Posting over and over about your wedding is déclassé."

---
And perhaps because many marrieds-to-be have participated in social media chit-chat themselves, about 31 percent of those surveyed by The Knot and Mashable said they'd ban social media at their weddings in some way. It's long been a popular tactic for famous people. It allows couples like Kim Kardashian and Kanye West to pretend they're interested in privacy while keeping half the world glued to their iPhones, waiting for something, anything about the event to trickle in.
And banning Instagram doesn't stop us from learning everything there is to know about celebrity weddings, of course. It's just that without social media to contend with, the couples are better able to control what goes out.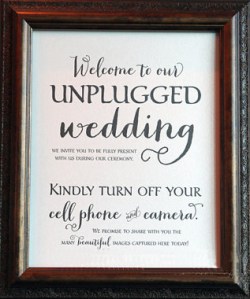 Take Gawker Media owner Nick Denton and actor Derrence Washington, for example. They married at the Hayden Planetarium in June. Guests enjoyed readings from Dune and Cosmos, unexpected tears and a 40-minute star show. Mr. Denton's father gave a particularly touching speech.
I don't know this because of social media, though; the couple told guests to leave their phones at home. So I had to stalk these two the old-fashioned way, through the New York Times Vows section.
Mr. Denton wouldn't comment for this story but I'm told the guests largely enjoyed the social media breather. We all have a tendency to pull our phones during down time or awkward moments. Foregoing that digital crutch can lead to some rewarding real-life interactions, apparently.
But not everyone is copacetic when a couple asks them to ditch the phones. Some feel that "No Instagram, please!" signs are controlling and passive aggressive. Asking guests to check their phones at the door is nothing short of draconian.
"In this day and age, I think that's a ridiculous request," Micaela English, a digital etiquette expert who works for Town and Country, told the Observer. "Unless you're Kate Middleton, there is no reason to prohibit your guests from using their phones."
A friend who attended a D-list TV star's uptown wedding agreed. The actress bride forbade photos during the ceremony and reception. She didn't institute the ban in the interest of privacy, though. Her ban stemmed from a deal she'd struck with a glossy gossip rag. They agreed to pay for her dress and feature her in the magazine — as long as no photos appeared anywhere else, not even on a civilian Instagram feed.
She was "relatively 'famous,'" the guest grumbled, but "the overall vibe among [guests] privately was, 'This girl is definitely not famous enough to pull a stunt like that.'"
Our guest was disappointed, especially because many of his childhood friends were at the reception and he couldn't take a single photo with them. He was further insulted when he asked to see photos a professional had taken of the night and the couple refused.
"I was bummed," he said. "Weddings are fun and should be documented. And with the amount of money guests have to spend just to go to a wedding, it's kind of within our rights."
On the other end of the spectrum are couples who whole-heartedly embrace social media — or just don't give it a thought. Ms. English said the moments guests capture and post online "can be quite special."
"Once you check your Instagram hashtag, you'll have a free wedding album of images of your big day, which is exciting," she said. When two of her best friends were married recently, "they were very relaxed about social media and cell phone etiquette. They picked a wedding hashtag, spread the word to guests, and enjoyed the results."
Still, she acknowledges, there are some rules guests should follow when wielding their phones at weddings.
"During the ceremony, put your phone away," she said. "The same goes for dinner —engage with other guests at your table. The best times to Instagram are during cocktail hour and on the dance floor."
Ms. English noted that when going through the wedding submissions for Town and Country, she sees plenty of cringe-worthy photos where the bride and groom are being greeted for the first time as man and wife by a sea of iPhones. It begs the question: are those guests even going to look at a blurry picture of the happy couple walking out of the church again, anyway?
Still, most brides and grooms feel uncomfortable setting rules for their guests — and almost all of the brides we informally polled for this story said that they welcomed guests to take pictures at their weddings, within reason.
For the truly diehard social media lovers, there's the option of paying $3,000 for a social media wedding concierge to curate the big day. This position was invented when W Hotels announced in March that couples getting married at five of their New York City and New Jersey hotels would have the opportunity to shell out $3,000 for the service.
It's fitting that our city would be the first to spearhead such an extravagant extra wedding pro; the average cost of a wedding in New York City is $65,000, which is more than double the national average of $27,000.
The general media consensus after this announcement was that only a sucker would pay $3,000 for someone to pick out their wedding hashtag. But Alyssa Kiefer, W Hotels' global social media strategist, tells us the position was created because of demand. So far, four couples soon to be celebrating their nuptials at the W are using her services.
So what does a social media wedding concierge do? The running joke in all of the post-announcement blog posts was that $3,000 is a steep price for a customized hashtag. And, yes, Ms. Kiefer does work with clients to dream up the best hashtag to use for organizing photos, from the engagement portrait to the food-and-wine-tasting to the reception.
Ms. Kiefer tags along and photographs those big moments for online postings. She says her job is to "take one more thing off the couple's plate when they have so much planning to do."
As far as how guests should conduct themselves at a reception when using her custom hashtag, Ms. Kiefer advises they mimic the people surrounding them.
"Look at what others are doing," she said. "Don't be the only person who's on your phone. Weddings are fun. You want to take advantage of the open bar instead of hanging out on your phone the whole time. Have a balance.
And to the many people who criticized the W Hotels' announcement that they'd be offering social media wedding consulting services, Ms. Kiefer points out that it's getting more and more common for an engaged couple to employ a fleet of specialists when prepping for the big day.
"A few years ago, an engagement photographer and a wedding planner seemed over the top," she said. "Now, that's almost standard. As social media gets woven into every aspect of your life, it's natural to have someone guide you through that process as well," Ms. Kiefer said.
Her duties can also extend to getting couples not to post.
"We want to make sure they're thinking ahead and picking out key moments they want to capture so we can limit it a little bit, so people are seeing great parts of their wedding and not getting annoyed… We appreciate that [couples are] excited to share, but we try to manage the oversharing."
And she's got a point. As much as I adore flipping through people's wedding albums on Facebook, social media milestone fatigue is an issue for some people. Live a successful life too publicly, and jealous acquaintances will loathe you in no time. Certain unmarrieds are rankled by wedding, engagement and new-baby photos. I'd wager it has more to do with quantity than quality, though.
Of course, there are risks associated with using social media at weddings. When conducting an informal poll of recent brides to gauge what kind of cell phone use is acceptable, we heard a few horror stories.
One woman told us, for example, that at her friend's wedding, the blissfully social-media-ignorant mother of the bride posted a photo of her blushing daughter to Facebook before the groom — or anyone in her bridal party — had seen her. The bridesmaids collectively decided to keep it hush-hush.
"She was a bit of a bridezilla," the friend said, "so she would have died if she knew. I think her mom just wasn't thinking or she didn't think anyone would see it until after the ceremony."
"I can understand why brides would want to [restrict social media]," another bride said. "Half of my guests are holding up their phones to take pictures during the ceremony."
Still, she said, "I don't think it's right to collect phones [from guests] — just [give] a friendly reminder and trust your guests to abide. I think some brides just don't want 'bad' pictures of themselves on social media. Understandable, but a little controlling!"
Even if you're lucky enough to have guests who keep their phones on silent, the mere presence of an iPhone can cause problems. One woman was at a wedding where the photographer was squatting in the aisle to get a shot during the ceremony. He somehow activated Siri, whose robotic voice filled the church.
It was "hilarious for us, but probably a little mortifying for the bride and groom," the guest said, pointing out that this malfunction was the only detail she really remembered of her friend's wedding ceremony.
One bride actually preferred the photos her guests posted on social media — "they made me laugh a lot more than my professional photos," she said.
Most of the brides we talked to found restricting phone use to be "a little overbearing," another bride said of restricting phone use. "I hate to use the word bridezilla… For me, I love the social media photos and posts of my wedding. It let some people who couldn't attend get to see the wedding in real time."
This also turns your wedding day into open season for bored armchair nuptial enthusiasts like myself, though. Not to mention, photos of your happy day could be clogging the feeds of people who are hurt they didn't get an invite. Nobody wants their wedding to turn into a social media faux pas on par with #blessed status updates.
Ban phones and your guests might be offended. Encourage Instagram, and you run the risk of being haunted by a photo of you sweating through the "Electric Slide" in your gown. As with most matters of etiquette, you really can't win.