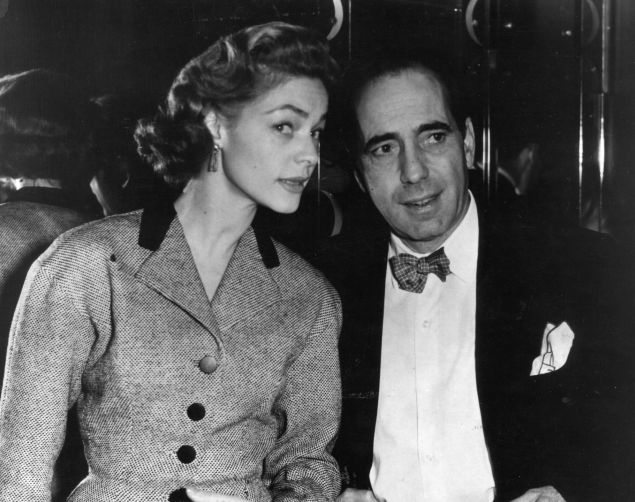 Lauren Bacall: I knew her pretty well, a couple of ways. One way was obvious: I'm an entertainment reporter. The other way was more important: when she was born Betty Jean Perske in 1924, my grandmother often baby-sat the future star of stage and screen. How this came about was a little bit of legend in our family. Two years before she met my grandfather in 1926, the then Marion Zimmerman had dated Betty's uncle Charlie Weinstein. This was in the Bronx, around the time my grandmother worked in public relations and advertising. Grandma Mimi was around 20, 21.
The story was that Betty's father had left his wife and baby daughter soon after the birth. He didn't know then that Betty Jean would, in 17 years, become an overnight sensation known as Lauren Bacall. The grandmother (that is, Charlie's mother) admonished him about even thinking of getting married. He and my grandmother were too young. He had to graduate law school and take care of his family. That put the kibosh on the romance. Still, they were often called upon to sit with baby Betty. It would be years before Charles Weinstein would marry, as Betty wrote in her memoir. He never had children.
More than a decade later, my grandparents (my grandmother had married a better Charlie, a real love match) ran into Charlie Weinstein on Riverside Drive. He was with the baby, now about ten or eleven years old "She said wanted to be an actress,Grandma recalled. It seemed like a pipe dream. She never saw them again. A few years later, my grandmother was stunned when the baby who derailed that young relationship became a movie star and married Humphrey Bogart.
Lauren Bacall initially did not think much of this story. The first time I explained it to her, she looked at me in horror—a look I was to see many times over the next few years. You see, I clearly knew her age if the story were true. This was not a good thing. But I do think she secretly enjoyed this odd connection. And so it built a strange foundation for eventual meetings in public at various events. Her loyal and steadfast manager Johnnie Planco would say, "You remember Roger." And Miss Bacall would say to me "Don't tell that story again." Very firmly. And then we'd gossip about everyone else in the room.
Grandma did not think much of it as the years went along. But toward the end of her life she asked me to look in Lauren Bacall's memoir, By Myself, to see what had happened to Charles Weinstein. I got the paperback and flipped through. It seems Betty's Uncle Charles died of a heart attack. He was in bed with his wife, Rosalie. Three months later, Rosalie died in a plane crash. Fate is cruel. But I'm very lucky Betty's mother didn't let her son marry my grandmother.
Over time, in the '90s and 2000s, really until a year ago, Bacall was a regular at New York events. I saw her quite often and it was always an adventure. At one dinner in 2003, she gave Cate Blanchett advice on how to play her friend Katherine Hepburn in Martin Scorsese's "The Aviator." I wrote about their meeting:
"She wore her hair up," Bacall said, "and she was very athletic. She had only a trace of a Hartford accent, so don't worry about that," she told Ms. Blanchett, and rattled off several more reminisces to the awe-struck Australian actress.
"You're fabulous," Bacall told Ms. Blanchett, responding to her performance as murdered journalist Guerin.
"You're the definition of fabulous," Ms. Blanchett shot back, hugging the Hollywood icon.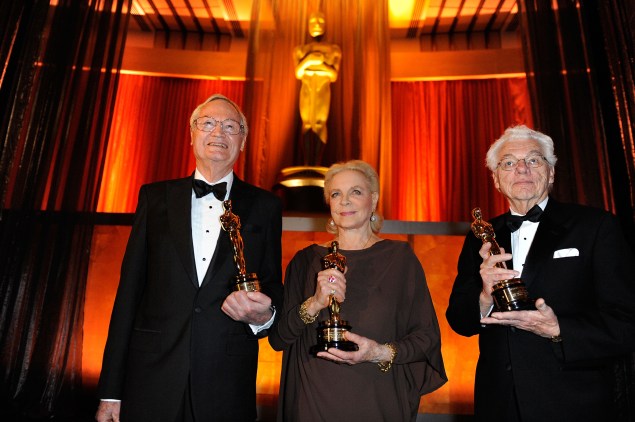 The talk turned to the red carpet at the Oscars, which Ms. Blanchett first blanched at back in 1999, but eventually came around.
"I was nominated for one Oscar and I lost it," the regal Bacall said of her 1997 loss to Juliette Binoche. "But I got more publicity for losing it than for winning it."
In June 2013, she came to a lunch thrown by Peggy Siegal at Michael's restaurant on West 55th St. for Vanessa Redgrave. The two woman had bonded through Ms. Redgrave's late daughter, Natasha Richardson. Bacall asked for me to sit on one side of her, Ms. Redgrave on the other. She was in a feisty mood, very haughty. Let's face it, she could be mean. All through lunch various people, actors, showbiz types, tried to come say hello. She wasn't giving audiences. When the man seated to my left stood up, he said, "Miss Bacall, it was such an honor to sit at your table." She replied: "I'll bet it was."
At that lunch, Ms. Redgrave asked how we knew each other. Bacall rolled her eyes and said, "Oh it's quite a story." I told the short version. My grandmother died in 1997 at age 93. As her friends and family from her generation vanished, it was always nice to have this one last connection to when she was young. Now the connection is gone.
Bacall's death made me think of the Broadway opening in December 2009 of a revival of "A Little Night Music." It was one of the last at Tavern on the Green, on a rainy Sunday night. Bacall had come with her pal, Alexandra Schlesinger, but she'd let her car go, not realizing that it might rain. I offered to drive them home. "You have an automobile?" she asked me. We took her friend home to the East Side, then returned to the Dakota, where she'd famously lived for so long. "Did you ever think, 85 years later, that your babysitter's grandson would be seeing you home?" I asked. She got a kick out of that. "That's life," she said, and she was so right.
Roger Friedman has covered the entertainment industry for over 25 years and is the founder of Showbiz411.com.