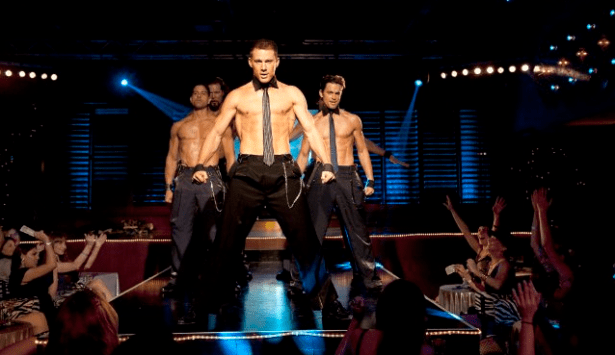 This column has explored a lot about cam girls — most recently, for instance, I learned that some of them are making around a million bucks a year. But with all this talk about female webcam performers, a number of people have asked me: Are there also webcam boys?
They're certainly not as numerous as their female counterparts, but yes, male webcam performers exist. After a couple weeks of searching, I managed to track one down. He goes by the name Mike Hard, and he's a performer on camming site Streamate. He agreed to chat with me about what it's like to be a cam boy.
Mike Hard started camming toward the end of 2013, when a change in his work situation left him in need of some extra cash. The 31-year-old was camming and earning hundreds of dollars a night until March, when a bad accident at his day job forced him to take a break for a while. He hopes to be back in the next month or so, he told me.
What's your career background, and how did you first get into camming? Had you been involved in any kind of adult entertainment before?
Most of my career I've been doing construction, doing everything from roofing to sheet rock. I've been in the construction business ever since I was a kid. Even when I was in high school I went to vocational school to learn more about the construction trade. I was raised in the business. So camming, yeah, it was a drastic change for me — wasn't really a part of my game plan, to be honest.
I never had any kind of background in the camming industry. I got offered a while back — way back in the days of Myspace — to do porn, camming, even to be a stripper, mainly because I've always stayed in great shape I was always active ether by playing football, wrestling, or just hitting the gym, because it's what I love. But this past year toward the end of 2013, I needed money. My work situation had changed, so I needed some extra money and decided to give camming a try.
What do you typically do on camera?
I was and still am new to the business, so my camera routine would change. Sometimes I would strip tease, sometimes work out in my boxer briefs — even work out naked. Other times I'd pleasure myself on cam, if that's what the viewers wanted to see.  I developed the way I perform by trying to please the viewers and make them happy. If I gave them a great show, most of the time they'd give me a five star rating. Of course you can't please everyone, because I don't do certain things.
What happens when someone asks you to do something you're not comfortable with? 
When I'm asked to do something I wouldn't do, more often than not I'd say, "I'm sorry, but I don't do that." Most of the time people understand, and when people don't, or I see them acting like jerks in the chat room with other viewers, I kick them out.
How would you describe your typical viewers? Are they men? Women? 
The viewers I had from [Streamate] were great. It was funny, because some of them would let me know, "Hey, I'm a dude, hope you don't mind me watching," and I'd tell them, "No man, I don't mind, this is a show. Pretty much anyone can watch, and as long as you're not acting like an ass, I'm cool with it." But I've had females and couples watch; I thought it was cool because they'd say it was helping their sex life. They were trying something new, so I'd tell them, "Yeah, me too LOL."
Do you think there's more of a stigma against male webcam performers than female performers? 
Yeah, I'd say I believe so. [It's odd], because a lot of people say how men are all about sex and it's all we think about, but the reality is females think about it just as much, or sometimes even more than we do. That, and they show their sexual side more than most of us males do. Hell, I watch some of my female friends on their cams — females are truly beautiful and very sexy, just everything about them. Males, we are known to be hard and tough.
Is it harder for men to earn money as webcam performers? What are your typical monthly earnings?
I do think it is a little harder for males to make money as performers, specially if you're a solo performer and don't have that female counterpart. But regardless, if you know what you're doing, you can make money. I was making a couple hundred dollars a night; I would go on for an hour, sometimes two a night. I'd do it about three or four times a week, sometimes more.
What rates were you charging for private sessions? Do men typically charge higher or lower rates than women?
I think for my normal cam, I was charging $2.30 per minute, and private was $3.50 per minute. I think it doesn't go by [whether you're male or female] as much as how popular you are. The more you are known and more viewers you have, you have the ability to charge a little more.
Do your friends and family know that you do camming on the side? 
There is only one person in my family that knows that I cam, and that's my cousin. I asked what he thought, and he told me if that's what I need to do to get some extra cash and I'm not hurting anyone, then yeah, do it. Only one of my friends knows. She is my best friend and she supports me fully.
Are you dating anyone? If so, do you tell the person that you cam? 
I am single right now, and no, it's really not something I say right away to a lot of girls. I don't feel [they] would understand. It's a hard thing — I don't like lying to them, but I just try not to bring it up until we get more comfortable with each other.
Do you have any funny/crazy stories from camming? Like, has anyone ever asked you to do something totally crazy?
There was this couple that liked to do cam-to-cam with me. At first I didn't think anything of it, but after a while they would ask me if we could meet in person and get together. I'd politely say, "No I can't," "I'm too busy," or that I wasn't going to be around. But the wife ended up getting my [name] Mike Hard tattooed on her. I was in shock when I saw it, and a little honored I guess.