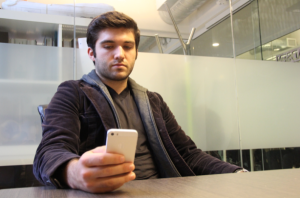 Remember John Meyer, the 19-year-old tech pro we profiled back in May? When we hung out with Mr. Meyer at his coworking space — where he was rigorously working toward the launch of his news app, Fresco — he said he was debating leaving school to pursue his startup full-time. Well, now he has.
Mr. Meyer announced he was leaving New York University earlier this month on Medium, in a blog post titled "I am leaving a top tier university." It's now been viewed tens of thousands of times. We grabbed coffee yesterday with Mr. Meyer around Union Square — where he's just signed a lease on an apartment, now that he can't live in NYU's dorms anymore — to learn more about his decision to leave school, and where his startup is headed next.
The decision "evolved over a period of six months," Mr. Meyer said, starting around the beginning of his second semester. He'd switched his major from computer science to business and tech management, but he still felt he could be successful in the tech world without slogging through tedious homework and course requirements.
"Even before I entered NYU, I knew that a degree wouldn't be worth that much," he said, noting that when he interviewed for an internship with Apple back in January 2014, there were no questions whatsoever about his major or degree; they "just cared about [his] ability to get stuff done."
In the spring, he also made it to the final round of competition for the Thiel Fellowship, which offers promising young tech entrepreneurs $100,000 to leave school and develop their products. Though Mr. Meyer didn't end up winning, he said it was inspiring to meet other potential dropouts in his same position.
"I'm meeting 39 other people that are my age or younger, and they're all working on ridiculously incredible products," he said, recalling one participant who was attempting to cure cancer, and another who was trying to find a way to harness the power of all the world's smartphones to create a global supercomputer.
Those things, coupled with the successful launch of Fresco, made it really hard for Mr. Meyer to keep on caring about his NYU work.
"I personally have a huge amount of trouble being able to concentrate on marketing homework when I'm working on a real startup, and pitching to real investors," he said. "I had a really hard time putting effort into my schoolwork."
But college wasn't the only thing getting pushed aside in favor of Mr. Meyer's entrepreneurship; the 19-year-old also turned down a summer internship with Apple in Cupertino. "I [felt] like I [was] going to be miserable," he said. "I've been working on stuff on my own, and [at Apple] I'll just be at a desk working on a project I'm not as excited about."
Before the start of his sophomore year, Mr. Meyer declared a leave of absence at NYU. We needed to know: how did his mom, who'd cried when he'd first told her he was thinking about leaving, take the news?
"She didn't take it too well at first," he said. "These people [in his parents' generation] have lived in an age where a degree is worth so much more than it is now. Now everyone has a degree."
Though his mom's concern is totally understandable, something tells us Mr. Meyer will be okay. After all, the guy's been fully supporting himself since his sophomore year of high school with money he earned from developing apps — one of which, a flashlight app, earned him $130,000.
Now that schoolwork's out of the picture, Mr. Meyer spends most of his time focused on Fresco. The app relays news stories using crowdsourced photos submitted by photographers around the world — whomever happens to be closest to a breaking news story at any given time. The problem so far, Mr. Meyer said, is revenue. Fresco has none so far.
Mr. Meyer hopes that one day, news organizations will be able to license photos straight from Fresco, at much lower prices than they'd find on Getty, AP or Reuters. For that to become a reality, however, he'll have to find a way to curate all the images coming in, as well as verify them. He's currently experimenting with ways to solve those problems.
With Fresco still revenue-less, Mr. Meyer's earning money through a couple side projects. One of them is iQ4, a startup that connects skilled college graduates with big companies looking for new employees. Originally brought on to do some design work, Mr. Meyer has now been charged with developing iQ4 for iPhone and iPad, as well as redoing the site's entire front-end design.
But that's not all! Mr. Meyer is also in the very early stages of developing a travel startup with some guys from NYU — something that would help travelers find lodging that's "cheaper than a hotel [or] Airbnb, but not sketchy."
Their idea is to develop an app wherein travelers could enter their destination, and then be presented with a list of direct Facebook friends, plus friends of friends, who live in the area. "If you're a student in a dorm, tight on cash, why not make $20 a night having someone crash on your couch?" Mr. Meyer asked.
With Mr. Meyer's busy startup schedule, he's happy to come home at the end of the day to his girlfriend, who's a student in NYU's Gallatin program.
"If I were living alone, I'd only be in the tech startup land," he said. "I need a part of my day where I'm just thinking about normal stuff… We'll talk about what she did in her advanced poetry class, and what we're doing for dinner."
Mr. Meyer said he could never do the "hacker house" thing, where nine guys will live in a house together out in Silicon Valley and work on startup stuff around the clock.
"I can't," he said, "I need an escape once in a while."