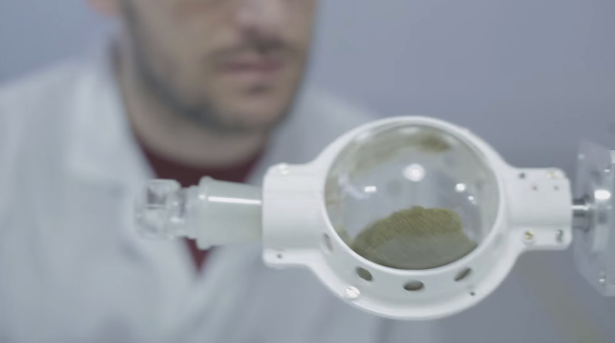 As the U.S. starts legalizing marijuana for recreational use, many states are dipping their toes in the water by legalizing medical marijuana. The medical clubs, in turn, have been engineering the most potent strains of cannabis in the history of dilated pupils. Well, now it looks like they get all of the best gadgets, too.
A totally chill Israeli company called Syqe has created a handheld inhaler that gives a metered dose of medical marijuana with the mission of making medical marijuana more respectable. The Syqe Inhaler will be available in Israeli hospitals by the end of the year and home use some time in 2015, but don't get too excited: home use is still clinical, prescribed use only.
Syqe Medical CEO Perry Davidson told the extremely industry-specific Plastics Today that device was mostly made with 3D printed parts, but only for the sake of quick prototyping.
[youtube https://www.youtube.com/watch?v=miUYb_V2GMU]
The inhaler was designed to solve the problem of medical marijuana's unpredictability. Medical clubs aren't exactly serving up shake, but just because the product is quality doesn't mean the dose of THC always make it to a patient's system in the right amount. Even if a doctor can prescribe the right dose, a challenging enough task on its own, the current methods of taking medical marijuana (smoking, vaping, edibles, etc.) don't always deliver that amount precisely.
The inhaler, on the other hand, gives a carefully regulated dose of THC. The device is also WiFi enabled so patients can up their dosage using an app on their phone, which sounds more like a dare than a feature. The app allows the dosage to be monitored remotely by a physician, and Syqe Medial claims that they'll be able to develop an "ever growing, highest quality database" of clinical data around medical marijuana use.
We'll be sure to bring you news of the research insights gleaned from that database, including peer-reviewed evidence that using the inhaler directly correlates to late night Taco Bell runs and the haunting feeling that everyone is secretly laughing at you.