Last night the annual NY Art Book Fair at MoMA PS1 kicked off. It was hot, sweaty, art-filled, jam-packed, and came complete with a Thurston Moore/James Nares noise rock concert. The Observer attended, and now that we've had the chance to recover, here are our thoughts: 
Nate: Let's talk about this art book rave party extravaganza.
Alanna: Yeah, last night was not what I expected at all.
Nate: Oh, you didn't expect thousands of art/lit kids to fill up PS1 like it was Coachella?
Alanna: No! I think I didn't dress right for the occasion.
Nate: Maybe you should have bought that awesome Andrew Kuo THE SMITHS shirt with Jerry and Roberta on it, and thrown that on instead.
Nate: So, did you want to buy that Martin Kippenberger book for $7500? Because if you so desire it, it can be yours.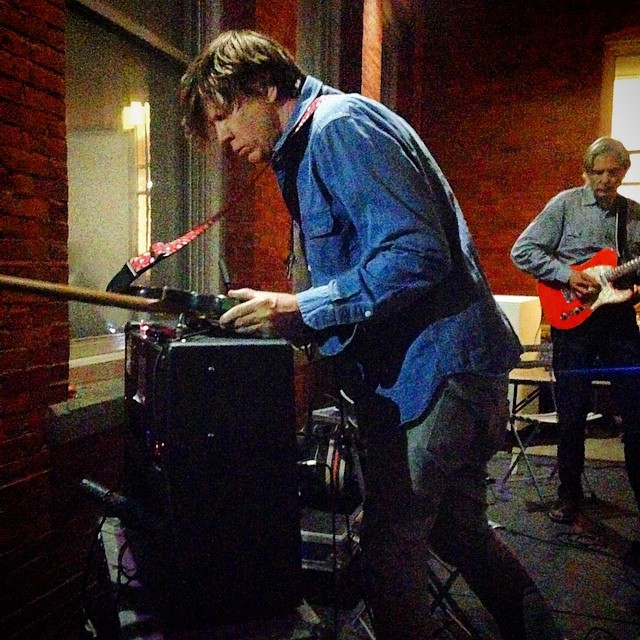 Alanna: Pricey stuff to be found on the first floor. Though I did buy a print! For a respectable $45.
Nate: You bought a print! I bought two beers.
Alanna: I have to mention Ivan Navarro's music room
Nate: Tell me about the music room, I was too busy looking at punk rock posters for the music room.
Alanna: The floor of the room was covered in thick foam, and separated into little foam pits for sitting where people could plop down and jam out to the music they were blasting.
Alanna: BUT you had to take off your shoes to get the full living room, parent's basement vibe. No smoking, so it felt like there was a little something missing there for the full effect.
Nate: If I had some spare Benjamins I would have definitely bought that signed edition of Weather, which is the collaboration between Christopher Wool and my hero Richard Hell. Also, the pristine copy of New York Rocker with Hell on the cover. It looked like Tiger Beat—so cool.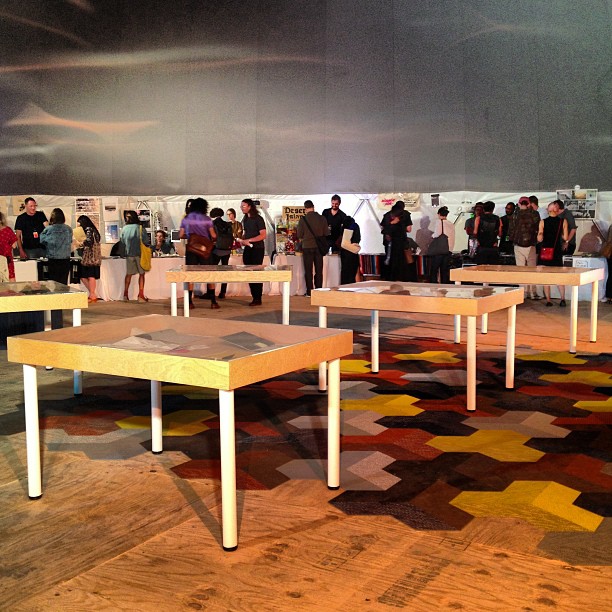 Alanna: I bought Dorothy Ianonne's book from Siglio, so beautiful. And the show outside in The Dome was definitely a don't-miss. One of her artist book collabs with Dieter Roth was on view there.
Alanna: And up on the second floor it was a SAUNA. A great find there: Eric Doeringer's Mickey Mouse Richard Prince Gago Canal Zone parody tees. Parody tees were sort of everywhere, but that was in my top 3.
Nate: We are going to be seeing so many of those tees at openings. Get ready—NY Art Parody Tees Fair?
Alanna: Can we talk about all the porn on view for a moment. Like…there was a LOT.
Nate: There was! I rather enjoyed the Hustler poster. With all the graffiti. AEROBICS GIVES YOU HERPES. GEORGE BUSH HAS AIDS. Etc.
Alanna: And Thurston Moore. Man of the night. Did you know there was a reason for him to be there, and it wasn't just to tease our ears with the melodic sounds of his noise rock? I think a lot of people didn't know he has a chapbook out!
Nate: I wonder if Thurston Moore noticed that a print by a certain ex-bandmate/ex-wife of his was on sale upstairs for $1500… And he was playing with James Nares! When I was with James for the thing I wrote about his new show, he mentioned that Thurston asked him to play, even though he hadn't performed in public in like 25 years. He said you can't say no to Thurston Moore!
Nate: Oh! I have to tell you about the Champagne toast that Klaus held in his office after it was over! Klaus had a few people come up to his office.
Nate: Probably one of the best views of the skyline in the city. He said some nice things to Phil Aarons, the collector and president of the board of Printed Matter—organizers of the fair. The bubbly flowed and we all toasted—A toast, to art books!
Alanna: Did you and Klaus trade zines after that? Klaus, tell us your picks!
Nate: I could not get to Klaus to talk zine-buying strategy, though I could have used some tips.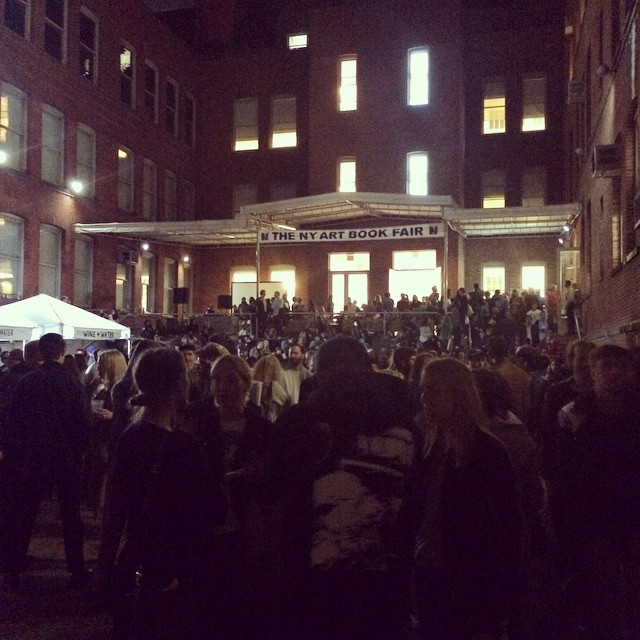 Alanna: Well, you've got all weekend. All in all, I'd say it was quite the night. I bought way too much stuff, ogled so many books, and there was just way, way too much on view to even digest… I'll go back for sure.
Nate: It was quite a night! I would say, for me, that the sheer number of people there, which was just nuts for a fair selling art books, prevented me from actually getting to see everything. And I wanted to see everything! I plan on going back, definitely. If you had told me three years ago that I'd be mentioning Coachella while talking about the NY Art Book Fair…
Alanna: Haha, yeah, right? It's great though, print is alive and well.
Nate: Hooray for print! The internet is over, it's all print now.
Alanna: And a great place for galleries and special editions publishers to showcase some great artists that might not hit it big at the mainstream art fairs.
Nate: Absolutely.
(The NY Art Book Fair is located at MoMA PS1 in Long Island City, and open Friday, September 26, from 12–7 pm; Saturday, September 27, from 11 am–9 pm; and Sunday, September 28, from 11 am–7 pm.)