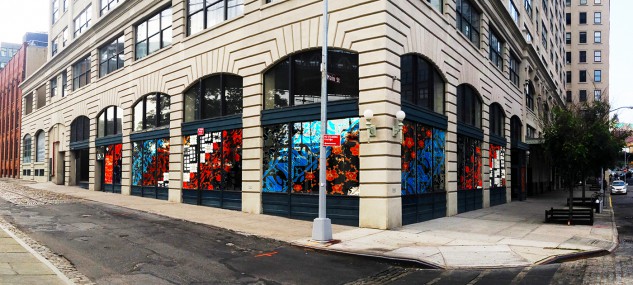 You'll be tempted, but you can't just pick up a spray can and join in.
"Dumbo Walls," a four-block stretch of–you guessed it–walls that border a neighborhood stretch of the BQE will boast murals by well-known street artists like DAleast, Shepard Fairey, and MOMO this weekend.
The show is part of the DUMBO Arts Festival, which still seems new but will celebrate its 18th year with a slew of free and funky art-related events, activities, and exhibitions Sept. 26-28. Brought to you by the neighborhood's benevolent real estate despot Two Trees Management, the three-day event promises artwork by approximately 300 hungry artists for the amusement of what should be over 200,000 art-loving visitors. Many neighborhood studios are opening their doors to the expectant horde and other goings-on include:
A sculptural intervention from drug-baggie-quilt and neon-noose artist Tom Fruin, in partnership with CoreAct (a performance duo that uses "Positive Disturbances" to engage viewers). Their kaleidoscopic Mondrian-esque play house should be a trippy visual experience.
Artadia, the artist-funding non-profit founded by mega-collector Chris Vroom, will show off the bounty of its grants with a 15-year-anniversary exhibition at it's DUMBO offices. The show will include artworks from a group of over 285 of its former and current awardees. It's a venerable and occasionally star-studded group.
Keep an eye out for the Truffula Loraxia, a hydroponic sculptural project created by sculptor and founder of Boswyck Farms Lee Mandel with the help of street artist XAM. Using solar power, water, and a whole lot of know-how, the duo grow Minibel tomato plants reminiscent of the Truffula trees in Dr. Seuss's classic children's book starring The Lorax, "who speaks for the trees."
On Sunday, rock band Xiu Xiu plays music at Brooklyn Bridge Park pier 3; Danh Vō collaborates.
Artist and designer Thomas Stevenson will create a rolling, portable sound and light system for the festival aptly called the Discotransformer. Bell bottoms will surely be welcomed.
But aren't they always?