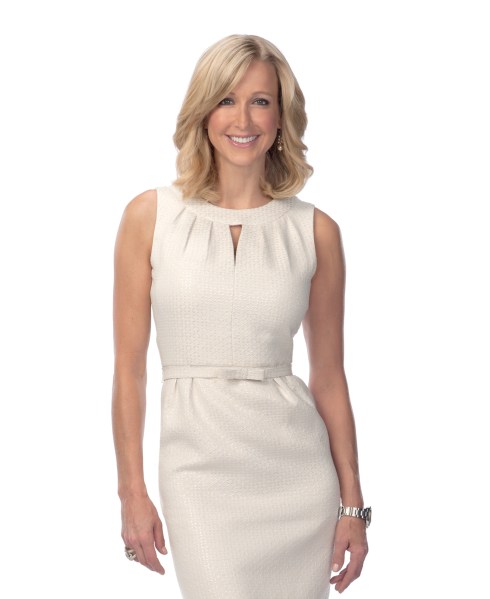 Perhaps it was nerves, or the fact that for the first time in recent history my train was running on time, but I arrived in bustling Times Square rather early for my interview with Good Morning America co-host, Lara Spencer. Having grown up watching the show, I was more than thrilled to be going to the set to talk about her new book Flea Market Fabulous. I waited out side next to the blue GMA barricades that hold back excited tourists, organized my notes, and reminded my inner Fangirl to breathe.
"Hello, I have a nine o'clock with Lara." I said with surprising coolness.The security guard checked her list for what seemed like an hour until finally saying those three magical words: "Wait here, please."
"Sure" I said casually, despite really meaning "OMG thank you! I'm a Huge fan. HUGE fan!"
A producer promptly arrived to usher me into Mrs. Spencer's aptly decorated dressing room, which of course, I immediately recognized from the book. I sat down, set up my recorder and spent several moments deciding whether sitting cross-legged or un-cross-legged was most professional. Before I could chose, Ms. Spencer waltzed in to her brightly colored –Jonathan Adler designed– dressing room with a gust of her signature Morning-TV-esque energy.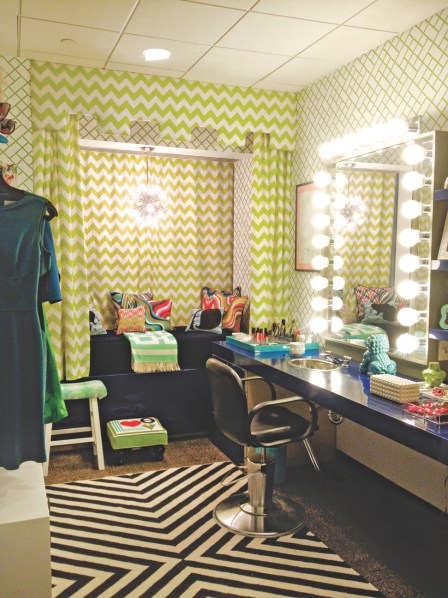 "Hey!" she said warmly, as she immediately slipped out of her high heels and untucked the silk blouse from her pencil skirt. She casually asks me if I liked the book while unhooking her microphone, then briefly excused herself to get a bagel from the toaster.
Uncrossed. Final answer.
She returned with a paper plate and began assembling her bagel with tomatoes and schmear while we made small talk about my new Brooklyn sublet. This went on for several minutes until realized I was complaining to Lara Spencer about my broken dresser. (palm to forehead.)
"Can you you reinvent it? Can you paint it?" she asks me sincerely, like an old friend, and then suggests that I send her a picture so she can give me some DIY tips. (Wait, does that mean we're BFFs now?)
It's easy to see why Mrs. Spencer has had a successful career in television. In person, she is the same down-to-earth gal-pal type you see on screen. The former host of the Insider, she is also an executive producer for two shows on HGTV as well as the host of  Flea Market Flip, Antiques Road Show, GMA and for the last two years, the Miss America pageant.
Her latest book,  out this week, is centered around Mrs. Spencer's love of flea markets and interior design. It showcases nine rooms that she and a team transform, using inexpensive flea market finds to create a high-end, one-of-a-kind space. It features tips for finding quality pieces as well as DIY projects that actually seem doable. She tells me that she wrote the majority of this practical yet inspiring guide in a tiny, closet-turned office in her Manhattan studio. "The book is about the journey and the hunt for pieces that create a room that makes you happy and tells a story."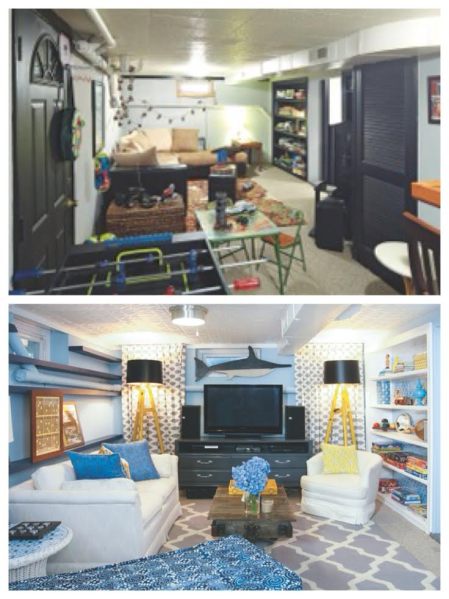 Mrs. Spencer, who grew up going to flea markets with her mother, attributes both her love of American history and landing the job on HGTV to these mother-daughter adventures. "It was never that I had to go with her because we had no baby sitter — which was true—but she always made it feel like a treasure hunt. She would pick up a piece of silver and show me the markings. She taught me about English markings vs American markings, and why this is sterling vs plate. I absorbed all of that and I loved it."
As she speaks, I notice she is sitting cross legged, so I casually follow suit.
"Kathy Griffin was kicking and screaming the first time I took her to an estate sale -" she was beginning to tell me when a familiar voice  chimed in over my shoulder. "Lara's the best ever."
I turned to see another GMA superhero of mine, Robin Roberts, who had changed into a pair of jeans after the show and was eating a piece of cake from a colleague's birthday party down the hall.
"She helped design my house and she makes it fun. You know how some people are really good at things and they make you feel so stupid, no, she wants you to have the kind of experience she has with it."
"Thank you!" Lara said. "I'll give you that 20 bucks later."
"You got it!" Robin says, her voice now trailing down the hall. " Wait, 20?!"
The whole office is truly buzzing with energy. Every door is open. There is a birthday party happening two doors down. Racks of beautiful clothes sit in the hallway awaiting their 15 minutes of fame outside of a room where Amy Robach is filming a segment with a small team of camera men.
I can't help but wonder how it feels to have made it here. Mrs. Spencer — who aside from managing a successful career is also a mother of two– makes it all look so easy.
"My friends tease me and call me a robot because I kind of have supernatural energy. I always have. I just channel all of my energy into doing things that I really love." She again credits her parents for encouraging her dream of becoming a journalist. "There was never a conversation about having a Plan B and that really drove me."
She tells me that her first job as a reporter sent her all the way to Chattanooga,Tennessee, where she learned the ins and outs of her craft far away from the glitz and glamour of NYC. "My first job on camera meant being the camera man, the reporter and the editor all in one for about 9 dollars an hour." She recalls the struggle of trying to focus the camera, which she did by focusing on a stop sign near the scene and standing in front of it. After a few weeks, her boss asked her to stop standing in front of a sign during every report.
"I thought it seemed very logical. I was like 'I'm in focus!'" she laughs.
"Yes, totally logical." I agreed in support of my new best friend.
After a year in Tennessee, Mrs. Spencer returned to NYC. "It really gave me a whole new appreciation for this city's magic." she admits. Not surprisingly, some of the places she finds most magical in NYC are flea markets. Green Flea on the Upper West Side is the best, she says, for beginners due to its manageable size and eclectic mix of both old and new items. Perhaps her favorite is Housing Works, a collection of charity thrift shops where all of the proceeds go to finding housing for AIDS patients. "Not only are you finding really cool, one of a kind and vintage pieces but your dollars are going toward changing people's lives." It's easy to see how she's written not one, but two books about the subject. It is clearly a passion and her enthusiasm is contagious, even for DIY-inempt people like myself.
As we wrapped our meeting, Mrs. Spencer told me the remainder of her morning would be spent delivering a 19th century wooden cart turned dog bed for her friend and colleague, Ginger Zee. She tells me this so casually, and after reading her book, I can't help but think she could work wonders on a beaten up dresser in a Brooklyn sublet.
Maybe I'll take her up on that offer after all #bestfriendsforever.