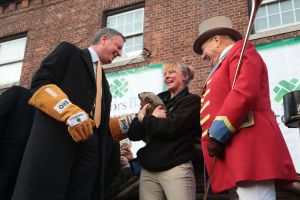 The New York Post's morning exclusive alleging that the groundhog dropped by Mayor Bill de Blasio on February 2 died just a week later is already being hailed as a possible Groundhog-Gate. But the biggest scandal, to the Post at least, is that the groundhog was a girl.
First, the actual news item: According to the paper, Staten Island Chuck, who flew out of Mr. de Blasio's hands at his first Groundhog Day ceremony and fell nearly six feet, died of "internal injuries" stemming from the incident on February 9. The Post describes the Mayor as having "groundhog blood on his hands!"
The Staten Island Zoo, which gets 50 percent of its funding from the city, covered up the incident, choosing not to inform the mayor's office of the groundhog's demise. The few zoo supporters they did break the news to were told the animal died of natural causes.
"I was told he died of old age, that he went to that big farm in the sky," Assemblyman Matthew Titone (D-SI) told the Post.
Mr. de Blasio's office sent their condolences over the loss of the creature.
"We were unaware that Staten Island Chuck had passed but are sorry to hear of the loss," mayoral spokesman Phil Walzak told the Post.
The Staten Island Zoo did not respond to an Observer request for comment, but a zoo spokesman told the Post that the animal's death was not related to the events on Groundhog Day.
Despite the fact that they are reporting on an animal's premature demise, however, the Post is more incensed by the fact that Staten Island Chuck was actually Staten Island Charlotte.
Calling the gender switch "the biggest secret of all," the Post metro section enters Page Six territory with the gossip that the original Chuck had the day off because zoo officials feared he would bite Mr. de Blasio (as he did Mayor Michael Bloomberg in 2009).
The stand-in groundhogs are kept secret to protect the "groundhog brand," which is apparently a male-dominated group.
Next year, however, Chuck and Charlotte's daughter Charlotte Jr. will do the honors on Groundhog Day, so the Post had better get used to female rodents pretty quickly.