On November 16, 1928, New York's Governor-elect Franklin Delano Roosevelt wrote to his campaign manager, Democratic State Assembly Leader Maurice Bloch, from Warm Springs: "Dear Maurice, Please let me, first of all, send you my very deep and grateful thanks for all of your perfectly splendid work during the campaign.I take it that the election count is still proceeding and that no marked changes are occurring one way or the other. I do wish that we could find enough votes to elect Albert Conway. It is going to be difficult to have a Republican Attorney General."
Conway, a Brooklyn Democratic regular yet a long-time Assistant DA under a Republican, was a practicing labor law when he was chosen for 1928's statewide ticket.
And it was difficult having a Republican Attorney General for FDR. He'd inherited Tammany Hall (read: New York County's Democratic Committee) from its four-time elected Governor, Alfred E. Smith, during a decade of "buying and selling" judgeships. But Conway, had he been elected, would never have linked Bloch, my grandfather, who by all accounts was critical to FDR's agenda, to the infamous State Supreme Court Judge Joseph Force Crater; whose disappearance 84 years ago remains New York's greatest urban legend.
Before managing FDR's gubernatorial campaign in 1928, Bloch managed Judge Robert F. Wagner's campaign for U.S. Senate in 1926. Wagner and Bloch were a team. In 1914 Wagner, as State Senate Leader, sponsored Bloch to the State Assembly. Wagner was best man at Bloch's wedding to my grandmother. My uncle was named Robert Wagner Bloch. Wagner had Bloch promoted to Assembly Whip in 1920, the same year he hired Crater as his Law Secretary. Throughout the 1920s, Crater was Wagner and Bloch's so-called bagman. There are countless theories behind Crater's vanishing but mine is generated by Bloch's death: my copy of his The New York Times obituary reads that a nurse at Roosevelt Hospital "found him deal" (sic) after having just seen him resting comfortably.
Bloch as the Tammany made, at that time Minority, Leader of the State Assembly had many deals on his plate. One of first after FDR's inauguration in 1929 had to do with a Judgeship. The Times reported on February 26, 1929, that Senator Wagner advanced Bloch's name for a Federal Judgeship to President Coolidge. (New York State law did not permit elected officials to resign for state, county or municipal judgeships. But, they could resign for a federal post). Yet the entire slate was wiped clean when President Hoover was inaugurated on March 4. On April 16, however, Senator Wagner lobbied Hoover at The White House on Bloch's behalf. He was told that all of the places had been filled. Despite State Republicans reportedly feeling comfortable with Bloch, Wagner, a member of the House Judiciary Committee, dropped his objection to Col. Francis Gordon Caffey an anti-Tammany Hall Democrat from Alabama whose law partners were John Bouvier III and Phelan Beale.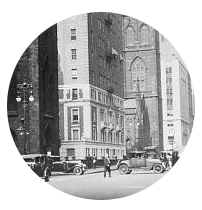 By August, Tammany's weekly newspaper, The New York Democrat, reported on its front page that Bloch had consented not to seek early promotion to the State Supreme Court; that he would not be a candidate at 1929's Democratic Judicial nominating convention. Instead, he would again lead the Assembly for 1930's session and then manage FDR's 1930 Gubernatorial campaign (with the implication that he would be running his own campaign for State Supreme Court to replace Justice Thomas C.T. Crain who faced mandatory retirement). Two weeks later, however, New York City Mayor "Jimmie" Walker and Tammany Leader John F. Curry pulled Crain from the bench to run him for DA. Crain's seat was resigned too late for it to be filled at 1929's upcoming nominating convention. FDR would appoint Crain's replacement prior to December 31, 1929, for a temporary term until December 31, 1930. Protocol suggested that the appointee would be nominated for the seat at 1930's nominating convention.
Weeks later, on September 30 at 1929's Democratic Judicial Nominating Convention, however, there were five judicial spots to be nominated. Four of them were shoo-ins when the Times reported a rumor: FDR would appoint Irwin Untermyer to Crain's (read: a 6th) vacancy. This left the fifth spot to be nominated to Magistrate George Simpson, the candidate of west side power Jimmy Hines. But FDR made a deal with Mayor Walker at the convention's 11th hour: Untermyer, whose father, Samuel, was Walker's special counsel to the Transit Commission, got the fifth nomination. Simpson lost out as FDR got Untermyer in via convention, maintaining his prerogative to appoint Crain's replacement.
On October 3, 1929 Bloch wrote FDR in Warm Springs: "Your telegram received and I surely welcomed it. Now the job is to have my 'prayers' to have the plan materialize." Bloch mentions other business but continues, "The enclosed appeared in this morning's Times. How it got there I don't know but I don't think it hurts."
Quoting the third column of page 19: "The delay in Governor Roosevelt in filling the vacancy on the Supreme Court Bench due to the resignation of Justice Thomas C.T. Crain to become Tammany's candidate for District Attorney is ascribed by friends of Assemblyman Maurice Bloch, Democratic minority leader, to the Governor's desire to elevate Mr. Bloch to the position." "Friends of Mr. Bloch say that in all the discussions …, the Governor has always reverted to the name of Mr. Bloch as the man deserving of preferment." "Mr. Bloch could not be appointed until after January 1, as under the law no member of the Legislature may be appointed to judicial office during their term for which he has been elected a lawmaker." "In Tammany circles there is a belief that another appointment will be made, with the understanding that the appointee shall serve only until Dec. 31, 1930, and not become a candidate in the election next year in order to leave the field free for Mr. Bloch."
Two days later, October 5, 1929, Bloch received a note from FDR: "Up to the very last minute I was worried that Untermyer wouldn't get in."
Four days later, October 9, 1929, NY County Court Judge Francis X. Mancuso, Al Smith's biggest fundraiser in the Italian-American community, resigned his seat while both former Governor Smith and FDR were already jockeying for 1932's Democratic presidential nomination. Calling himself a "victim of friends," however, Mancuso stood accused of facilitating the failure of his East Harlem bank. Mancuso was indicted on October 12 for perjury. Other counts would follow. Magistrate Simpson was the logical replacement: County Court Judges and State Supreme Court Justices each earned $22,500 and both served 14-year terms. Yet on October 17, 1929, FDR instead appointed a champion of the Italian-American community, Amedeo A. Bertini, temporarily, until January 1, 1930. Bertini, a Cornell Law graduate, had real estate and sports connections but he'd never brought a case to trial. But Tammany had already slated him to replace Mancuso. Bertini's name would be on the ballot in November's General Election. By appointing Bertini early, FDR enabled him to campaign as Judge Bertini. Maurice Bloch placed Bertini's name in nomination at Tammany Hall but Mayor Walker, Tammany Chief Curry and Bertini's Greenwich Village District Leaders were ascribed as his sponsors.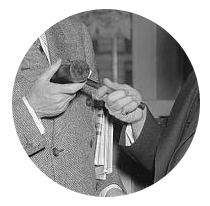 Twelve days after Bertini's appointment, October 29, 1929, the stock market crashed. A week later, November 6, 1929, Tammany swept the municipal election: Bertini was elected to a 14-year term; Crain became DA-Elect and Maurice Bloch was elected to the Assembly for 1930. FDR, therefore, could not appoint Bloch to the State Supreme Court in 1929 or 1930. Five days later, November 11, 1929, The Times reported that Bloch and Magistrate Simpson were tangled for Crain's seat. The place had been vacant for four months. Simpson could be appointed through 1930 and seek nomination at 1930's convention. Bloch, however, needed someone to hold Crain's seat for him. The Times item suggested that Joab Banton, the DA who Walker and Curry replaced with Crain, was a possibility. But before losing a Supreme Court judgeship to Untermyer and a County Court judgeship to Bertini, Magistrate Simpson had come full circle: he'd lost Tammany's DA nomination to Crain.
Three weeks later, December 5, 1929, my grandfather, Maurice Bloch, 38, died suddenly. He was recovering from an appendectomy. He was reportedly recovering nicely. FDR had sent work for him to do at Roosevelt Hospital. But in addition to "found deal" in the Times, there's a question mark next to Cause of Death on his Death Certificate. No autopsy was undertaken. Bloch was indeed tangled: his Assembly Whip, Joseph Gavagan, recalls that no one was advancing his cause. "We'd both be on crutches," he surmised, before either one of them earned a seat on the bench.
On December 24th, 1929, FDR chose Congressman John F. Carew–not Simpson–to replace Crain. The New York World reported on its front page that had Bloch survived, his law partner, John C. Mullen (sic), would have held Crain's place for Bloch. On January 31, 1930 the Times reported that Joseph Proskauer was resigning in March. FDR made this appointment much more quickly. On April 8, 1930 he appointed U.S. Senator Robert F. Wagner's "Law Partner," Joseph Force Crater, through December 31, 1930. It was reported that with the appointment of Crater, Wagner prevailed in Smith's battle with Curry. (Each and every one of Smith's and Curry's eight candidates in total, like Bloch, were Jewish). Both John Francis Carew (a Catholic) and Joseph Force Crater (a Protestant like Crain) were interim judges, presumptive candidates for 14-year terms at September's Judicial Convention. Each FDR appointment had the initials JFC. Each appointment surprised Tammany Hall's leaders.
Four months after his appointment, with the court in session for only two of them, Crater was vacationing in Maine with his wife. After getting a phone call on August 3, 1930, he returned to New York to "straighten people out." But, as a Tammany Club President, he was a person of interest in an investigation: allegedly in 1927, George Ewald, a member of Crater's club, made a $10,000 so-called loan to Crater's club's boss, Martin Healy. Ewald was made a Judge after the loan. It smelled like seat buying.
Crater, in New York on August 6, 1930 after returning from Atlantic City, went to his court chambers and burned files. He kept others with him. He told one law secretary to "lock up for the night" and had another help him take several files home to his 40 Fifth Avenue apartment. He said that he was going to Westchester for a swim but he went to the bank and withdrew $22,500. He then went to the theatre district with the cash on his person. He picked up one ticket to Dancing Partner, a Broadway show, but didn't go. Instead, he ran into friends and sat with them at Billy Haas Steakhouse on 45th Street West of 8th Avenue. After parting with them, he was never seen or heard from again. Most people say he got into a cab. Some suggest that he didn't. But, on September 6, 1930, The NY Democrat reported on its cover that Crater's vanishing "astonished all but a small circle of intimate friends."
And so it was that on October 2, 1930, because Bloch and FDR could not find Albert Conway enough votes in November 1928, Republican Attorney General Hamilton Ward pressured FDR over Bertini's appointment: "… the people before the special grand jury, New York county, recently convened by you, that the grand jury desire the recommendations filed with you in relation to the appointment of Amedeo A. Bertini as judge of the court of special sessions of the county of New York and they have directed me to communicate with you to request they be furnished with these recommendations." On October 4, 1930 FDR replied: "No recommendations relating to this appointment were ever filed with me."
On October 7, 1930, Ward, that same day, acknowledged that FDR had no recommendations "on file" for Judge Bertini but: "the grand jury have asked me to say to you that they are advised that shortly after Judge Bertini's appointment he withdrew about $100,000 worth of securities from his brokers and that a diligent search so far has failed to disclose what became of these securities. They are anxious to find out whether these securities were used to induce any one to recommend Judge Bertini for appointment, and for that way sought to bring about Judge Bertini's appointment." Ward went further: "They wish the same information about Justice Joseph Force Crater. They have information that shortly after his appointment he engaged in some financial transaction which resulted in his coming into possession of twenty-two one thousand dollar bills and one five hundred dollar bill. The grand jury are anxious to know who requested Judge Crater's appointment in order that they may ascertain whether any of this money went to these persons." On that same day FDR writes to Bloch's widow, Madeline, "I wish I might have had a chance to talk to you the other evening."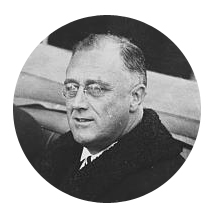 On October 8, 1930 FDR dodged Ward: "I ask that you obtain as soon as possible an order from Mr. Justice McCook permitting you to send me at once a complete copy of the record before the special grand jury now sitting in New York county in relation to A. A. Bertini, judge of the court of general sessions in New York city, together with any other information or evidence in your possession relating to this matter. I ask this because I am informed that the judge has declined to testify." FDR threatened to call a special session of the legislature to remove Bertini. But he didn't mention Crater, a no show at 1930's Democratic Judicial Nominating Convention thereby engendering catcalls: "Judge Crater, Call Your Office!"
On October 9, 1930 Ward wrote FDR, "As practicing lawyers we both know that a disclosure at this time of the evidence before the grand jury and in the possession of the attorney-general will greatly handicap the prosecution in examining Judge Bertini and other witnesses, and it must be remembered that if Judge Bertini or Justice Crater have committed a crime, others, perhaps more culpable are involved in it over whom the grand jury alone have jurisdiction." Ward then added a postscript to his letter, "Since the above was written at 4:15 P.M. I received your letter advising me of those recommending and commending the appointment of Judge Bertini and Justice Crater. I thank you for your consideration and will immediately submit your letter to the Grand Jury at whose request the information was sought."
"No one," FDR had written to Ward earlier that day, "sought to bring about the appointment of Judge Bertini by me. The facts are as follows: Judge Bertini had already been nominated for the office of judge of general sessions by the Democratic organization of New York county in the manner provided by law. My very good friend, Maurice Bloch, of unquestioned integrity and sterling character who was then the leader of my party in the Assembly suggested to me that I appoint Judge Bertini since he had already been duly and regularly nominated for the position. He stated to me that he had made inquiry and that Judge Bertini was well qualified for the place. I acted on that information." "No one sought to bring about the appointment of Judge Crater by me. Judge Crater was one of eight men officially recommended to me voluntarily by the Bar Association of the City of New York as well fitted for appointment to the Supreme Court and whose appointment it would heartily approve. I acted on that recommendation. The Democratic organization of New York county also suggested his name among several others. At the time of his appointment I had no recommendation or endorsements on file in my office other than the recommendation of the Bar Association referred to above."
After reporting that FDR named Bloch as Bertini's backer on the 10th, on October 11, 1930 The World revealed that Bertini received Crater frequently in chambers days before the stock market crash. FDR essentially told Ward that Bloch's word was as good as Tammany's Law Committee and the Bar Association's combined. Crater vanished because he had the so-called goods on Wagner: When Bloch died, naturally or unnaturally, Crater was holding Bertini's bag for Bloch at a time when he was wanted over Ewald's $10,000 loan. Once Crater was made judge, he was no longer Wagner's "law partner." So be it if he needed to be jettisoned.
I too, accordingly, wish that my grandfather and FDR had found enough votes for Conway. A Democratic Attorney General would never have undertaken an investigation that compromised his campaign manager by mentioning him in the same letter as a vanished judge. More important, were Conway elected; Crater may not have needed to vanish. It's possible that FDR wanted Bloch to run on his ticket in 1930 as Attorney General; that he was using Bloch to bait Curry and Walker into thinking that he was more concerned with Crain's judgeship than he was with Tammany's potential to obstruct his run for the White House.
Wrote Ward to FDR on October 11, 1930: "In my letter to you of the 9th instant, I told you that you would be promptly advised should Judge Bertini fail to appear before he extraordinary grand jury or should decline to sign the necessary waiver of immunity. Judge Bertini did appear before the extraordinary grand jury yesterday in response to a subpoena and did refuse to sign a waiver of immunity. He was accordingly not examined." Tammany, Tammany: wave the flag but not immunity.
On January 17, 1931 Magistrate George Simpson resigned before being investigated by the Appellate Division. Judge Bertini went unindicted on January 31, 1931. One month later he died after a sudden illness. In June of 1932, all indictments against Francis X. Mancuso were dismissed. He returned to raising funds for Smith. On May 1, 1933, with his conduct in office criticized and charges filed against him, Thomas C. T. Crain announced that he would not seek re-election. On June 6, 1939, Surrogate Judge James A. Foley declared Judge Joseph Force Crater dead as a result of 7 years absence. Manhattan Borough President Julius Miller, a Jew, took his place at 1930's Judicial Convention. On September 11, 1944, Jimmy Hines was released from Sing Sing after having served almost four years of a four- to eight-year sentence for racketeering. Arthur Krock, Joseph P. Kennedy Sr.'s most unabashed supporter, was the editor of The New York Times during 1929. John A. Mullen, my mother's "Uncle Jack," reported to be my grandfather's placeholder on the State Supreme Court during 1930, was unable to accept a Civil Court Judgeship in spring of 1930 because, wrote Senator Wagner to former Governor Smith, business was too good.