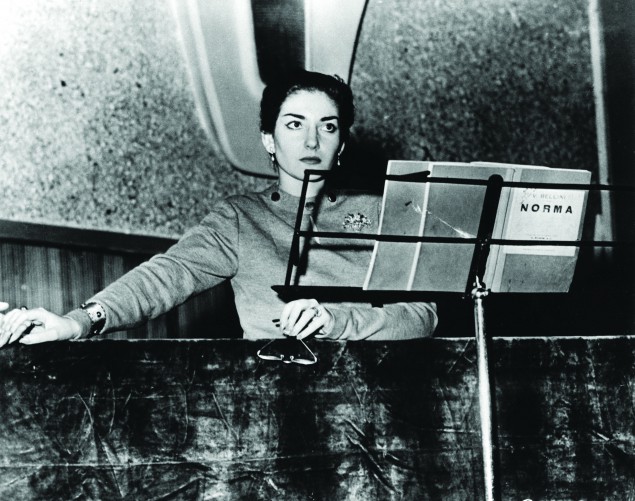 It's impossible to be indifferent to Maria Callas and her art. One thing everyone who loves opera has in common is a relationship with that diva, the Greek-American soprano who inspires love or hate, worship or revulsion. Her stage career was quite short by opera standards, barely a decade in the spotlight, but once seen, she was never forgotten.
Ira Siff, now an opera director and commentator for the Metropolitan Opera's radio broadcasts, was only 19 when she swept into New York for a couple of Tosca performances in March 1965, but he still recalls every instant. In the second act, he says, "You felt as if you were looking through a keyhole at the real event upon which the opera Tosca was later based." Later, "when she wobbled ferociously on the high C in Act III, and there was an audible gasp in the audience, she shot the famous Callas eyes out into the house for a split second."
From the beginning, she was something different, something special. Born in 1923 in Manhattan into family of Greek immigrants, she grew up in Washington Heights and Astoria before returning with her mother to Greece as a teenager. There she chanced upon the perfect mentor, the soprano Elvira de Hidalgo, who engaged the girl's unruly voice and fierce intelligence with lessons in bel canto, the classic art of Italian vocal interpretation melding technique with expressivity.
The career started slowly: the voice was strange and young Callas herself was considered overweight for glamorous stage roles. Through marriage to the wealthy Giovanni Battista Meneghini, she made contacts that eventually got her into Milan's celebrated La Scala, where she rose to stardom in a series of lavish revivals of half-forgotten 19th century works like Verdi's Macbeth, Bellini's La Sonnambula and Donizetti's Anna Bolena. Along the way she slimmed down, deciding to suit her physicality to her roles.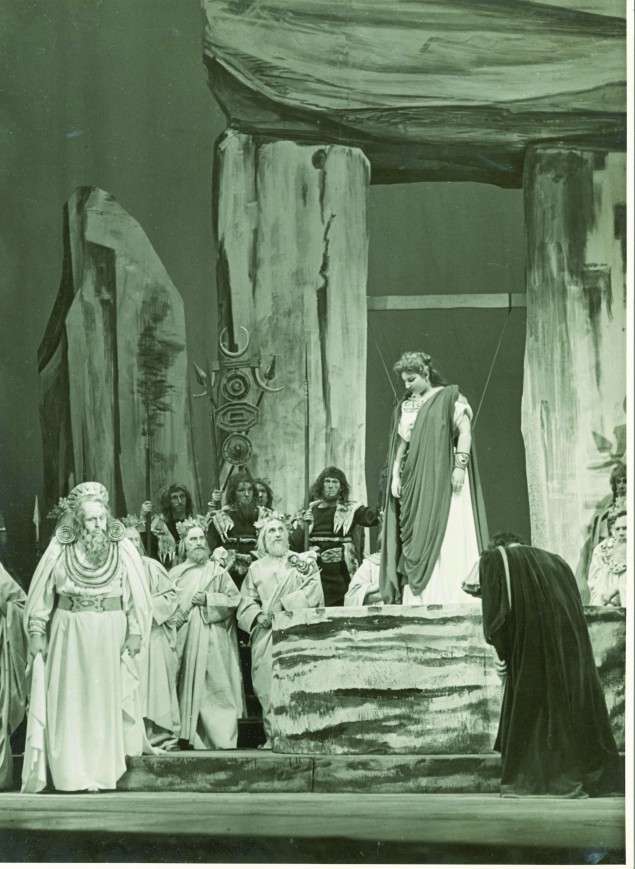 She seemed to attract scandal like a lightning rod: in 1958, booked to perform an expensive gala in Rome with the president of Italy among the audience, she walked out after a single act, claiming to have lost her voice. Later that year, she dithered over a Met contract to sing Macbeth so long that the company's manager Rudolf Bing fired her by telegram. It didn't help that she then read the wire aloud for the newsreel cameras, complete with sarcastic eye rolling.
But that all paled to the outcry when she left Meneghini for the (married) tycoon Aristotle Onassis; this was as big a tabloid story as the Elizabeth Taylor/Richard Burton affair a couple years later. Her performances dwindled until, just two months after Tosca Mr. Siff recalls, she collapsed backstage in Paris during Norma. At age 41, her stage career was over. Just three years later, Onassis left her to marry Jacqueline Kennedy.
Despite all the personal melodrama, Callas was a prolific recording artist, performing almost exclusively for the British EMI label. Her more than 70 hours of studio recordings from the 1950s and 1960s have never been out of print, but next week they will reappear in a new form, a digital remastering from the original audio tapes, in a collection from Warner Classics cumbersomely but comprehensively entitled Maria Callas Remastered: The Complete Studio Recordings (1949-1969).
The restoration process, too technical to describe here, yielded striking results: voices (both Callas and her colleagues) and orchestra all sound astonishingly fresh and present, with so much detail that during "silences" you can faintly hear the squeaking of the orchestra's folding chairs and the footsteps of the singers as they step up to the microphone. The sensation is that you are actually right there in the studio with Callas herself. In comparison to earlier masters of this material, she sounds less abstractly "divine" and more approachably human.
As documented on these discs, the Callas vocal instrument evolved (or, depending on how you look at it, degraded) drastically over the approximately 15 core years of her recording career. She is first heard in 1949 in selections recorded by the Italian label Cetra for release as 78-RPM singles. In "Casta Diva" from Norma, the Mad Scene from Bellini's I Puritani and the "Liebestod" from Wagner's Tristan und Isolde, the 25-year-old soprano reveals a large, dark sound, freely produced and unforced. Little flurries of ornamentation in the bridge of "Casta Diva" land perfectly in tune and rhythm with insouciant ease.
That sense of absolute repose is less apparent by the time of her first complete opera recordings in 1953, including Lucia di Lammermoor and Tosca. The sound has grown leaner and more focused, and the more vehement vocal writing of Puccini evokes tenser, more aggressive singing. In Lucia, the extreme top of the voice is no longer the spine-tingling tuned scream of the 1949 Puritani but something both more conventionally beautiful and more reliable.
The voice continues to refine and narrow through the rest of the 1950s so that by 1958, arguably Callas' last great year of singing, the basic timbre is turning wiry, with a pronounced beat on top notes. There remain long stretches of intense beauty in soft singing, for instance in the aria from Il Pirata included in the "mad scenes" recital.
At the end of the decade, the Onassis affair led to a messy divorce from her husband and business manager Giovanni Battista Meneghini. She disappeared from the stage for the better part of a year, finally returning to the recording studio for a stereo remake of Norma in September 1960 and a recital of French arias the following winter. These recordings expose a startling change in the Callas voice. Suddenly she has adopted an unvarying "occluded" timbre, dark and disturbing, and notes above the staff, anything from G on up, are completely hit-or-miss. There is no falling off of artistry, however; in particular her singing on the "Callas à Paris" disc offers a fragile intimacy the soprano brought only intermittently to her Italian opera roles.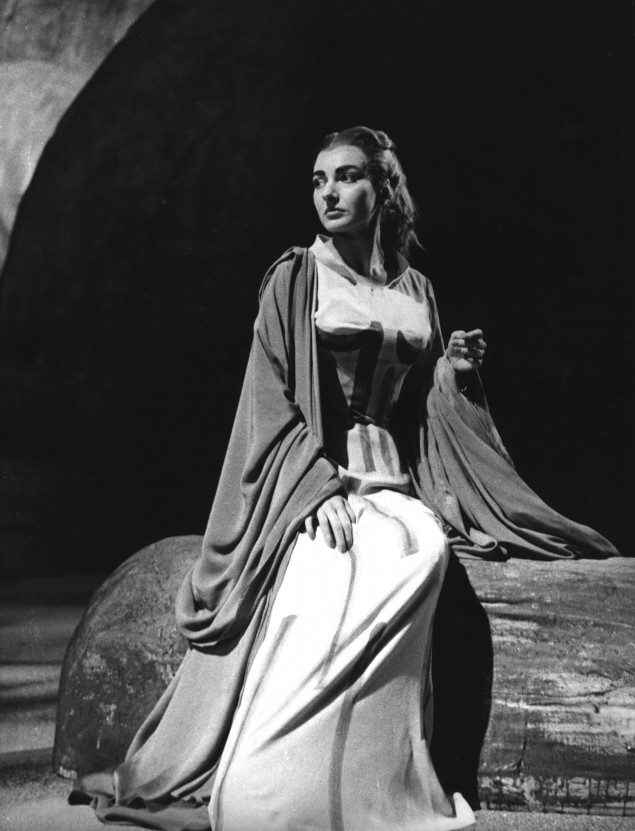 By this point Callas was putting her stormy relationship with Onassis on the front-burner, performing and recording in the brief periods between breakup and makeup. The best of her later work is a complete Carmen thrown together in two weeks in the summer of 1964, with Callas as a proud thoroughbred of a gypsy, an icon of female rage. Far less successful are miscellanies such as "Rossini & Donizetti Arias" that same year, a skimpy program in which the soprano sounds either miscast or interpretively tentative.
The diva's last album received a belated release in 1972, featuring material recorded across a five-year span in the late 1960s. The improved sonics of the current restoration cruelly reveal blatant edits that rob most of these arias of the sense of building impact Callas was famous for.
And yet, even at the very end, Callas could occasionally work the old magic. One of the cuts on this album, "Verdi Arias III," is the romanza from the prison scene of Verdi's I Vespri Siciliani, "Arrigo, ah parli a un core." In this scene, Elena, imprisoned for terrorism, speaks to her lover, who (she thinks) has betrayed her to the authorities. She forgives him, declaring that imprisonment and execution seem less painful than the thought of hating him. The simple melody slowly unfurls, mostly in middle voice, with a serene refrain modulating from minor to major. The aria ends with a set of daunting vocal flourishes, a slow soft chromatic descending scale followed by a cadenza vaulting two and a half octaves from high C to low F-sharp.
It may be that during the recording sessions in 1964 and 1965 that were edited into the final version of this aria, Callas was inspired by the majestic dignity of Verdi's music. Or maybe she just happened to be in good voice those days. But, for whatever reason, she sings this piece as beautifully and completely as anything in her recorded legacy, accessing the serenity of those first Cetra discs, the intensity of the great EMI years and the intimacy of the French recital. In four and a half minutes, she encapsulates a career of greatness.
In the traditional manner of Romantic Italian opera, Verdi entwines the refrain of this aria around a brief fragment of text:
Addio! m'attende il cielo.
Addio! mi serba fé!
(Farewell! Heaven awaits me.
Farewell! Keep faith with me!)
Though it's hardly rigorous criticism to identify the words a singer sings with what she actually believes, in this case it's tempting to see these lines as Callas' envoi. She died only five years after this recording was released, on September 16, 1977, or 37 years ago this week. Whether she got into heaven I'm not qualified to say, but I'll go on record as saying she deserves a prominent place on Mount Parnassus. As for "keeping faith," you couldn't ask for better than what Warner Classics has done with Maria Callas – Remastered. For longtime believers, this project rekindles the sacred fire; for new converts, this set is a beacon illuminating the mysterious but indispensable art of Maria Callas.