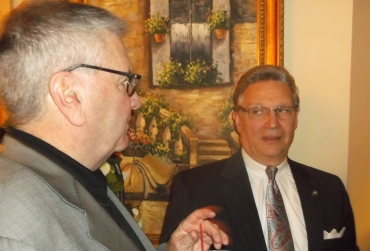 The focal point for this season's politics, Bergen prepares for the Nov. 3th corruption trial of former Bergen County Democratic Chairman Joe Ferriero, even as the party looks to the Election Day leadership of Ferriero's organizational heir, sitting Chairman Lou Stellato on Nov. 4th.
They're very different, these two party leaders, one up and one down, with different temperaments, according to Democrats who worked with both of them.
When it comes to political style, the most significant difference is that Stellato, a former mayor of Lyndhurst, has a spotlight-friendly public politician's approach to his job, as opposed to Ferriero, the consummate backroom operative.
Stellato excels at the touchy feely side of the game.
Ferriero could raise money, and built a patronage empire that ultimately put him on a collision course with that November 3rd trial date. It was not uncommon to trip into a 2006 or 2007 ELEC report and finding $1.7 million sitting in the Bergen Democrats' campaign account.
Now the net worth of the committee is $70,000, according to a July 24th ELEC report.
"Since the political climate has changed I think Stellato is the right man for the job," said state Sen. Paul Sarlo (D-36), who like the chairman backs Democratic Freeholder James Tedesco against incumbent GOP County Executive Kathe Donovan.
"When Ferriero took over years ago, Democrats were in the wilderness for decades, and Ferriero put the emphasis on fundraising," Sarlo added.
"Stellato is a consensus builder. He recognizes we need to get back to a lot of retail politics by engaging the mayors and municipal chairs. He's going to rely heavily on them, as the fundraising arms of the parties are not as strong as they used to be."
Sources describe Ferriero's comfort level with a small circle of power players.
If there was power in a room, he'd find it – and stay there.
Stellato, by contrast, runs around the sprawling, 70-town county, seeking contact with every rank and file Democrat he can find.
"Ferreiro understood the game of campaigns at a high level," a source told PolitickerNJ. "What you have in Lou is much more of an attempt to include everyone, even people who don't see eye-to-eye with him. Ferreiro had confidence in winning because he thought he could do anything, which ultimately arguably proved his undoing. Lou tries to make himself available as a chairman of the people.
"Joe built loyalty through patronage," the source added. "Lou is not building loyalty through patronage but trying to build loyalty by being active and involved."
That could change if Stellato's candidate wins the county executive's race and the chairman then has patronage at his fingertips, a cynical source groaned.
That responsibility ultimately crushed Ferriero, according to the charges.
At his trial, the former party chairman faces allegations that he used his influence to land Dennis Oury a Bergenfield attorney job, then offered him a concealed ownership interest in the grants-writing business in exchange for his influence in persuading the town to hire the firm.
Ferriero's also accused of extorting $1.7 million from the former Virginia-based developer of the Meadowlands complex in East Rutherford, and of using his position to persuade Bergen towns to hire a software developer who paid the then-Democratic Party chairman for his help.
Since his election to the chairmanship in 2011 following the interim leadership of Michael Kasparian following Ferriero's meltdown, Stellato's experienced success: winning control of the freeholder board and withstanding Gov. Chris Christie's considerable top-of-the-ticket success last year with the election to the freeholder board of Tedesco.
He also partially absorbed the bruising loss of U.S. Rep. Steve Rothman (D-9) in that disastrous Bergen matchup with U.S. Rep. Bill Pascrell (D-9).
But it's a tribute to Stellato's relationship-building, Democrats say, that he could immediately join forces with Passaic County following that 2012 loss.
Stellato and Passaic County Democratic Committee Chairman John Currie played football against each other in their youth.
Stellato exerted that past connection to strengthen the political friendship.
"Stellato has a strong relationship with Currie," Sarlo said. "This is the strongest relationship it's ever been – very strong," which helps, the senator argues, considering Currie's position now as chairman of the party.
Bergen Democrats are also trying to count on the ticket presence in November of Pascrell.
For some, Stellato's old school people power brand is just what the organization needs, as the chairman unites a party chilled in the former chairman's tenure by his war with state Senate Majority Leader Loretta Weinberg (D-37) and her progressive wing of the Bergen Democrats.
"He's been so good for the party," said Ridgewood Mayor Paul Aronsohn. "He's a real believer. He really cares about people and social issues."
But will relationships sufficiently motivate party members who in the past enjoyed the professional delights of Ferriero's Democratic Party organization, which became a singularly impressive North State machine before it collapsed?