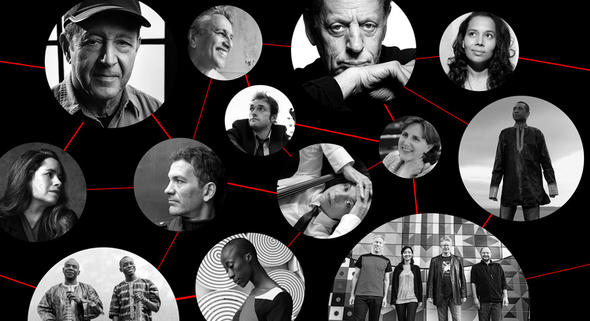 If ever there were a smartypants record label it's Nonesuch, and beginning September 9, the label is showcased, appropriately, at BAM, for three weeks of top-billing musical performances from internationally beloved artists and innovators to celebrate the imprint's 50th anniversary.
The event's kickoff does not hold back: partake of three nights of Philip Glass and Steve Reich's combined efforts (expect to hear pieces from Reich's "Four Organs" and Glass' "Einstein on the Beach," among other challenges and treats) this week (September 9, 10, 11), followed by an onslaught of comparably cerebro-cultural musical legends. Bronx-native woodwind experimentalist Don Byron has a two-day homestand on September 12 and 13—and the shows are free in the BAM Cafe, a little gift back to the city.
For the tote-bag set, The Magnetic Fields' Stephin Merritt turns in a rare live appearance on September 19 with Devendra Banhart and Iron and Wine, neither of which Merritt should have to ask to turn down too much for his sensitive hearing, followed the next night by Kronos Quartet, and on September 23 by the father-son combo Tweedy, featuring Wilco's Jeff Tweedy in a pared down singer-songwriter role with his college-bound son Spencer on drums. And though the showcase bridges summer's whimpering descent into fall, the September 25-26 Caetano Veloso double feature keeps hearts and feet apace into the new season.
There's much more, of course—Laurie Anderson, a bandwagon-jumping Black Keys performance at Barclay's Center somehow linked to the celebration—but what's truly the best way to cap all this off? Robert Plant—whose appearance with his Sensational Space Shifters on September 27 and 28 sees the singer joined by a diversely influenced backing band, and a definitive absence of laser light shows.
The Nonesuch Records 50th Anniversary Showcase at BAM takes place September 9-28.
Below, a selection of some of our favorite Nonesuch Records artists, old and new, established names and esoteric, as well as a full list of the September concert series.
[youtube https://www.youtube.com/watch?v=HT4RainY-lY&w=420&h=315]
[youtube https://www.youtube.com/watch?v=wFCG2TIEAjY&w=420&h=315]
[youtube https://www.youtube.com/watch?v=WmX_GgozpQs&w=420&h=315]
[youtube https://www.youtube.com/watch?v=BoXJayceE4U&w=420&h=315]
[youtube https://www.youtube.com/watch?v=iyO2EY38YcA&w=560&h=315]
Sept. 9–11: The Philip Glass Ensemble & Steve Reich and Musicians (Howard Gilman Opera House)
Sept. 9: Brad Mehldau (Harvey Theater)
Sept. 10: Brad Mehldau & Chris Thile (Harvey Theater)
Sept. 11: Dawn Upshaw and Gilbert Kalish (Harvey Theater)
Sept. 12 & 13: Don Byron Quartet (BAMcafé)
Sept. 12 & 13: Alarm Will Sound (Harvey Theater)
Sept. 12 & 13: Youssou N'Dour (Howard Gilman Opera House)
Sept. 18: Carolina Chocolate Drops (Howard Gilman Opera House)
Sept. 19: Devendra Banhart, Stephin Merritt, and Iron and Wine (Howard Gilman Opera House)
Sept. 20: Kronos Quartet, Natalie Merchant, Rhiannon Giddens, Sam Amidon, and Olivia Chaney (Howard Gilman Opera House)
Sept. 23: Tweedy (Howard Gilman Opera House)
Sept. 23–27: Landfall, Laurie Anderson, Kronos Quartet (Harvey Theater)
Sept. 24: Rokia Traoré, Toumani Diabaté, and Sidiki Diabaté (Howard Gilman Opera House)
Sept. 25 & 26: Caetano Veloso (Howard Gilman Opera House)
Sept. 27 & 28: Robert Plant and the Sensational Space Shifters (Howard Gilman Opera House)