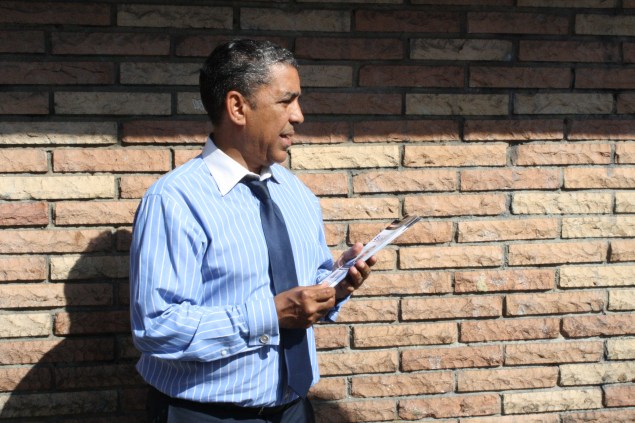 State Senator Adriano Espaillat celebrated another re-election victory on Tuesday night, but the returns showed his much desired path to Washington D.C. may have been complicated.
The upper Manhattan lawmaker, despite running in a district that was long regarded as a center of unwavering support, won by an unexpectedly small margin over former Councilman Robert Jackson and a third relatively unknown candidate. To add insult to injury, Mr. Espaillat's old rival, Guillermo Linares, won an Assembly seat once held by an Espaillat loyalist.
Mr. Espaillat never rules out another run for Congressman Charles Rangel's seat, which the Harlem Lion says he will retire from in 2016. Once regarded as a highly probable–and unwanted, for Mr. Rangel–successor, Mr. Espaillat now finds himself at least slightly diminished in his own backyard, observers say.
"He is still very popular in his district but also with every successive campaign, he's had to expend more and more financial resources and political capital. So there's a diminished return to every victory," said Basil Smikle Jr., a Manhattan Democratic consultant. "By vacillating between Congress and State Senate, it looks more like he wants to hold office rather than being called to represent the office."
"Even though he's winning, he's becoming weaker as a leader," Mr. Smikle added.
Mr. Espaillat's rise appeared to be cemented when he nearly unseated Mr. Rangel, who has represented upper Manhattan for more than 40 years, in 2012. The insurgent candidacy had little political support in the Manhattan and Bronx-based district and yet came within 1,100 votes of dethroning Mr. Rangel. Running in a district redrawn in 2012 to become majority Latino, it appeared Mr. Espaillat was on the cusp of becoming a Latino kingmaker.
This year, Mr. Espaillat ran again with the backing of many more labor unions and elected officials but suffered another loss to a rejuvenated Mr. Rangel by a larger margin than in 2012. Mr. Espaillat's loss came in June and he immediately declared his intention to run for re-election. He faced Mr. Jackson, who is close to Mr. Rangel and the central Harlem political establishment which despises Mr. Espaillat. Returns initially showed Mr. Jackson ahead, but Mr. Espaillat won by about 8 percent; the margin of victory was far smaller than when Mr. Espaillat ran for re-election, after falling to Mr. Rangel, in 2012.
"Adriano should be more concerned with his future ambitions than even Governor Cuomo," said a Democratic operative. "He could barely take care of business in his own backyard. There is definitely Adriano fatigue among voters."
In 2012 Mr. Espaillat faced Mr. Linares, a former councilman and pioneering figure in the city's Dominican community. Mr. Espaillat routed Mr. Linares that year by more than 20 points. It appeared to be a decisive win in a rivalry that has spanned decades, especially after Mr. Linares' daughter lost an Assembly race to an Espaillat protégé, Gabriela Rosa.
Mr. Espaillat's luck soured after his second congressional loss in June. Ms. Rosa was forced to resign that month, confessing to a marriage scheme she carried out to obtain U.S. citizenship. Mr. Espaillat was immediately deprived of an ally and Mr. Linares stepped into the vacuum, easily defeating an Espaillat-backed district leader to win an Assembly seat he held briefly a few years ago.
"Should Linares decide to go against Adriano in 2016, it hampers Adriano's ability to come out of Washington Heights with a solid bloc of votes," Mr. Smikle argued.
Mr. Rangel's central Harlem machine is hunting for a successor, preferably African-American, not named Adriano Espaillat. Assemblyman Keith Wright, the chair of the Manhattan Democratic Party, and former Gov. David Paterson are some of the names floated–observers say any nominee must be able to motivate the same number of Harlem voters that turned out to re-elect Mr. Rangel.
Mr. Espaillat is still a leading contender to take the seat, especially if he commands the same kind of unified support in political and labor circles that he won this year. Espaillat backers point out that the Harlem machine failed to elect Councilman Fernando Cabrera to a State Senate seat in the Bronx and is still suffering from inexorable demographic shifts.
And if a backroom deal holds to bring the Senate Democrats into the majority next year, Mr. Espaillat's enhanced standing in Albany could help him bolster his position back home.
"It's like World War One, all sides really lose, but one winner is weakened less. Espaillat's weakened considerably less than Harlem is. They've experienced structural damage," a source close to Espaillat argued. "Senator Espaillat is heading into a Democratic majority. He'll have more influence, he'll be getting laws passed and will be credited in the news."
The Espaillat source also contended that the third candidate in the race on Tuesday, fellow Dominican-American Luis Tejada, won 7 percent of the vote that would have been Mr. Espaillat's.
"Was this an epic campaign? Espaillat knew he was going to win," the source said. "I don't think he's weakened."