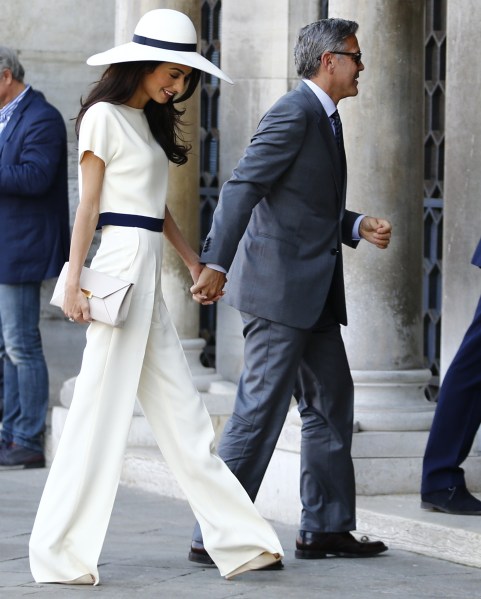 One sartorial element rang like a crystal clear, visual bell through all the multi-colored chaos and the Rat Pack dinner suits of the Clooney nuptials. Against a shabbily chic European backdrop, the new couple dashed into their civil ceremony, romantic-runaway style. Clad in a cream trouser suit and matching, floppy-brimmed hat by Stella McCartney, the bride evoked more than a striking resemblance to Bianca Jagger at her San Tropez wedding to Mick Jagger in 1971. Bianca chose Yves Saint Laurent to design her beyond-chic ensemble. Ms Alamuddin looked equally stunning but less surprising in her McCartney.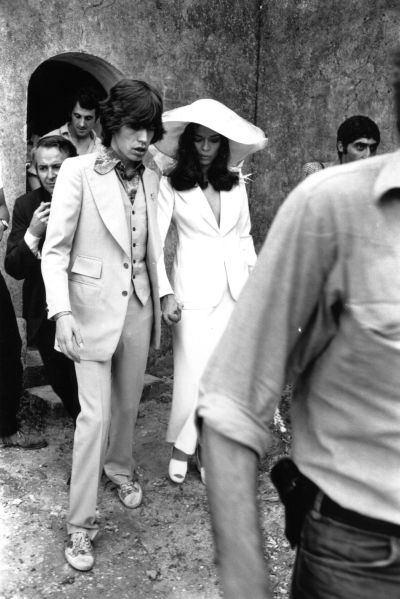 Now facing a crossroads in her life, Ms Alamuddin must make a choice and it's this. Does she begin flexing her fashion muscles, as she did with her Oscar de la Renta wedding gown on Saturday? Fashion Officials were highly satisfied with Ms Alamuddin's high-low choice, the dress was cut super-short at the front.
Sunday's Giambattista Valli, flower-embroidered organza tutu provided a fashion thrill, too.  The message? "I'm young and gorgeous and I'm marrying George Clooney! When the hell else will I ever get to flash my gorgeous pins to the world?"
Sunday's McCartney choice was the ideal fashion antidote. On Sunday, the message was "This is my usual look, fabulous trouser suits and strong but understated colors."  The McCartney perfectly favored Ms Alamuddin's profile as a beautiful, badgewoman for couture and a hard-as-nails, legal eagle.
Cinderella is officially dead.