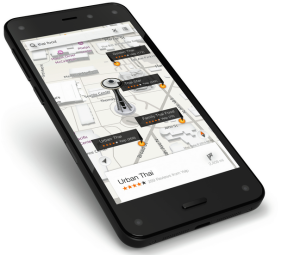 Customers are so excited about the iPhone 6, they're willing to pay people to wait in line at the Apple Store for them. Sadly, we can't say the same for the enthusiasm surrounding the Amazon Fire Phone, whose price has just been reduced to a measly $0.99.
The phone, which has been on the market for less than two months, has already decreased nearly $200 in price, Time reports. Amazon Devices' vice president, Ian Freed, described the news in a press release today:
Fire is now 99 cents with a two-year contract, plus customers get one full year of Prime included. With access to all of the Prime content, Mayday, 32GB of memory and free unlimited cloud storage for photos, plus the exclusive Dynamic Perspective and Firefly features, Fire is another example of the value Amazon delivers to customers.
Though Amazon has not released sales figures for the Fire Phone, we can't help but think the new $0.99 is not an example of "value," but rather an example of what happens when no one's interested in buying your smartphone.
We guess this is what you get, Amazon, when you lead people to believe you're developing a sex toy, but instead give them a phone that forces them to online shop on your own retail site. It's also possible that people were turned off by the Fire Phone's 3D imaging feature; crybabies, after all, are known to whine about moving images on their smartphones' interfaces. There's also the annoying fact that the Fire Phone was only available with one carrier: AT&T.
Maybe the company will eventually get so desperate, they'll start including Fire Phones every time we go on Amazon to order another supersize pack of Harry Potter memorabilia.