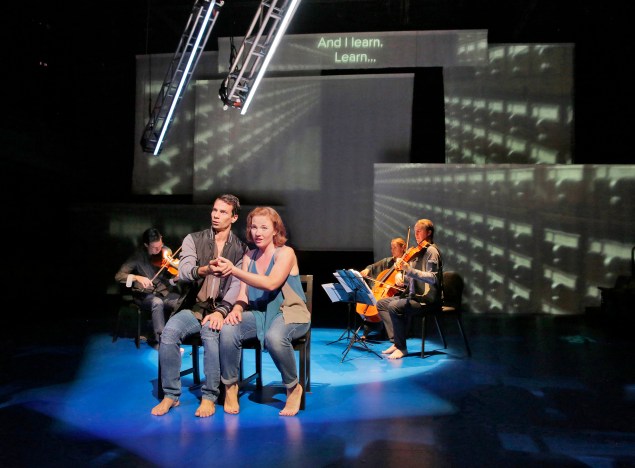 A transgender-themed opera could easily be a recipe for disaster. So emotionally fraught a subject could easily descend into sheer sensationalism: imagine a Gian-Carlo Menotti version of Myra Breckinridge. Or, on the other hand, the gravity of the social issue involved might so overshadow aesthetic considerations that criticism would sound, at best, irrelevant and, at worst, churlish. Applying objective standards to an opera about post-traumatic stress disorder is a fool's errand.
Happily, a new musical theater piece presented last week at BAM, As One, not only avoids all these pitfalls, but satisfies in an entertaining and delicately moving way. The 75-minute work, with music by Laura Kaminsky and text by Mark Campbell and Kimberly Reed, describes the emotional journey of the transgender woman Hannah from childhood to a couple of moments of hushed epiphany in young adulthood.
The piece takes the form of a cycle of 15 songs shared between two singers representing "Hannah before" and "Hannah after," that is, the body she was born with and the soul inside—or, to put it another way, a baritone yearning to be a mezzo-soprano. Accompanying the journey is the Fry Street Quartet, though "accompanying" doesn't quite encompass this string quartet's participation, as they sometimes sang or joined in the stage action. (Even the discreet music director, Steven Osgood, jumped off the podium and invaded the playing area briefly.)
The show begins with a tiny moment for the quartet: three players tuned up in the acting area of BAM's intimate Fishman Space before launching into a jaunty, spiky introduction. Then first violinist Robert Waters entered and posited a lyrical theme in an alien key. The remaining players repeated and varied that first figure so everyone was in harmony. This simple touch encapsulated the dramatic theme of As One, quiet reconciliation.
We meet "Hannah before" as a 12-year-old boy in a small town. "Like every good boy," she sings, she has a paper route, but "unlike every other boy," she secretly wears a woman's blouse under her boy's jacket. Vignettes of Hannah's trying to conform her handwriting to a "masculine" standard, squirming uncomfortably in a sex-ed class and reflecting on her loneliness while her class recites John Donne's "No Man Is an Island" lead into the pulsating song "Perfect boy." In this number, baritone Kelly Markgraf as the "before" persona sang of excelling at sports and student government, jogging faster and faster until he ran out of breath.
As Hannah begins to understand herself, her voice is increasingly assigned to mezzo-soprano Sasha Cooke. This transitional musical segment aligns with the character's psychic and physical transition. Here Mr. Campbell and Ms. Reed's text is wonderfully tactful, never reaching for grandiose effects outside the compass of Hannah's undramatic existence. She tries dressing as a woman for the first time, and then begins hormone therapy. In a particularly touching segment, she begs of spending Christmas with her family and reads a concerned letter from her mother.
In the most successful scene of the piece, Hannah spends a lonely holiday in a coffee shop. Ms. Kaminsky evokes this hushed moment by pulling two members of the string quartet into the action. They donned scarves and wool hats and softly sang the carol "O come, O come, Emmanuel." For Hannah, this song of Advent announces nothing so dramatic as the Nativity; rather, she revels for an instant in an innocent flirtation with a hipster guy.
What happens next—the depiction of a trans-bashing assault—is not handled so well. The quartet went into overdrive, grinding out slashing noises suitable to a horror film, as after-Hannah narrated the incident in present tense and before-Hannah read harrowing statistics of similar attacks worldwide. The moment felt preachy, and, worse, impersonal.
Once she's over this hurdle, though, Hannah has her final song, a long aria of self-realization. At first I was afraid this finale might turn schmaltzy; after all, how many transgendered persons have the luxury, as Hannah does, of spending "me" time singing flights of coloratura in the countryside of Norway ? But the libretto deftly undercuts the chick-lit cliché. Nature doesn't offer transcendence; the expected Northern Lights fail to manifest. Instead, Hannah performs the mundane task of writing postcards, only to discover "My writing is not/Like a girl's/Or like a boy's/It is mine."
Ms. Kaminsky has the confidence to set this moment with utter simplicity. Until now, the baritone and mezzo had sung together in fourths or fifths or more dissonant intervals, but now they settled into union on the final word of the opera, "one." Undercutting any possible sentimentality, though, was a gentle dissonance from the quartet, suggesting that Hannah's story has reached now only a point of repose, not an end.
If there is a flaw in Ms. Kaminsky's music, it is that it is a little too self-effacing. The style is modestly minimalist, with a busy first violin part hinting at a hoedown, Aaron Copland style. Her setting of the text is masterful, so natural and unaffected that the projected titles were superfluous.
This world premiere boasted a cast as close to perfection as I can imagine. Mr. Markgraf and Ms. Cooke, coincidentally husband and wife, are both attractive, sensitive singers, but perhaps more to the point, they could serve as textbook examples of gender norms. He bristles with male signifiers, hirsute and muscular, with an aggressive, craggy baritone. She is blonde and curvy, with a buttery mezzo throbbing with "feminine" vulnerability. Though Mr. Markgraf could never become Ms. Cooke in a literal sense, their utter oppositeness movingly suggests how daunting the transgendered person's transition process must be.
Ken Cazan staged the piece with subtlety and tact, gradually moving Ms. Cooke forward and Mr. Markgraf into the background as Hannah coalesced. Ms. Reed directed film segments that were projected around and someone on the action, starting in faded black and white and gradually blooming into rich color for the "Norway" finale.
David Martin Jacques' intricate lighting design added visual interest to the sedate action of the piece, and Sara Jean Tosetti's costumes, simple hoodies and jeans, posed intriguing questions about the nature of masculinity. Mr. Markgraf, draped in a slinky jersey top riddled with diagonal zippers, looked every uneasy inch the boy next door who would be the girl next door.