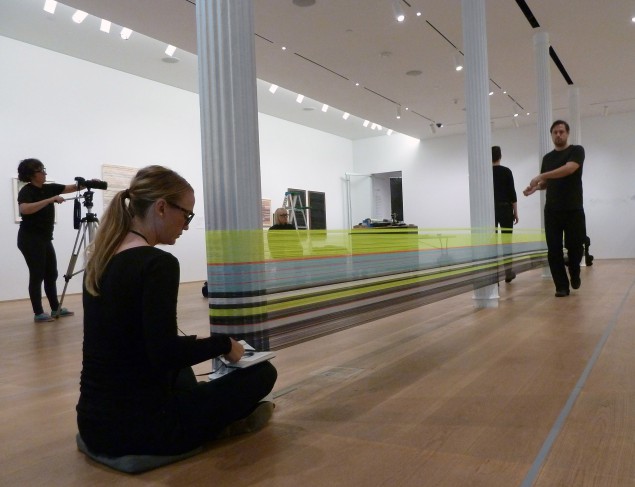 Last night, The Drawing Center opened two concurrent exhibitions to a full house, and visitors had to watch their step around Chicago-based artist Anne Wilson's delicate durational performance piece To Cross (Walking New York). On view in the main gallery is "Thread Lines," a group show spotlighting artists who incorporate the linear aspects of drawing in their textile-based practices. Ms. Wilson's piece had only just begun its weaving, but already it was inarguably the showstopper.
Inspired after she discovered that The Drawing Center was built for the Positive Motion Loom Company in the 19th century, Ms. Wilson decided to incorporate the building's history into her newest work. Meticulously layered in a standard weaving cross pattern around the four twelve-foot columns in the center of the main gallery, the work is to be created over the duration of two months as performers walk around the columns carrying a spool of neon colored threads. Eventually it will grow to five by thirty-four-feet, creating a wall of woven fibers separating the space.
The piece is marked off by a subtle silver tape line, delineating the performance space from the viewing space. During the opening, with no performance on but the nearly four-foot-tall green, orange, and black weaving loom rising from the floor, visitors couldn't help but gravitate towards the colorful centerpiece.
Stop in and catch once of the scheduled performances. "Thread Lines," and The Drawing Center's other exhibition "Xanti Schawinsky: Head Drawings and Faces of War," are on view through December 14.