Glamorous attendees of opening night at the Metropolitan Opera had to struggle through an unusual barrage to get to the Lincoln Center last night.
Hundreds of protesters, demonstrating against the upcoming staging of The Death of Klinghoffer crammed into Lincoln Square and Broadway to protest. The incendiary play, which portrays the 1985 murder of a disabled Jewish passenger and the hostile takeover of an Italian cruise ship by four Palestinians, has been been considered anti-semitic from its genesis. The play first opened in 1991 at the Théâtre Royale de la Monnaie in Brussels amid bomb threats and vehement protests. Demonstrators in New York claim that the production glorifies terrorism while being both biased and racist.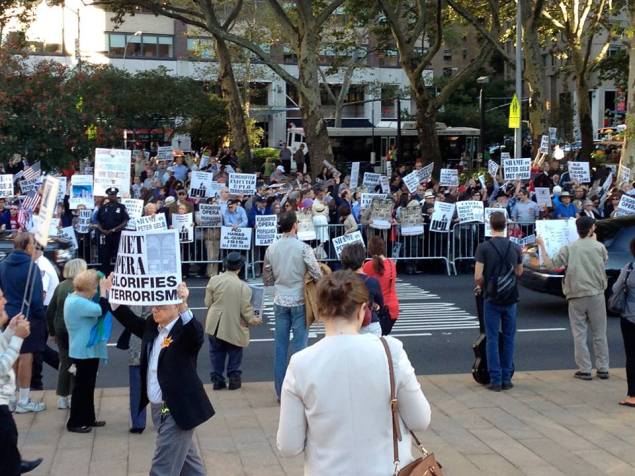 Earlier in the afternoon, an executive committee meeting at the Lincoln Center had been briefed about the potential for protests. Even though the play has been performed many times before, the current political climate–one protestor even comparing the subject matter to ISIS–means that tensions over another staging are running high.
While a performance of The Marriage Of Figaro was transmitted live in an outdoor broadcast in Times Square and outside the Lincoln Center, hundreds of protestors pleaded with the company to cancel the October premiere of The Death of Klinghoffer, specifically targeting the Met's manager Peter Gelb. Some of the signs read "Gelb Are You Taking Terror $$$?" and "Shame on Peter Gelb."
Peace was eventually restored after the Gala opening night arrival scene had been well and truly disrupted. Despite protests, the play is scheduled to open Monday, October 20th at the Metropolitan Opera.
.