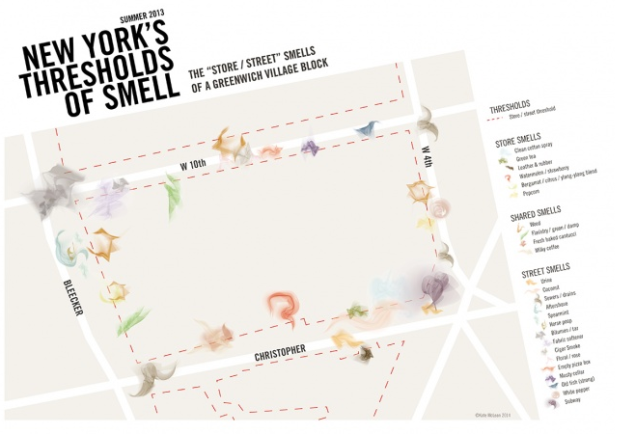 New York city stinks. It stinks of leaking trash bags, food, people and bus fumes. But to Kate McLean, a British multi-sensory artist, the stench of New York is promising. While most New Yorkers struggle to escape the city's assault on the senses, Ms. McLean is working on a Smellmap of the city called "New York's Threshold of Smell."
According to Gothamist, Ms. McLean and a handful of brave volunteers are breathing in deep in the name of cartography… and art. Using their noses, the group documents the scents of a neighborhood while Ms. McLean supplies her own kind of romanticism. The UK artist described the subway scent to the New York Times as "a warm, musty smell that comes from the cellar." This perhaps comes with a bit of delusional optimism–the group also claims that the worst smell they found on Bedford Avenue was "the scent of a distant marijuana cigarette".
The artist has already created beautiful Smellmaps for cities such as Amsterdam, Milan, Edinburgh and Paris. She has also created taste maps and tactile maps. Ms. McLean claims, "Smells form part of our knowing, but are elusive, disappearing before they can be fixed in place."
She has even completed a Smellmap of the "Smelliest Block in the City" in her efforts to map New York. The trip prompted New Yorkers and scent-experts alike to sniff walls, restaurants and trashcans, detecting essence of old fish, empty pizza boxes, fabric softener, tar and urine.
If you are interested in enumerating the many perfumes of Queens (McLean's next NYC endeavor), contact her.