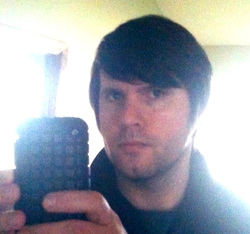 An artist who has apparently run out of ideas will be blowing up the nude images that were recently "leaked" (stolen) from Jennifer Lawrence and Kate Upton and featuring them in his own art show.
The artist, XVALA, is adding the images to his "Fear Google" campaign, according to a press release from Cory Allen Contemporary Art or CACA.
The idea of posting these stolen images, which have already violated their subjects enough, is worse than caca. It's bullshit. Adding insult to injury, these images, stolen by misogynist hackers, are being used to bolster a male artist's work.
This story could be an online hoax designed to get attention for the artist or CACA. But it turns out XVALA is an old pro when it comes to appropriating women's intimate images for his own art. In 2011, he "posted the leaked nude images of actress Scarlett Johansson throughout the streets in Los Angeles with 'Fear Google' logo covering her intimate areas," the press release states. Ohh, edgy.
He did plenty of victim-blaming after that stunt in an interview with Huffington Post. 
"Well, for the record I did not hack or crack Scarlett Johansson photos," he's quoted as saying. "I found them on the Internet just as anyone can do for themselves. I Googled it. How I chose to use the Google search results should be viewed as a disruptive innovation. It's Post-PC art."
Yes, anyone on the Internet can Google a stolen photo. That's precisely what makes this work unimpressive. And "disruptive innovation"? Please.
Slapping your own name on these women's photos is not creating art. It's a pretty dick move that's clearly designed to get people into your art show so they can see Jennifer Lawrence naked.
His goal of getting people to understand the holes in online security is laudable. But further punishing the women who've had their own photos exploited is definitely not the way to do that. Come on, XVALA, get creative.
Since people apparently need to be reminded, let's review: stealing other people's naked photos is not cool. Posting the photos on your blog or in your art show also is not cool, and also counts as stealing.
Also, stealing is illegal and these photos are the property of the people who took them. This artist might want to lawyer up if he actually intends for this show to come to fruition.