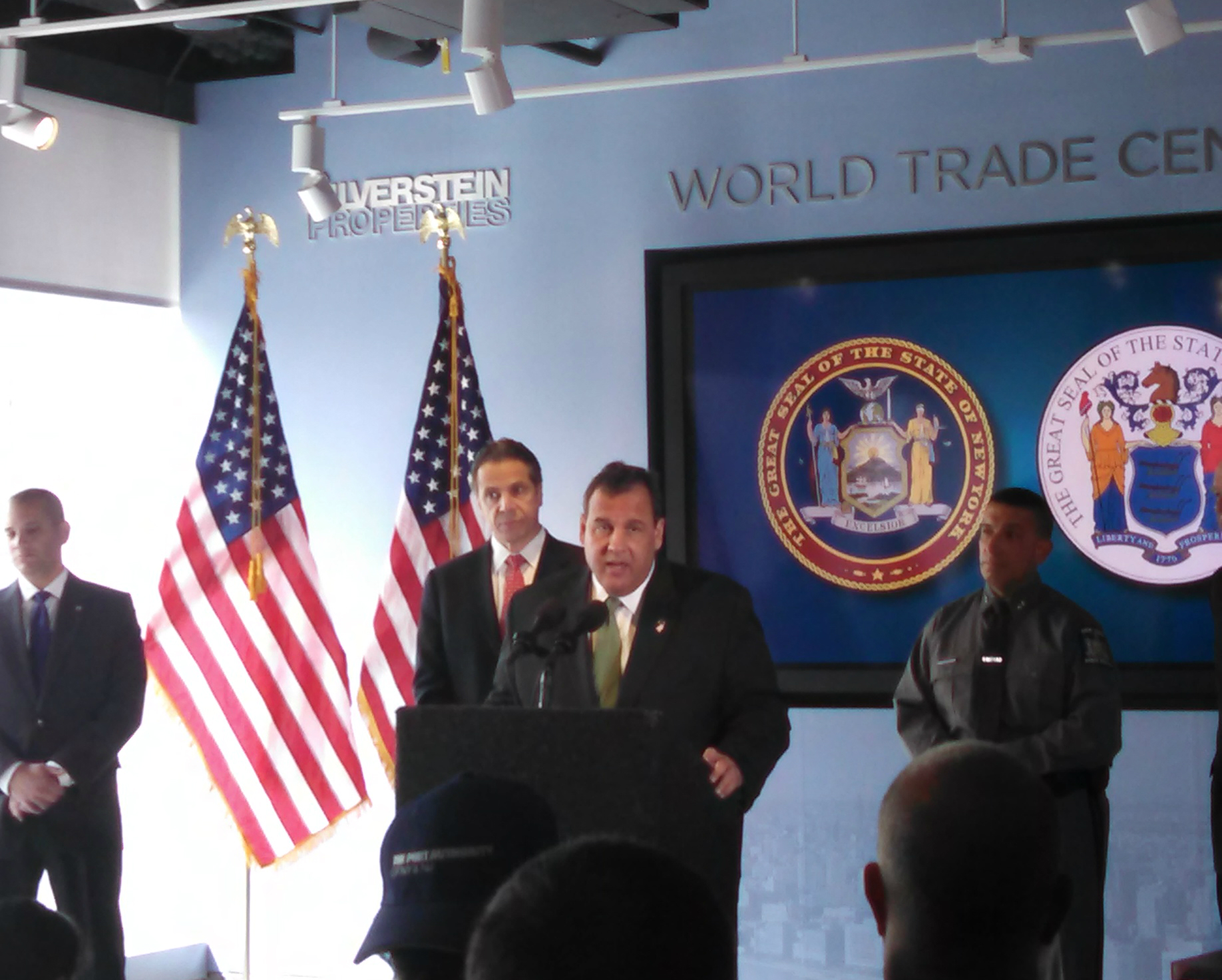 NEW YORK, NY – Nine days after announcing a bi-state partnership to review and beef up safety and security measures in the wake of heightened tension between the U.S. and terrorist networks aboard, New Jersey Gov. Chris Christie and New York Gov. Andrew Cuomo today signed a memorandum of understanding that "codifies much of the cooperative efforts between state and local agencies to work together in a way they haven't before."
"There's no doubt that these are serious times," Cuomo, who appeared here at 7 World Trade Center alongside Christie to announce a new round of security measures following from closed doors meetings between law enforcement officials on both sides of the Hudson that took place over the last 10 days, said. "The increased tensions with the international terrorist community is undeniable. It's also undeniable that this region is a potential target for offensive activity and retaliation by the terrorist community. We know that. As elected officials, public safety is job one, and our job is to make sure that we're doing everything we can do to be prepared."
Today's presser comes a week and two days after Christie and Cuomo convened to announce their bi-state partnership, a collaborative effort on the part of local, state, and federal agencies to begin mapping out an improved, coordinated anti-terrorism plan for the region. Today, the two announced the first round of recommendations stemming from that plan, described as an "unprecedented level of collaboration that will continue for the next 100 days" by New York Superintendent of State Police Joseph D'Amico.
"This collaboration isn't in response to any one threat," said D'Amico, who appeared alongside Christie and Cuomo, as well as newly-minted Port Authority director John Degnan, Director of the New Jersey Office of Homeland Security and Preparedness Christopher Rodriguez, and other top law enforcement officials from New York and New Jersey. "We're acting with the understanding that there's an uptick in terrorist activity all around the world, and there's no denying New York remains one of the principal targets. We remain committed to improving collaboration between New Jersey and New York state and increasing our presence in critical areas."
Among the actions that the states will begin to roll out or which are effective immediately include increased presence of uniformed and special operations officers in and around "critical infrastructure" and the "redeployment of marine and aviation assets around bridges and mass transit systems" in New York and New Jersey.
Cuomo and Christie said the MOU sets the path for delivery, within 30 days, of a classified analysis and coordination plan between New York and New Jersey, as they first announced on September 15.
"What you're hearing from both officials today is you're going to see an increase in police presence on multiple levels: State Police, MTA, Port Authority, K-9 units, more baggage checks. Commuters, citizens will see an increased presence," said Cuomo. "That shouldn't produce anxiety, if anything that should have a calming effect. It says we're prepared, we're getting ready."
Christie said both states will monitor the implementation of the new measures — which also focus on enhanced intelligence gathering and information sharing and reciprocal law enforcement powers between New Jersey and New York — over the next 100 days. He couldn't, however, say how much it will cost to carry out the plans, or offer an exact number of how many law enforcement personell will be involved in the security ramp-up.
"Bottom line is Gov. Cuomo and I are committed to making sure this region is protected," Christie said, adding that the two states will worked out the costs among the agencies. "It's certainly not going to be preventing us from doing all the things that we need to do. I don't think we'll have anybody in either state who's going to come and say you're spending too much to keep us safe."
"I want the people of the region to know that from my perspective, this I absolutely necessary for us to do in light of the new and increased tensions going on around the world," Christie added. "We have seen before that you ignore these increased tensions at the peril of the people you serve, and Governor Cuomo and I have decided that we will not ignore those increased tension even without a specific threat in place. We want to do everything we can to provide for the most important thing the government provides, which is the public safety of the people."