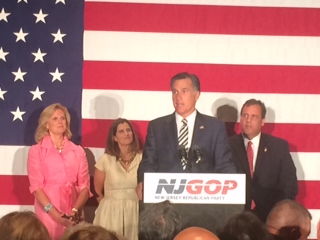 EAST BRUNSWICK – At a birthday bash fundraiser on Wednesday night, Mitt Romney, the 2012 Republican presidential nominee, verbally embraced New Jersey Gov. Chris Christie, the man who could be the 2016 presidential nominee.
"What a great job your governor is doing for Republican governors across the country," Romney said about Christie, who turned 52 years old on Sept. 6. "I am proud to be on the stage with a man who knows what to do. This is a guy who cares about the people of this great state. It's not always easy, but this is a guy who fights for what he believes in."
Romney's praise for Christie came in the context of early presidential politicking. In his capacity as Republican Governors Association chairman, Christie has been barnstorming around America in recent months, raising funds for candidates in competitive gubernatorial races as well as raising his national profile. Recent polls have shown Christie among the leaders or at the top of the anticipated 2016 GOP field, including in the critical state of New Hampshire.
Yet Romney's name remains on the radar for many Republicans. Although Romney publicly declared earlier this month that he neither was running nor planning on running for president again, a recent poll by USA Today and Suffolk University showed Romney at the top of the GOP heap in Iowa, an equally critical primary state.
But before approximately 1,000 people inside the East Brunswick Hilton ballroom, Christie sloughed off any idea of potential primary competition on a night that raised approximately $625,000 for the state GOP.
"Wouldn't this country be in a hell of a better place if this man was president?" asked Christie, who has estimated that he raised between $25 million and $30 million for Romney's 2012 presidential campaign. "I want you to remember the foreign policy debate he had with [President Barack Obama] when he said Russia was our greatest threat, and the president gave some smart aleck, New Jersey response. Let me tell you Mr. President – you were wrong, Mitt Romney was right, and the world is suffering the consequences."
Christie continued to indicate an increasing interest in foreign policy in his birthday celebration speech.
"I'm traveling all over to build bridges between New Jersey around the country and around the world," said Christie, a reference to his trip to Mexico earlier this month. "With Russia invading Ukraine, ISIS in Syria, Iraq in turmoil, we take advantage of the environment that we live in at home."
Despite the call of national politics, Christie said that he is still committed to the unique environment of New Jersey politics before he left the stage to partake of a birthday cake made by Hoboken's famed "Cake Boss," Buddy Valastro.
"A lot of people are saying what's next for the governor. I'll tell you what's next – I will get up, get dressed and go to work in the greatest job that I could ever imagine, in the state where I was born and raised," Christie said with his wife Mary Pat at his side. "Don't ever think for a minute that I'm disinterested or distracted from what my main job is. There is nothing more that I could ask for in life."