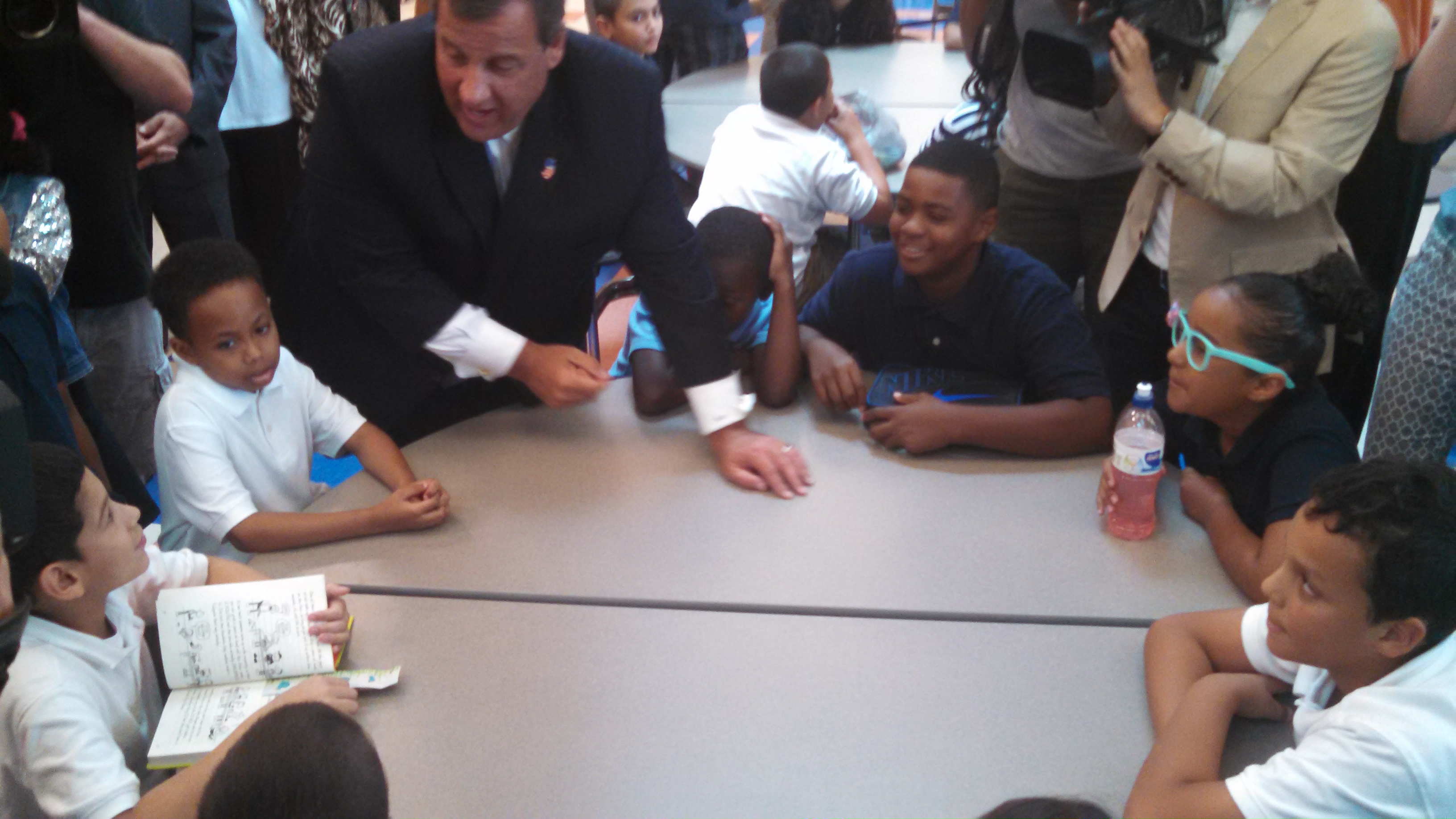 CAMDEN – Gov. Chris Christie, on a visit to the Octavius V. Catto Community Family School here today, said the "renaissance" Camden's school district has undergone in the last year should serve as a model for "other places" in the state currently struggling through their own education reforms — specifically in Newark, where the school year there has begun under a haze of ongoing controversy.
"What I tell people all the time when I talk about Camden is that unlike other places in our state, this is a place that truly comes together to welcome partnership, to welcome change that we all know is necessary, because in this city the children really a placed first," Christie said at a press conference following a tour of the Camden school. "I hope you all appreciate what you have, because it's not present everywhere in New Jersey, and it's certainly not present everywhere in the country."
"But adults who put their feelings second, and the needs of the children first, are the real pioneers of education and education reform in this state and this country," he added.
The series of comments was an obvious shot at community leaders and residents in Newark, who continue to voice concerns over the state-lead reorganization of public and charter schools under the "One Newark" plan there. This school year marks the first that Newark schools are operating under that plan, announced in December by school superintendent Cami Anderson and which includes the expansion of charter schools as well as the closure or consolidation of certain public schools.
At a public hearing earlier this month called by state Sen. Ron Rice (D-28), residents again criticized the plan, which they say has lead to confusion and enrollment problems in the 43,000 student district. On the first day of school last week some 8,000 students were reportedly still struggling to figure out where they were supposed to be attending, though Anderson has maintained that the majority of the plan is going smoothly. And just today, dozens of students in Newark skipped school in protest of the plan, criticizing Anderson and Christie for their failure to respond to the situation.
Asked by a reporter if he thought those students had "no basis" for their actions, Christie answered in the affirmative, adding that they were "induced … by adults who have their own political agendas."
"You know who," Christie said when pressed as to who that would be.
Christie, who re-appointed Anderson to her post earlier this summer despite cries from community leaders and residents for her removal, said the real problem in Newark has to do with politics and career-obsessed officials who are putting "interest of adults … ahead of the interests of children," and pointed to Camden as an example of how education reform should be done.
He said like Newark, Camden has faced many of the same issues — crime, economic depression, and poor student performance — but legislatures and community leaders have come together to make progress.
"All of those things are happening because of the cooperative political environment that put aside partisanship," he said.
"Camden is a model in a whole bunch of ways," Christie added. "And it's a model because you can never get politics out of the school systems. The question is whether or not you're going to put aside the politics and work together to accomplish what needs to be done. And unfortunately in a lot of other places you still have people putting politics first and blaming and finger pointing. You know, protests are fine. That's part of a democratic society and I don't ever bemoan someone from going out and protesting if that's what they want to do. But what we've had in some other places and Newark in particular are some people who are trying to undercut the success of the very schools that they're sending their kids to. That's fine for them I guess … but it's really problematic of a lot of the urban areas in education, which is the interest of adults are being put ahead of the interests of children. And we need to grow up."
For her part, Camden Mayor Dana Redd, who joined Christie in praising the city's schools, said Camden has worked "shoulder to shoulder" with Christie and his administration to create a "national model that can be replicated throughout this country."
"We are all working together," she said.