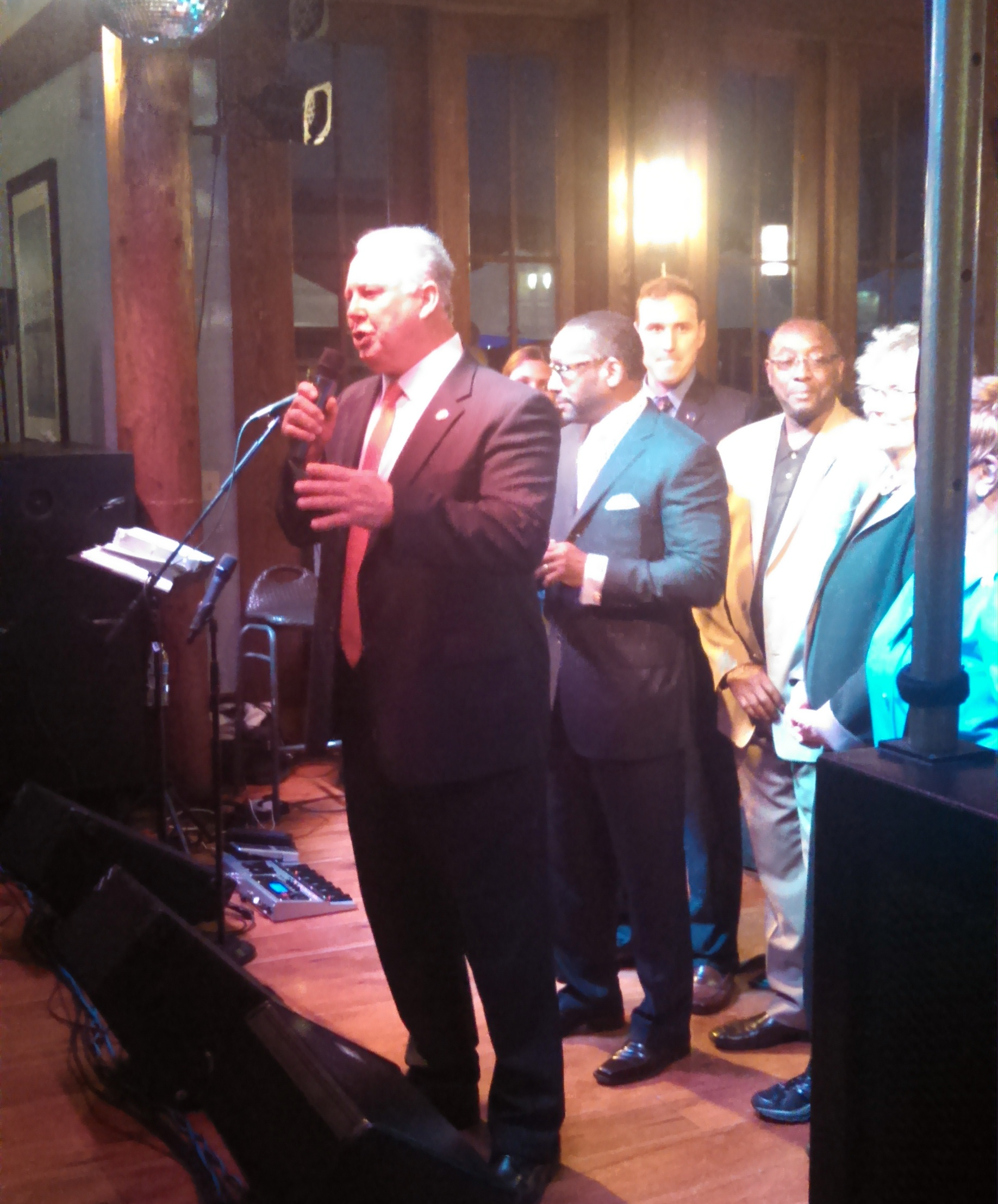 WEST ORANGE – You could hear the blaring sounds of the band playing Pharrell's "Happy" and the raucous clatter of voices even as you walked up from the Turtleback Zoo and South Mountain Recreation Complex, down Cherry Lane, to the front of McLoone's Boathouse here in the geographic heart of Essex County's political establishment.
At the entrance, recently-vacated black SUVs idled in the driveway as guests clad in black suits and evening wear lined up to join the throngs inside, where boozy pols and their friends and family sat socializing freely at the bars, over martinis and plates of Horderves; out back, on the patio overlooking the glass surface of Diamond Mill Pond, others lounged in thickly-cushioned chairs around a stone-ring fireplace.
For those not politically acclimated to Essex County's political culture, the scene could have easily been mistaken for a lavish wedding reception or some Garden State celebrity's birthday party. But Monday's night's event at McLoone's was arguably more important, at least in Essex County's political circles — it was a gala honoring Joe Divincenzo, Essex County Executive and orchestrator of the well-oiled political machine come together to celebrate his legacy even as he works to continue it.
"Look around," 10th district Congressman Donald Payne, noting the nearby zoo and recreation complex, two of the county exec's crowning achievements, told the party of around 700 people in between the band's setlist. "This county executive has made Essex the finest county in the United States."
Pols from up and down the state's Democratic Party showed up for the celebration, replete with political mixing and praise for "Joe D," and for a moment it seemed like the whole of Essex County was united on common political footing, a shining example of party solidarity as counties across the state, but particularly here, with DiVincenzo facing re-election, gear up for November.
"This is how government works," someone mumbled near the sushi table, a glass of champagne in hand.
Scanning the dark room, light by soft light and energized by the live entertainment, one caught glimpses of recognizable faces, some more familiar than others. Here was Roselle Mayor Jamal Holley, up from neighboring Union County; over there, state Sen. M. Teresa Ruiz with Assemblywoman Eliana Pintor-Marin.
Phil Alagia, Democratic Party operative and DiVincenzo's chief of staff, circled the room, stopping to pose for pictures and telling PolitickerNJ that the gala raised over $400,000, by his best guess, though he "still has to count it all."
U.S. Senator Bob Menendez (D-NJ) was somewhere praising Joe D for being the "greatest Essex County Executive in the history of the county," while state Sen. Nia Gill, U.S. Rep. Albio Sires (D-8), and Assembly Speaker Vinnie Prieto (D-32) all mingled in their respective political corners.
Senate President Steve Sweeney (D-3) left early, but he was there, too.
"I've been here for an hour," he said, stalking out the door. "Good food."
Ruiz, Payne, Menendez, Sires, Essex County Democratic Party Chairman Leroy Jones, and Essex County Sheriff Armando Fontoura all gave tribute to DiVincenzo, the "man of the hour," at one point, heaping mountains of accolade on the 62 year old executive.
Joe D, meanwhile, stood in the wings — the picture of good governance and party building.
"That's the kind of man Joe is — he doesn't need to be center stage, he can be in the fringes," Jones said to loud applause.
All this for a man who some thought committed political suicide last year when he endorsed Gov. Chris Christie's campaign for re-election, much to the chagrin of fellow Democrats, who saw the move as a betrayal of trust. The gala, then, if nothing else, showed that Newton's Third Law, at least in Essex County, doesn't always hold true.
Joe D is evidence of it, and tonight, amidst friends, it might have been like it never happened.
"It was the right thing to do at the time," Divencenzo told PolitickerNJ, referring to the endorsement, as he nursed a cranberry-vodka out by the entrance.
Neither did it appear relevant that the county executive backed the losing mayoral candidate earlier this year in Newark, Essex County's biggest city.
But outside, among a few grizzled political veterans puffing on thick Cuban cigars, one unnamed lobbyist ventured to tell it like it is.
"There are no friendships in politics — just temporary alliances," he whispered.