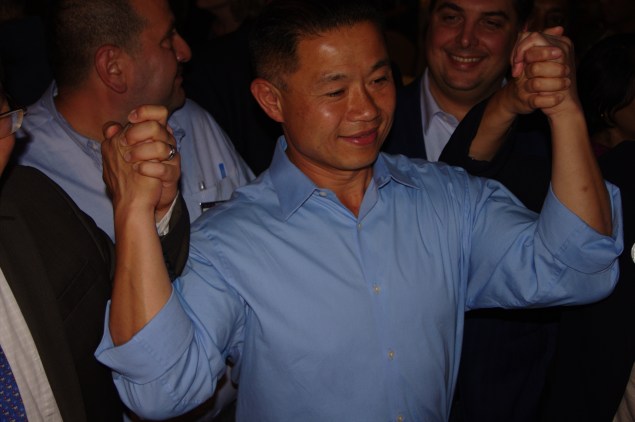 Queens State Senator Tony Avella declared victory tonight over former city comptroller John Liu–though the challenger refused to quit, and predicted as much as a week may pass before the all the votes are counted.
As of midnight, Mr. Avella–who earlier this year left the mainline Democratic delegation and joined the breakaway Independent Democratic Conference–led Mr. Liu by 6,813 votes to 6,245, with more than 95 percent of all votes counted. Mr. Avella's Twitter account has several triumphant quotes, blasting the official Queens Democratic Party and boasting of his decision to be part of the IDC.
"We beat the Queens machine. You can be independent," Mr. Avella is quoted as saying. ""This campaign was about more than me and you–it was sending a message that people can be independent and have have a voice."
A campaign spokesman said that the incumbent had clearly won a third term in the upper house of the state legislature.
"Tonight, the voters of northeast Queens have spoken loud and clear," said spokesman Jason Elan "Senator Avella has been declared the victor in his race for re-election, and now is the time to come together to implement a truly progressive Democratic agenda for all New Yorkers."
Mr. Liu, however, was not ready to give up.
"Every vote counts, so every vote must be counted," Mr. Liu said at his post-election party at Vivaldi's restaurant in the neighborhood of Bayside. "It'll be a few days, if not a week or so to get the results."
Mr. Liu ran with the strong support of Congressman Joseph Crowley, chairman of the Queens County Democratic Party, and nearly every leading elected official in the borough with the exception of Congressman Steve Israel. Mr. Crowley said he anticipated a tight competition and delayed results.
"We knew it was going to be a tight race. It's not easy taking on an incumbent," said Mr. Crowley. "I think John has the perseverance and character to see this thing through."
Councilman Mark Weprin and several sources close to the campaign told the Observer Mr. Liu campaigned fiercely for absentee votes, and estimated as many as 1,000 of the ballots remain to be counted.
"They ran a very sophisticated absentee ballot operation," Mr. Weprin said.
Another source close to the campaign said that they expected that there would be a difference of about 200 votes when all ballots cast at the polls were counted. Mr. Liu said he was enthusiastic about his odds, and continued to pound Mr. Avella for joining the joint IDC-Republican Senate majority, which blocked left-wing initiatives like a minimum wage hike, the pro-choice Women's Equality Act and the DREAM Act,
"I feel great," said Mr. Liu. "There are a multitude of issues the State Senate has failed to pass, because of the Republican leadership, empowered by my opponent and a few other Democrats. We ran a good, clean campaign."
Mr. Liu placed fourth in last year's Democratic Primary for mayor, and sources close to the candidate told the Observer that they believed his political future depended on winning Mr. Avella's seat.