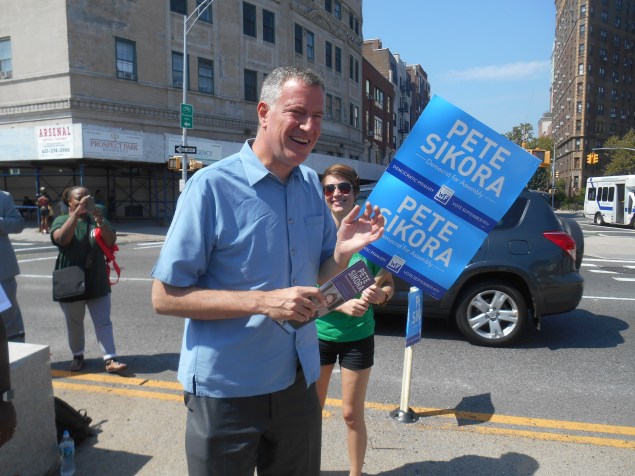 They came for the mayor, clad in New Balance sneakers and a summery blue button-down, savoring the rare one-on-one time with the most powerful man in New York who, just a short while ago, was their neighbor. But Bill de Blasio, back on the campaign trail, had to remind the Brooklynites they weren't here just to gawk at him and take pictures.
"Meet my friend Pete Sikora," Mr. de Blasio repeatedly told the star-struck people waiting on line to shake his hand at the Grand Army Plaza green market. Ever the consummate politician, Mr. de Blasio stuck a palm card in their hands before they met the Democrat actually running for office.
"Do you have Eighth and Carroll?" Mr. de Blasio asked Pete Sikora, the Assembly candidate gleefully receiving the mayor's endorsement. Mr. Sikora nodded and the voter, done with his photo, walked toward the candidate. "Good, he's one of yours."
Mr. de Blasio did this afternoon what a New York City mayor hasn't done in recent memory: hit the campaign trail for a candidate competing in a local race. Michael Bloomberg, a Republican-turned-independent, could be a toxic presence in the sort of Democratic primaries that often determine who reaches the City Council or state legislature here. The same was true for his predecessor, Rudolph Giuliani, a Republican reviled by the likes of Mr. de Blasio, now a star of the Democratic Party, and Mr. de Blasio's old constituents.
The muggy afternoon at the market, next to Prospect Park and within walking distance of Mr. de Blasio's Park Slope row house, was as much about Mr. de Blasio as Mr. Sikora. Barring a hiccup–one man raced by crying "fuck you de Blasio, you are a motherfucker!"–the day was another reminder that on his home turf, in liberal brownstone Brooklyn, Mr. de Blasio is still a star. (Mr. de Blasio smiled, brushing off the man as a passionate New Yorker.)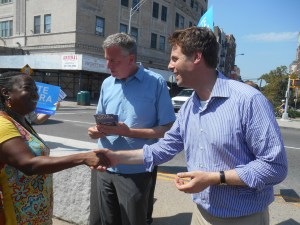 Mr. Sikora, a first-time candidate, eagerly reminded voters that he was a progressive (like the mayor) dedicated to fighting income inequality and climate change.
"This is great," he gushed to the Observer. Dozens of locals, lined up for Mr. de Blasio, had ambled by to take his palm card. "We should do this all the time."
Comparing today to his other campaign stops, he added: "Generally speaking, they are not like a rock star mob scene."
Mr. de Blasio's successor in the City Council, Brad Lander, joined the event shortly after Mr. de Blasio. The good feelings of the afternoon just about masked the political hornet's nest the mayor had waded into when he chose to endorse Mr. Sikora, an economist with the Communication Workers of America, over Jo Anne Simon, a Democratic district leader and the chosen successor of the area's retiring assemblywoman, Joan Millman.
Ms. Simon, a veteran political presence in the neighborhoods that heavily overlapped with Mr. de Blasio's old council district, is backed by a coterie of elected officials including Ms. Millman, Comptroller Scott Stringer and Public Advocate Letitia James. When told that Mr. de Blasio had chosen to endorse Mr. Sikora, the Working Families Party-approved candidate, over her, she groused that it was a shame Mr. de Blasio couldn't see that Mr. Sikora was "politically parachuted in by the Working Families Party to try to buy this seat."
Mr. de Blasio, speaking with the Observer, brushed off the remark.
"I don't listen to a lot of rhetoric. I get back to substance. I think Pete is a proven progressive and that's what matters here," he said. Mr. de Blasio also shares a consultant with Mr. Sikora, BerlinRosen.
"It's not about the different political players. It's about what Pete stands for."
The Democratic primary, set for this Tuesday, will be the first test of Mr. de Blasio's endorsement power: he has backed Democrats like Mr. Sikora across the city. After meeting the mayor, and even fretting about local issues like the closure of Long Island College Hospital, voters appeared ready to give Mr. Sikora a shot next week.
"What I said to de Blasio, since I worked at LICH for 15 years, is that I'm very sorry that you weren't able to save it but I realize it was a done deal," said Ronnie Gluck, a retired LICH administrator who said he'd vote for Mr. Sikora. "The mayor said, 'we did the best we could, we kept it open as long as we could.' In a facial gesture that [he made] when I said it was a done deal with the real estate folks, my feeling was he acknowledged what I was saying."