Who else to put on the cover of Garage, Dasha Zhukova's compendium of buzzy contemporary art, than Jeff Koons? Jeff Koons was the Song of the Summer. Jeff Koons inspired our Koons Kountdown. Unless you just are not a Koons person, Jeff Koons won. Yeah, Jeff Koons had to stop talking to us at the opening of "Jeff Koons: A Retrospective" because so many nice people wanted to talk to Jeff Koons, but that's OK. And now Jeff Koons is on the cover of Artforum, so, sure, let's put him on the cover of Garage.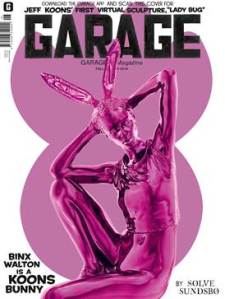 Well, he's not actually on the cover. You can't have Koonsy's smiling mug on the cover of a magazine that usually chooses some pretty eye-catching images for its prime real estate. So, instead, three supermodels become approximations of the Jeff Koons sculpture "Rabbit"—they hop into shiny balloon-like lingerie and put on some shiny bunny ears. The first of three covers, featuring Anja Rubik and Binx Walton, hit newsstands Thursday, with an additional cover coming out in October.
But wait, there's more Koons! If you download the Garage iPhone app and scan a code on the cover of the magazine, a digital 3D Koons, "Lady Bug," will be revealed. 3D digital smart phone art. Jeff Koons is the future.
Or, if you're not into Koons, the magazine has a feature where you can read the email inbox of Gagosian Gallery copy chief Derek Blasberg.