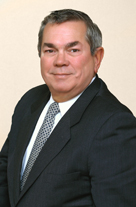 At the Hilton in East Brunswick tonight, Gov. Chris Christie will be basking in the spotlight alongside former Massachusetts governor and presidential candidate Mitt Romney for a NJGOP fundraiser he's branded as his 52nd "birthday bash."
But while Christie's star-studded event is likely to draw all the attention, his won't be the only Republican birthday celebration going on in New Jersey.
At Charlie's Ocean Grill in North Long Branch, former state senator John Bennett will be quietly celebrating his own natal day with fellow politicos at a PAC-kickoff party for Protect Our Environment Today (POET), a special interest group aimed at tackling environmental issues in the state.
"The purpose of it is to promote issues — not people, issues," Bennett said, describing POET.
A former senate co-president, state committee chairman, and one-time acting governor, Bennett is one prominent Republican who will not be attending the governor's fundraiser, where most others will gather to support, explicitly, a financially-strapped NJGOP and, implicitly, Christie's future political ambitions, if he has any. Co-hosted by Christie allies Palatucci, New Jersey GOP Chairman Sam Raia, state Sen. Tom Kean and state Assemblyman Jon Bramnick (both R-Union), that event — at $150 a ticket — is already sold-out.
Instead, Bennett will raise money — tickets are also $150 — for his PAC alongside Monmouth County freeholders and at least one assemblyperson.
"It's going to be much smaller," Bennett said.
That the two fundraisers — both held by prominent Republicans, one gearing up for a possible presidential race (Christie) and the other recently ousted from his own post as chairman of the Monmouth County Republicans (Bennett) — fall on the same night, taking attention away from Christie's, might be seen by some as more evidence of discontent within the NJGOP. The notion has gained some traction in recent months, with Christie focusing so heavily on assisting national Republican's in his role as RGA chair, and at least one Republican senator saying anonymously that she would not attend the fundraiser because of it.
But Bennett, who spoke to PolitickerNJ on the phone today, wouldn't go that far. He said the scheduling conflict was just a coincidence (Bennett says he had his planned first), and he supports Christie on most issues, though there are areas where they disagree.
"You're always going to find people that have something critical to say about the guy at the top," Bennett said of Christie-directed criticism. "It just goes with the territory, whether Republicans or Democrats. There are those that say he's too partisan, there are others who say he's not partisan enough. But I think if we look at the job he's doing as governor, he's accomplishing that, and he's getting the job done.
Yet asked if he would attend Christie's event if he didn't have other obligations, Bennett, who made sure to note it was "nothing negative on the governor," said no.
"Probably not. I'm not really going to be engaged in much more partisan efforts," he said. "I've done that for a long time."
A 20-some-odd-year veteran of the state's Republican party, Bennett said he's become alienated from the style of politicking common not just within the GOP, but within New Jersey's political establishment in general. He said that that establishment has become "very intensely partisan," and, after losing his chair for the Monmouth County Republicans to Shaun Golden earlier this year, said he's now focusing on more bi-partisan policy-related issues.
One of those issues is getting the open space initiative on November's ballot — an example of one of the areas where he and Christie, who's said he would not support such an initiative, disagree — passed. Bennett said POET will help promote the ballot question among New Jersey voters over the next few months.
"It's a Republican and Democratic issue — it's not a partisan one in one way or another," Bennett said. "There's not a Republican way and a Democratic way to preserve the environment, there's a right way and a wrong way."
"I'd rather work together," he said. "I'd rather work outside a partisan effort that gets people to move together on common goals."