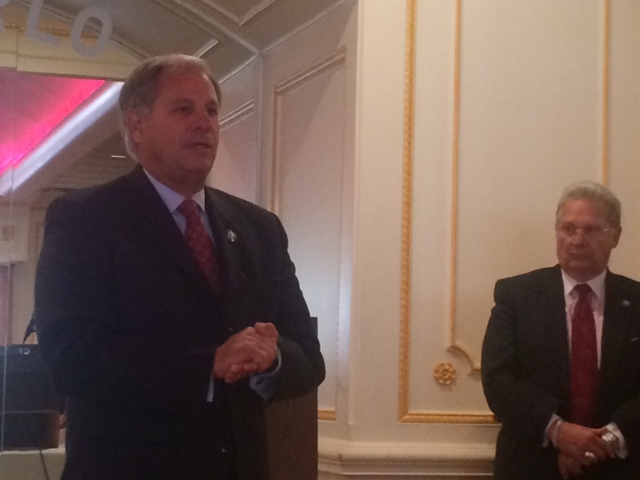 LYNDHURST – Bergen County Democratic Chairman Lou Stellato was house-proud in his hometown before he got down to political business on Wednesday morning.
"Welcome to lovely Lyndhurst," said Stellato to a crowd of approximately 75 politicos at the annual chairman's breakfast at the San Carlo banquet hall. "Welcome to the real, blue-collar America."
Stellato is hoping that blue-collar voters, long seen by New Jersey Democrats as a key part of their base, turn out in force for his candidates this November. Their votes are particularly needed for Freeholder Jim Tedesco, the party's standard bearer in the Bergen County Executive's race against Republican incumbent Kathleen Donovan. Roy Cho, who is working to unseat GOP incumbent U.S. Rep. Scott Garrett (R-5) in the Fifth Congressional District, which includes large swaths of Bergen, also needs these votes.
Stellato pointed to a unified Democratic North Jersey as reason to believe that he can stand and deliver these votes.
"We're together with Hudson, we're together with Passaic, and now we're together with Essex," said Stellato, referring to improved relations with the Democratic chairs of the respective North Jersey counties, including Hudson County Democratic Organization leader and state Assembly Speaker Vincent Prieto (D-32), who sat up front. "We're a force to be reckoned with."
Standing in front of a crowd that included Bergen political veterans such as state Sen. Bob Gordon (D-38) and state Assemblywoman Valerie Vainieri Huttle (D-37), Tedesco said that while there is a statewide political focus on Bergen, the bellwether of New Jersey politics, this fall, he plans to keep his focus local on the campaign trail.
"I'm here to serve you," Tedesco, the former mayor of Paramus, said. "That's the most important thing I can do."
Jersey City Mayor Steve Fulop, mindful of relationship building as the potential 2017 Democratic gubernatorial candidate travels around the state, talked about how maintaining relationships is one of the most important things any politician can do.
"The relationship between Hudson and Bergen isn't just about people moving from Hudson to Bergen," Fulop said to laughter from the audience. "It's about the relationship that's been built between Vinny Prieto and Lou Stellato. The benefits of that relationship will benefit Jim Tedesco this November."