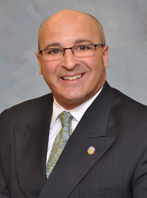 HACKENSACK – The reelection campaign of County Executive Kathleen Donovan, the Republican incumbent, released a list of 17 campaign co-chairs on Tuesday. Two boldface Bergen Republican names were noticeably absent: Sheriff Michael Saudino and Freeholder John Felice.
The county executive's campaign stated that both Saudino and Felice were asked to be co-chairs. Saudino told PolitickerNJ on Wednesday the crux of his concerns with Donovan. On Thursday, it was Felice's turn to state why he declined her campaign's invitation.
"I've decided at this point not to endorse anyone," Felice told PolitickerNJ. "That's my position, and I'm sticking by it. I was asked to be a co-chair, and the response is the same one that I'm giving now."
When asked about his overall assessment of the race between Donovan and her Democratic challenger, Freeholder Jim Tedesco, Felice said that the issues are "very clear."
"I think it's going to be a close race," said Felice, 56, of River Edge. "There are important, complex issues with Bergen Regional [Medical Center] and the county police and sheriff's department merging. These issues are going to affect Bergen County for many years to come, and I think it's important for the voters to stay engaged about the issues."
Earlier this month, Donovan appointed a seven-member task force to study the future of the county-owned medical center in Paramus. Days later, three freeholders, including Democrat Tracy Zur, Tedesco and Felice publicly criticized the task force, saying that it was not inclusive enough and that the panel was packed with too many of Donovan's political allies.
"[Donovan] should broaden the committee to review the management and future ownership of Bergen Regional," Felice said. "It's one of the biggest hospitals in New Jersey, and it treats some of the most vulnerable residents among us. We need to be ahead of the curve when it comes to providing the best health care in a changing environment."
While Donovan and Republican Freeholder Maura DeNicola both oppose folding the Bergen County Police into the Sheriff's Office, Felice sides with the rest of the freeholders, all Democrats, who back the proposed merger.
"I believe very strongly that the county police department should be merged into the sheriff's department," Felice said. "It's important to look at ways to streamline services. It's really important that we look at how we can save money for the people of Bergen County without jeopardizing public safety."
Despite reports of a poll showing Donovan with a double-digit lead, Felice, who was first elected in 2010 and reelected in 2013, said the only poll that matters is the one on the first Tuesday in November.
"It's going to be about turnout, engaging the voters and events between now and Election Day," Felice said. "Polls are just a snapshot in time. It's important to see if the voters are motivated on either side of the political aisle. I still think it's going to be close."