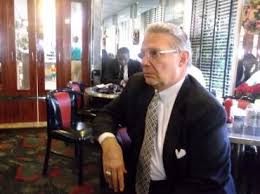 HACKENSACK – With only 39 days left until Election Day, some observers of Bergen County politics wonder if the Bergen County Executive ballot box battle is only a test between Republican incumbent Kathleen Donovan and her Democratic challenger, Freeholder Jim Tedesco.
The county executive's race will also be seen by some as a scorecard on the leadership of Bergen County Democratic Chairman Lou Stellato. Stellato has won praise for turning around the Bergen Dems in the wake of the fall of former chairman Joe Ferriero, who was convicted on corruption charges in 2009, indicted in a racketeering scheme in September 2013 and is now facing a second corruption trial scheduled to begin in early November. 
Since Stellato was elected chairman in 2011 after the brief leadership of Michael Kasparian, he has led the drive to win Democratic control of the freeholder board and has helped Tedesco gain a freeholder board spot last year despite Republican Gov. Chris Christie's wide margin of victory in Bergen in his reelection campaign.
Some political observers say State Senate Majority Leader Loretta Weinberg (D-37), the matriarch of the Bergen Democrats and a long-standing foe of Ferriero, could stand to gain greater control over the direction of the party if Stellato fails to get Tedesco elected.
Stellato could not be immediately reached for comment. But Weinberg herself saw things differently.
"An election is an election. We all try as hard as we can to win it. Unless there are some major faux pas, you can't hold anyone personally responsible," Weinberg told PolitickerNJ. "I don't think you can hold a county leader on either side of the fence completely responsible for the loss of an election unless somebody makes a major mistake.
"There are some Ferriero-crats left over who I think are sometimes are a little too influential, but by and large I think we have a comparatively unified party," Weinberg added. "If Mr. Tedesco loses the election, and they are running what appears to me to be an aggressive campaign, I wouldn't hold the county leader responsible for that. I don't think you can ever be aggressive enough, but they're out there. I would like to see a little bit more grassroots activity within the party structure. But as disagreements come up, I express them to [Stellato]. Overall, he has been an inclusive county leader."
State Assemblywoman Valerie Vainieri Huttle (D-37) seconded Weinberg's declaration of Bergen Democratic Party unity.
"There is no longer a Weinberg wing or a Ferriero wing," Vainieri Huttle said. "There is united Bergen County Democratic Committee wing. Chairman Stellato has unified the party. He has been successful in creating pockets of voting on a local level as well. [Fifth Congressional District Democratic] candidate Roy Cho has been raising money and energizing the northern part of Bergen. That all helps us. Steady, stable leadership may not get you instant results, but I think we've had results since Stellato has been chair. I think momentum is on our side." 
State Sen. Paul Sarlo (D-36) noted Stellato faced a "very difficult" county executive's race this year.
"Kathe Donovan has been on the ballot for more than 25 years," Sarlo said. "The Tedesco campaign has a realistic budget. If you put the right program in place, and it's well-coordinated, but the outcome isn't there, it doesn't mean you have to replace the manager. It's a tough race, but it's a winnable race. It's going to take some resources plus a well-coordinated, aggressive effort to win."