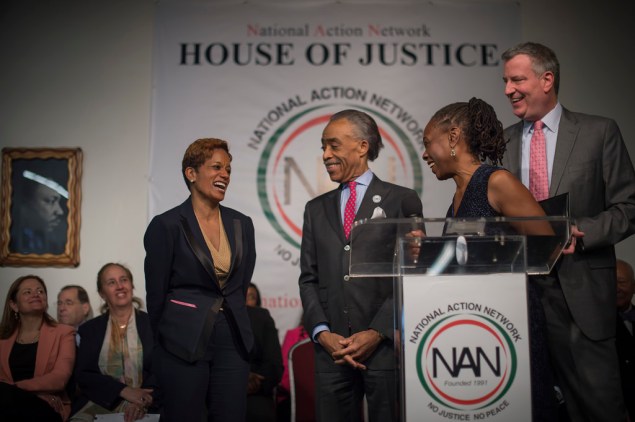 Mayor Bill de Blasio told reporters this afternoon he has "full faith" in Rachel Noerdlinger, his wife's chief of staff, despite a new report revealing the extensive criminal history of her boyfriend.
DNAinfo reported yesterday that Ms. Noerdlinger, the chief of staff to Chirlane McCray and former top aide to Rev. Al Sharpton, is in a long-term relationship with a man who served time in prison and attacked police on Facebook.
"I have full faith in her. I know what I value and she values the same things," Mr. de Blasio said as he left City Hall this afternoon. "We don't care what someone's boyfriend says, we care what the public servant is about, as she is very dedicated to working to bring police and community together and that's what we care about."
Ms. Noerdlinger's boyfriend, Hassaun McFarlan, pleaded guilty at 15 to manslaughter for shooting and killing a man over a down jacket, according to the report. In 2005, Mr. McFarlan pleaded guilty to cocaine trafficking charges and was served time in Massachusetts state prison until being released in 2007. And on Facebook, Mr. McFarlan–a vocal opponent of stop-and-frisk–referred to police officers as "pigs."
Mr. McFarlan has also had more recent run-ins with the law, including a 2011 arrest for driving with a suspended license that came after he was linked romantically to Ms. Noerdlinger in 2010. He pleaded guilty in March 2014 to disorderly conduct after police alleged he failed to stop and nearly struck a police officer in 2013 while driving a car registered to Ms. Noerdlinger, according to DNAinfo.
While Mr. de Blasio dismissed the conduct of Ms. Noerdlinger's boyfriend as irrelevant, he reportedly sacked his campaign press secretary, Lis Smith, after a couple of newspapers reported that he was dating scandal-scarred ex-Gov. Eliot Spitzer.
Ms. Noerdlinger works for Ms. McCray but has been a top advisor in City Hall, particularly in the wake of Eric Garner's death in police custody.