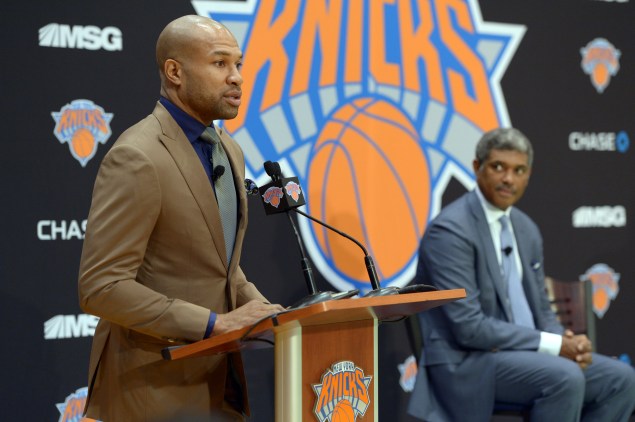 Mayor Bill de Blasio had a message for the new Knicks coach: fans are getting pretty desperate for a ring.
The mayor, appearing this morning with New York Knicks Head Coach Derek Fisher, NBA Commissioner Adam Silver and a couple of NBA players to kick off the 2015 All-Star Game festivities and cut the ribbon on new basketball courts in the Hurricane Sandy-ravaged Staten Island neighborhood of Midland Beach, made sure to let the former Los Angeles Lakers point guard know that all eyes would be on him very shortly.
"I said to Derek before, 'Derek, there's no pressure on you at all. You know, just people really, really, really want a championship again, but no pressure.' And I know enough about your career to know you're a specialist in last minute pressure situations so I think you're gonna blend in fine here," Mr. de Blasio said, addressing Mr. Fisher.
The Knicks, as Mr. de Blasio alluded to, have not won a championship in more than 40 years. And the mayor was well aware of this fact, a stark contrast to his predecessor, who often appeared indifferent to athletic contests.
It was Mayor Michael Bloomberg, though, who pushed for the NBA All-Star Game to come to Madison Square Garden next February. Neither Mr. de Blasio nor any of the speakers at the event noted Mr. Bloomberg's efforts, only speaking generally about the social value sports like basketball bring to the city.
The mayor, a die-hard fan of Boston sports teams (he grew up in Massachusetts), again flaunted his sports knowledge. He noted that Ahmad Rashad–the event's host, a sports broadcaster and former NFL star–was a four-time Pro Bowler. He then waxed about the city's basketball heritage, name-dropping a few legends.
"New York City has a proud tradition of turning out extraordinary talent. There's a whole generation NBA players today that have come out of New York City," Mr. de Blasio said. "There's greats over the years, Lenny Wilkins and Tiny Archibald. A little-known player named Kareem Abdul-Jabaar came out of New York City. We have an incredible tradition here."
Mr. de Blasio, who at six-foot-five can at least boast the height of an NBA regular, even sought to tie basketball to his populist politics.
"Basketball is a game for all the people. Basketball is something that people play in this city regardless of background or income. It's a great sport because all you need is a ball and a court," he said.