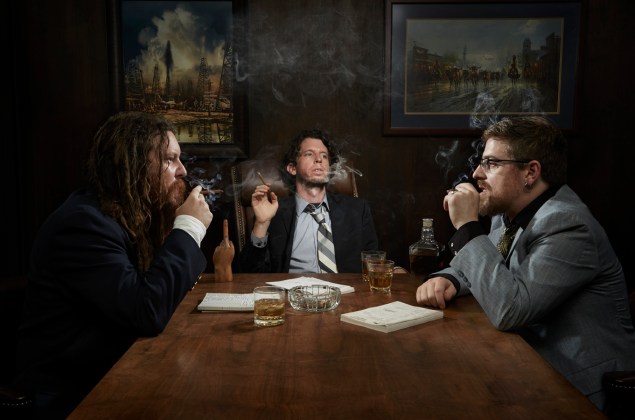 The music starts with an air of stark, grim foreboding, as an everyman's bland voice recites a series of mundane observations from a hospital room over a minimal beat, broken guitar arpeggios, and a droning arco bass. As the piece unfolds, the tension mounts inexorably, until the voice is shrieking in raw-throated terror and the instrumental backing shatters into welters of noise over a distended blues riff that's hammered home relentlessly, until it takes on a mantra-like quality. But the source of the singer's terror isn't some Lovecraftian horror; it's a real disease that's eating him alive. The net effect is transformative, cathartic, and powerful. The track is "Pouring Rain," a tour de force of dynamics from Reign in Bludd, the new album by the band Bludded Head. The singer, guitarist, and songwriter is Nevada Hill.
'I was influenced by '80s DIY and would never have hired a press agent or done any of those things [to promote myself], but now I did all that because I felt I was going to die and I wanted people to hear what I do.'
At age 32, Mr. Hill is an internationally renowned visual artist whose work has been exhibited in New York, Chicago, Philadelphia, and Lisbon, Portugal, as well as his current home, Dallas. His distinctive silkscreens have graced many underground musical releases from his native North Texas. Besides leading Bludded Head, he plays skronky guitar in Drug Mountain, a noisy freeblow outfit whose dual caterwauling saxophones recall Borbetomagus at their most unhinged. He is also a phase 4 melanoma survivor, and he uses Bludded Head's music to process his cancer experience.
Reign in Bludd will be released by Brooklyn-based Sleeping Giant Glossolalia on October 6 to coincide with a two-week tour of the West Coast. It was recorded with producer Matt Barnhart in a single day at Electric Audio in Chicago. At the same sessions, Bludded Head recorded a cover of Codeine's "Pea" that Mr. Hill plans to release digitally, with all proceeds going to a melanoma charity. He sees the October excursion as a dry run for what's planned to be a very busy 2015. "We want to do a month in Europe and six weeks when we play both the East and West Coasts," he said.
Bludded Head's most recent visit to New York, during the two-week swing through the Midwest and East Coast that culminated in Reign in Bludd's recording, was their third visit to the city, and included performances at the Silent Barn and the Gutter in Brooklyn, as well as Manhattan's Cake Shop.
[bandcamp width=100% height=120 album=1379903981 size=large bgcol=ffffff linkcol=0687f5 tracklist=false artwork=small track=120040509]
Formed in 2011, the trio originally included drummer Mike Forbes and electric cellist Darcy Neal. Bludded Head's doom metal sound was something of a departure for Mr. Hill, who'd previously played in the prog-inspired Harry Has a Head Like a Ping Pong Ball; Zanzibar Snails, an amorphous experimental improv collective that he co-led with journalist Michael Chamy; and Geistheistler, another improv unit that has contributed several members to Bludded Head.
A self-titled LP, recorded and mastered by Matt Barnhart using all analog media, was released by Paperstain Records in May 2012. "Basically, Mike wrote the whole first album," said Mr. Hill. "He was a good teacher." The band's name comes from a story by Mr. Hill's daughter Gillian, 7, who also titled all the songs on the first album. In retrospect, her story reads like a foreshadowing of Mr. Hill's cancer experience: "The doctors gave him a bunch of drugs to try and save him, and the drugs turned him into a bleeding cloud. So now he is a cloud and he goes around and bleeds on people."
Recorded in May 2013 and released by Sleeping Giant Glossolalia a year later, the Bludded Death cassette was produced by Pinkish Black frontman Daron Beck, with Mr. Hill's Drug Mountain bandmate Britt Robisheaux behind the controls. By that time, drummer Beth Dodds and five-string standup bassist Ryan Williams had supplanted the original rhythm section. Bludded Death represents a huge gain in expressive range over its predecessor, with quieter moments of minimalist dissonance—like claws on a dungeon floor—that only heightened the impact of the heaviest passages, where violently bowed strings battled bone-crushing chords and blasts of howling, atonal feedback.
[bandcamp width=100% height=120 album=3656434291 size=large bgcol=ffffff linkcol=0687f5 tracklist=false artwork=small track=322034677]
Mr. Hill was diagnosed with melanoma—the most serious form of skin cancer—in August 2013 after his father, a melanoma survivor, noticed an irregularity in a mole on his back and paid for Mr. Hill, who had no medical insurance, to undergo medical treatment. (He's since been able to obtain insurance under the Affordable Care Act.)
At that point, he said, "I considered breaking up the band. People were leaving, our van got wrecked on the road, and I was spending money I had earmarked for the band to replace it. I had to decide whether to pursue music or art professionally, since I'm not getting any younger, and I needed to commit myself to one or the other." Mr. Hill decided on music "because it was a better vehicle for how I felt."
The cancer diagnosis and the accompanying knowledge that "a clock was ticking" gave Mr. Hill a sense of urgency and focus. "I was influenced by '80s DIY and would never have hired a press agent or done any of those things [to promote myself], but now I did all that because I felt I was going to die and I wanted people to hear what I do."
After undergoing surgery and chemotherapy, Mr. Hill thought he was cured, but his doctors were unsure. On the eve of Bludded Head's spring tour—with Dave Saylor replacing Dodds on drums—another scan was performed. On the road, Mr. Hill debated whether to call and check on the test results. "I found out on the way to Chicago to record [Reign in Bludd] that the cancer had come back." Upon returning home, Mr. Hill underwent an experimental drug trial, rather than the extremely aggressive chemotherapy treatment his North Texas doctors had recommended. While he still has some active cancer in his body, he has confidence in his medical team at M.D. Anderson Cancer Center in Houston, and believes he is on the road to recovery. "I feel lucky to be living at this time. Even five years ago, [the outcome] might have been very different."
Since then, Bludded Head's lineup has shifted yet again, with Pinkish Black's Jon Teague taking over the drum chair. Mr. Teague previously played in Yeti, a band whose dark, heavy, prog-influenced music had a significant impact on Mr. Hill when he first encountered them in 2000. "I had never heard, thought of, or seen music so loud it generated random harmonics," he said. More to the point, the two share a work ethic. "I have high expectations for the people in my band, and not everyone wants to do the things you need to, in order to be constantly writing new music, rehearsing, recording, and touring. But we've chosen this lifestyle."