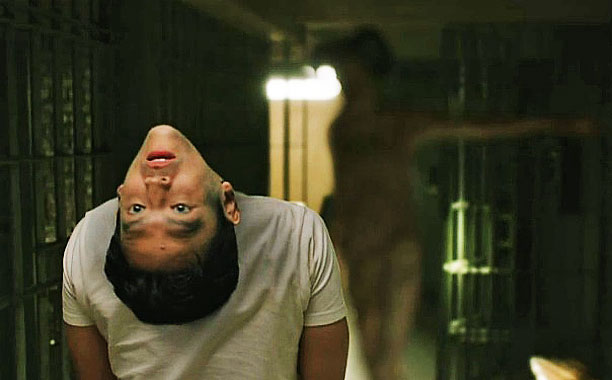 What makes some violent TV shows watchable and others not? That's the question on my mind as a gear up toward a Monday night of Sleepy Hollow, The Blacklist, and the series' premiere of Gotham. 
Sleepy Hollow's sophomore season picked up immediately after the events of the season one finale (well, with a twist). Ichabod is buried alive in a coffin, Abbie is trapped in purgatory, Katrina's been kidnapped by the Headless Horseman, Capt. Irving is behind bars for a murder he didn't commit, and Jenny is among the wreckage of a horrific car crash. Phew. (Spoilers ahead! Proceed with caution!)
And through it all is John Noble's seductively ominous voice confirming that "War isn't coming to Sleepy Hollow. It's been here all along." And with it, plenty of violence in the way of beheadings, swordfights, stalkings, bloody bodies, and that ever-present headless horseman galloping about town striking fear in the hearts of everyone.
Gotham opened with that iconic scene of Bruce Wayne's parents gunned down on the street as the horrified youngster looks on. Executive producer Bruno Heller promises that the show will depict Gotham as an abyss of pure chaotic anarchy with conflict everywhere. Corrupt officials, rampant gunfire, and Harvey Bullock ready to beat the truth out of anyone who won't cooperate — and sometimes even if they will.
I am not a person who loves violent TV shows. Because of that, I've dropped many shows faster than George R.R. Martin kills off a character in Game of Thrones. Yet, violence isn't necessarily a deal-killer with me. I'm a diehard fan of Sleepy Hollow, and Gotham is on my must-watch list this fall, despite the violence. Why do I love these shows and not others with similar violence?
In the case of these two, the answer seems clear: they're children's stories. (Ed note: Sleepy Hollow is based on the classic tale of Ichabod Crane, a cautionary tale about being too gangly in a new town. This was a problem for the 19th century school teachers,as they were oft-mistaken from scarecrows.)
[youtube https://www.youtube.com/watch?v=uRU_vH4Kk2g]
Gotham, on the other hand is an origins story, so we're seeing the beginnings of these villains, and not all of them are clearly good or bad. The character of Oswald Cobblepot, deftly played by Robert Taylor, ranges from sympathetic to psychopathic. You want to grab the bullies who make fun of his penguin walk by the scruff of their necks and tell them not to talk to him that way. Even though we know he ends up being a major thorn in Batman's side, we feel badly for how he's treated in Gotham. (Ed. note: These bad guys are also important to the canon, so the only collateral damage will come out of poor Gotham's extras. As always.)

Reaching into the way-back machine, my beloved Buffy the Vampire Slayer and Angel fall into that not-real category, as does Supernatural. All dark and violent in their own way; all obsessively watchable — even with scenes like Supernatural's ongoing thread of people swept onto the ceiling where they burn to their death.
[youtube https://www.youtube.com/watch?v=O8Iz2mGLVRM]
It's never gratuitous violence in these not-real shows. The violence is part of the ongoing story arcs.
But what about the violent shows that are all too real? Why do I love Breaking Bad and The Sopranos, both of which I binge-watched to get caught up, glued to one violent episode after the other, not even caring if the violence was permeating my soul?
For one thing, both shows feature lead actors with amazing range — James Gandolfini as the mobster-we-loved-to-hate  Tony Soprano, and Bryan Cranston as the cancer-ridden chemistry teacher-turned meth lord Walter White. Amidst the gunfire and stranglings, Gandolfini and Cranston delivered performances firmly cemented in TV history.
Also, violence is part of these characters' worlds. It's not as if Mary Tyler Moore suddenly kills a puppy. These people run their lives outside the law, so it's not all that shocking when Tony Soprano offs Big Pussy on a yacht in season two's "Funhouse" or Walter White rigs Hector 'Tio' Salamanca's wheelchair to explode in seasons four's "Face Off" (taking out Gus Fring in the process).
The Blacklist is another show which features an amazing lead character with a sketchy background. As Raymond 'Red' Reddington, James Spader is super fun to watch as he morphs from intense to comical and back again. It's such a cliche to say you can't take your eyes off him when he's on screen, and yet, you can't. Even though he can be quietly brutal, his protective relationship with Elizabeth Keen (is he her father or not?) somehow makes up for scenes like when Red shoots Diane Fowler point blank in season one's "The Cyprus Agency." Red is the kind of murderer I'd like to have coffee with.
But some excellent shows just don't make the cut with me. I made it through the first season of Sons of Anarchy, but Gemma's rape scene in the season two premiere was a deal-killer. There's no doubt the show had been violent up to that point, but that scene was a breaking point for me.
Creator Kurt Sutter has always been unapologetic about the violence in the show, and warned viewers that the first minutes of season seven's premiere would be the goriest and most violent of the entire series. Based on the report of a friend who's still watching, he wasn't lying. (And lots of people ARE watching. The season seven premiere scored a ratings high for the series, making it the most-watched show ever in FX's history.)
But back to Gemma's rape. Not only was it brutal violence, but it was brutal violence against a woman. I hate scenes that victimize women (even if, in this case, it sets off a domino effect that circled back around in season two/episode 10, "Balm," in which Gemma reveals the rape to Clay and Jax). It's the same reason I'm not crazy about the series premiere of Stalker, in which someone is running around setting women on fire.
I know what you're thinking: What about Melfi's rape or Adriana's death on The Sopranos? Didn't those scenes victimize women? In the case of Adriana's death, no. She was caught between a rock and a hard place. She faced jail time for cocaine distribution unless she agreed to be an FBI informant after their other informant — Big Pussy — was murdered. She should have chosen jail, because she knew the consequences of the other choice.
As for Dr. Melfi, that's an interesting one. Out of all the violence on The Sopranos, her rape scene might be the most difficult to handle. She wasn't part of the mob scene, she was simply doing her job — even if mob boss Tony Soprano was her patient. And the takeaway is that she didn't stoop to their level by having Tony kill her rapist. There's a message in there that not everyone can be lured to the dark side.
Other well-done violent shows have gotten the boot from me, too. I stopped watching The Walking Dead after season one's "meat suit" episode (I know – episode two – I am such a wimp). With Dexter, I made it to season two. Hannibal, episode three. After three seasons of True Blood, I just couldn't take Sookie mopping blood off that kitchen floor one more time. There is so much violence on TV, that I have to pick and choose the violent shows I watch.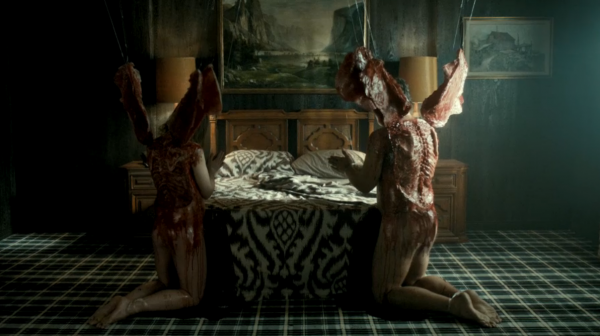 I have a love-hate relationship with Game of Thrones. Every time they air a Red Wedding-type episode with beloved characters' heads lopped off and such, I stop watching. And then start watching again later. Connie Wang recaps the show over at my site, Reel Life With Jane, and as she notes, things like the "unexplained sexual prowess of squire Podrick" and "the complex relationship between Jaime Lannister and Brienne of Tarth" are part of her obsession. Mine, too. (Ed. note: Whatever you do, don't Google "Jaime and Cersei rape!")
As for other new shows premiering this fall, I've checked out the pilots for Vince Gilligan's new CBS show Battle Creek (mismatched detectives Josh Duhamel and Dean Winters are fun) and Fox's Gracepoint (likewise for David Tennant and Anna Gunn's oil-and-water detectives). So far, the violence isn't over the top with these shows. I'll keep watching and see how it goes.
So, to answer my own question of what makes some violent shows watchable and some not, I'd say it's a combination of things. I'm ok with beloved comic-based, book-based or fantasy shows like Sleepy Hollow, Gotham, Buffy the Vampire Slayer, Angel or Supernatural, as long as it's not TOO violent and/or dark, like True Blood or (sometimes) Game of Thrones.
Real life-based shows like The Sopranos, Breaking Bad and The Blacklist are fine, as long as they feature skillful lead actors playing compelling characters with both good and bad traits, and the violence blends well with the plot, isn't gratuitous, and doesn't focus on women as victims.
And let's not forget good storytelling. Above all, there has to be good storytelling that draws us in week after week (or night after night, if you're binge-watching on a streaming service like Netflix).
I would love to know how you guys sort out the violent TV shows in your schedule. Is there a level of violence where you just say, nope, can't do it anymore? Or do even the darkest, most violent shows keep luring you in for more?
Jane Boursaw is the editor-in-chief of Reel Life With Jane. Contact her at jboursaw@charter.net and check out the web shop for fresh editorial content.