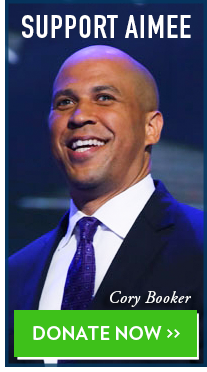 If there was any question over whether U.S. Senator Cory Booker (D-NJ) would lend a hand in drumming up support for fellow Democratic congressional candidates in the state — specifically for the Democratic competition in New Jersey's third congressional district, Burlington County Freeholder Aimee Belgard — let it be answered in the affirmative.
According to an email received by PolitickerNJ today, Booker has begun soliciting donations for Belgard in CD3, sending emails out to supporters asking them to "chip in" to the candidate's campaign.
"We just got some AMAZING news out of the 3rd district. Two separate polls show Aimee Belgard TIED with her Republican opponent. That's great!!!" the email reads.
A Stockton College poll last week showed Belgard neck-and-neck with her Republican opponent, businessman and former Randolph Mayor Tom MacArthur, among likely voters in the Burlington and Ocean County-constituted district.
"Aimee's running to represent Burlington and Ocean counties in Congress, but she's in the fight of her life," the email continues. "Her opponent's on the air with millions in negative ads. His goal? Deceive voters about Aimee's strong Democratic record."
"Look — Aimee can win this race, but she needs every person reading this to chip in today and have her back. So [name], quick favor: will you send $5 or more to Aimee's campaign right now and her help break the tie?" it says before linking to a Belgard For Congress webpage where visitors can make matched-contributions anywhere from $5 to $1000 or more.
The email, signed by Booker but sent by Belgard's campaign, comes as Belgard is locked in a heated race with MacArthur. The two camps have lobbed attack after attack at one another in recent weeks, with MacArthur launching two negative ads smearing Belgard as a "dishonest politician" last week and the Belgard-supporting Democratic Congressional Campaign Committee dropping its third strike against MacArthur of the general race on Sunday.
Now Booker — after telling PolitickerNJ yesterday that he is "focused on New Jersey" and intends to campaign in the state for candidates like Roy Cho in CD5 and Belgard in CD — has entered the fray.
"Aimee is hands-down the best person to represent our 3rd district," the email concludes. "But we can't waste this opportunity to bring a strong female voice to the New Jersey delegation."
Booker himself is squared off against his own November election challenge with Republican Jeff Bell. Another Stockton poll last week showed the popular Booker holding a — slight, some say — nine point lead over the more obscure Republican.