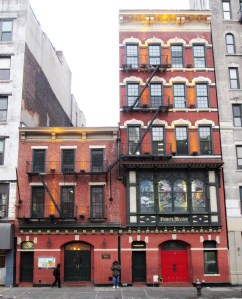 Faced with barren shelves and a dearth of donations, the Bowery Mission is in crisis. DNAinfo reports that, while demand for food is on the rise, the food pantry's storeroom is uncharacteristically empty. The organization is encouraging donations through social media, while holding out hope for food to flood in.
The Mission first tweeted a photo of its empty shelves on September 21. They've received support in the form of shares and retweets, including one from actress Leah Remini. But despite the virtual support, the Mission's account still expresses an urgent need for canned goods, pasta, rice, beans, and grains. "I've never seen our pantry quite this empty at this point in the season," Assistant Director Matt Krivich told DNAinfo.
Organizations like City Harvest or Whole Foods Market regularly make massive donations to the Mission. But for unknown reasons, individual donations have dwindled this time of year.
The Bowery Mission has served hungry New Yorkers since its founding 1879. As the organization expanded, demand for assistance grew. Last year, the Mission served a total of 382,400 meals. This year, the number of meals served per day has grown by half, up from 215 to 337. The organization is keeping its doors open, despite this influx of demand and scarcity of product. They're making do with what they have, while still holding out hope for more.
Donations to the Bowery Mission can be made in person or online at any time. Also accepted are retweets to help spread the word.