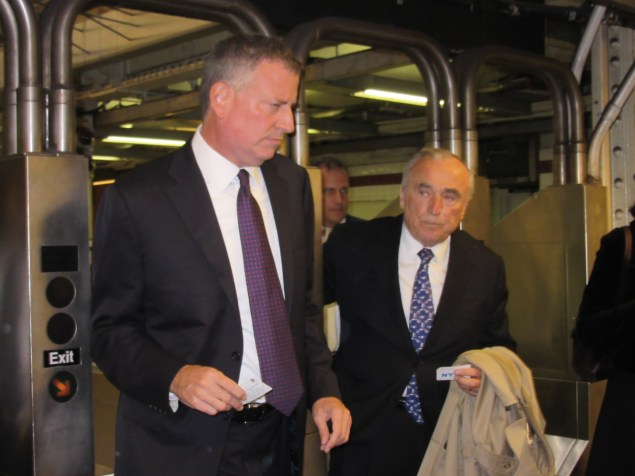 Mayor Bill de Blasio and Police Commissioner Bill Bratton rode the 6 train from City Hall to a press conference at Union Square today to assure New Yorkers that the subway system will be safe, after Iraqi Prime Minister Haider al-Abadi warned of "credible" information that the Islamic State plans a terror attack on the trains.
Just two and a half hours after Gov. Andrew Cuomo took a jaunt on the E on a similar mission, Mr. de Blasio and Mr. Bratton descended into the City Hall station surrounded by a phalanx of police, aides and security personnel–plus a number of reporters–and boarded a packed uptown local. Numerous commuters took photos of the pair on their phones, while others rose to shake the mayor's hand–and some simply shouted their concerns at him.
"What are you going to do about cleaning up the train?" demanded one rider, Angela Daniels, from a distance.
Mr. de Blasio smiled and nodded but did not respond.
"He's riding the train so everybody knows it's safe," another commuter said to the person standing next to him.
The mayor, commissioner and their retinue came up on the Park Avenue side, where a podium awaited. Mr. de Blasio echoed the governor, saying Mr. al-Abadi's warning did not refer to any definite plan on the part of Islamic extremists to hit the trains.
"With the evening rush hour almost upon us, I have a simple message for all New Yorkers: there is no credible threat to our subway system," Mr. de Blasio said, adding that law enforcement is on the alert against any dangers. "This city operates on a basis of heightened vigilance and security."
The mayor dismissed Mr. al-Abadi's intelligence as "vague," and said the NYPD and Department of Homeland Security had found nothing above the usual level of background chatter about any danger.
"It's not news til we find something specific, " Mr. de Blasio said. "It's the kind of thing we work on all the time."
The two did say that police would be taking extra precautions, including a beefed-up presence at more than 50 stops, additional bag checks, canine units and additional security at synagogues and Yankee Stadium.
"We are always on the side of safety and caution," said Mr. Bratton, while adding that New Yorkers should know they are safe whether celebrating the Jewish holidays or Derek Jeter's impending retirement. "The city should feel very comfortable on the subway."
Mr. de Blasio also repeated the common mantra about the motives and mentality behind terrorism.
"The terrorists want us to live in fear, we choose not to live in fear," he said.